A recent listing on Geekbench has kindled the rumours of a new Google Chromebook powered by a Snapdragon Processor. The listing showcases key details about the upcoming device from Google. Last year, the Chromium Gerrit Open source code had revealed that Google was working on a new Chromebook under the codename 'Trogdor'.
As per the recent Geekbench listing, the upcoming device will be based on the ARM V8 architecture. The processor seems to have eight cores. The scores on the benchmark indicate a decent performing chipset.
It scores 558 for the single-core and 1528 for the multi-core performance. The listing also reveals other details like the 8GB of on-board RAM and the Chromebook will run on Chrome OS based on Android 10 out of the box.
The listing has no further details of the name of it. However, there is a new 'Lazor' keyword on the listing which happens to be the codename of Qualcomm's 7C SoC. Qualcomm's 7c chipset was announced in December last year, along with higher variants 8c and 8cx respectively.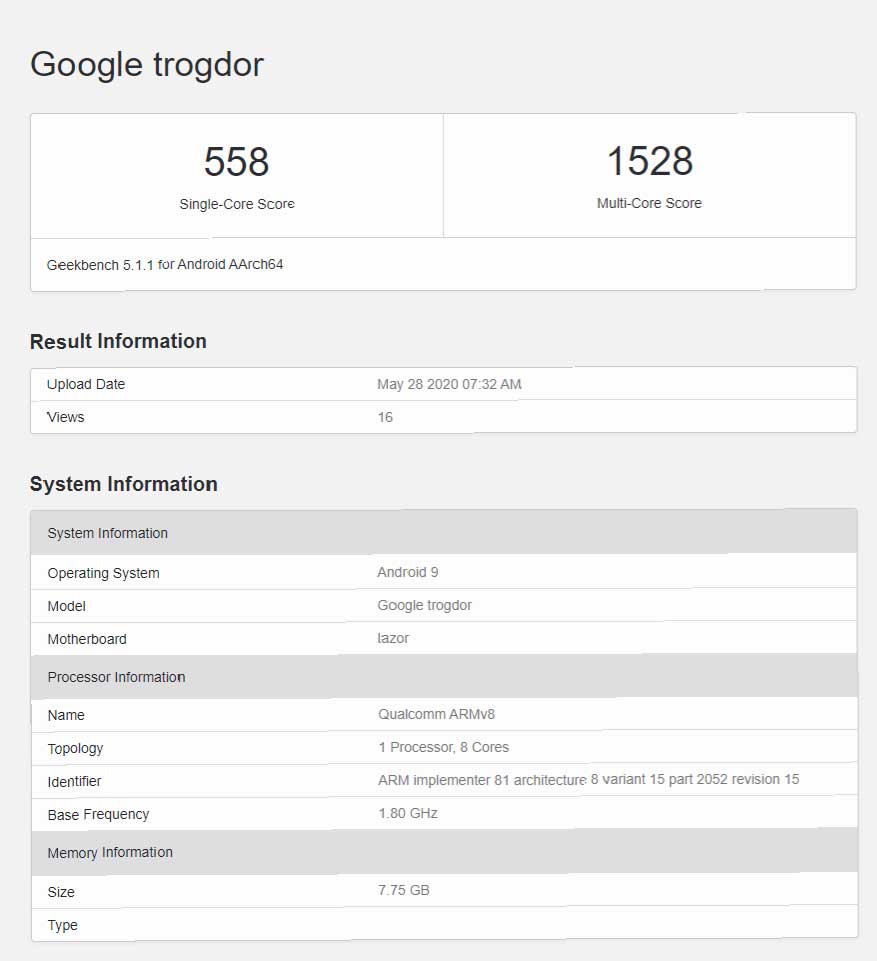 At the developer conference, Google mentioned that the chipsets were based on ARM architecture and aimed at being an always-connected laptop. This means the bootup times and connectivity is said to be faster on the machines equipped by these CPUs.
Apart from this Qualcomm also claims a multi-day battery life claiming about 7x times the battery life of the entry-level PCs. The CPU also guarantees a 20% faster performance when compared with others in the segment. It also has an instant LTE connectivity and can power thinner, lighter, and quieter PCs giving users a pleasant experience.
Related: How to Change owner on Chromebook
All in all, the Geekbench listing indicates the device could be well past its development stage. However, Google is yet to confirm the existence of a new Chromebook and we will have to wait further to know more about it in the coming days.