As black Friday is approaching, all the major brands and retailers start showcasing their offers soon. So Google also showcased its Black friday deals on its flagship smartphones and other products. Google offers up to $150 Off on various products without any trade-in. Google will make all the deals live from November 17th at 12 AM PST.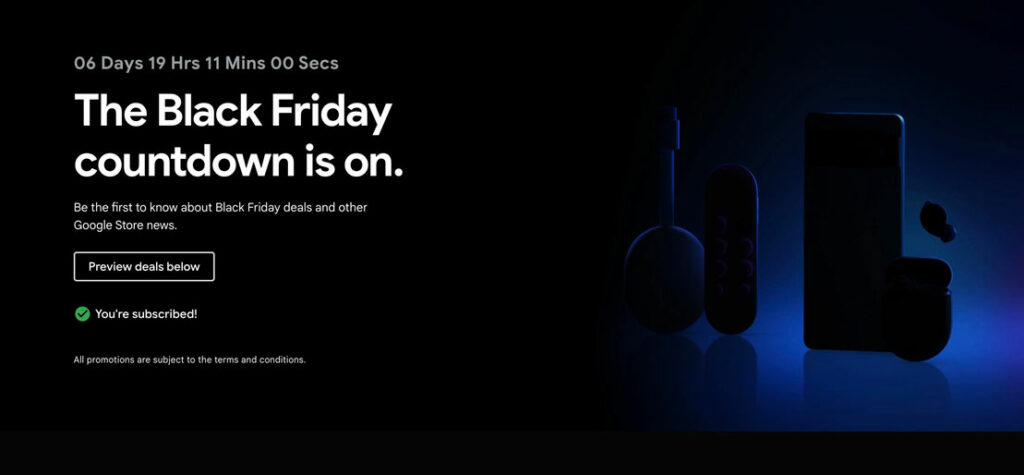 Below is the full list of products that will go on sale during this black Friday:
Pixel 7 Pro drops to $749 $899($150 OFF)
Pixel 7 drops to $499 $599($100 OFF)
Pixel 6a drops to $299 $449($150 OFF)
Chromecast with Google TV HD or 4K discounted by $10
Pixel Buds A-series drops to $64 $99($35 OFF)
Nest Hub 2nd gen drop to $49 $99($50 OFF)
Nest Thermostat is available for just $89.99 $129($40 OFF)
Nest Cam will be available for just $199.99 $179.99($60 OFF)
Nest doorbell(battery) for just $119.99 $179.99($60)
Moreover, there is noise around the web for Google might announce a discount on Pixel Watch during the Black Friday sale. Although there is no official word on it.
If you're looking for a smartphone on Android then Pixel 7 Pro and Pixel 7 are one of the best. Their camera takes stunning photos in all conditions. For more deals and offer you can go through our deals sections.