After several rumours, certification appearances, and even some retailer listings, Google has finally launched the Chromecast with Google TV HD in the United States along with 18 other countries at the price of $29.99. The initial buyers will get 6 months of Peacock Premium. It is available in classic Snow colour.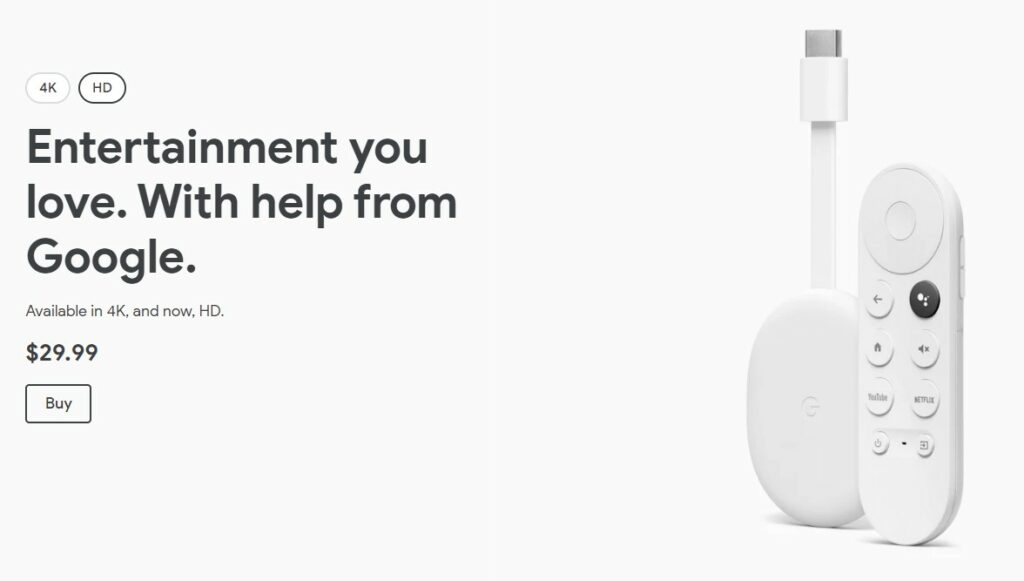 Must See: Chromecast with Google TV (HD) gets listed on Google Support Update board
After the announcement of Chromecast with Google TV (4K) in 2020, it took Google a couple of years to launch the HD variant.
Chromecast with Google TV (HD) will feature enhanced software optimizations for the "Smooth and Snappy" experience. It carries the same neat and tidy design as Chromecast with Google TV (4K) which will easily get tucked beside your TV panel.
Chrome with Google TV (HD) Specifications
The new Chromecast HD is capable of streaming in 1080p resolution with support for HDR content at 60 frames per second. The device measures 6.4″x2.4″x0.5″ and weighs 1.9 oz. It supports HDR, HDR10+ and HLG video formats. The users will be able to enjoy content in Dolby Digital, Dolby Digital Plus, and Dolby Atmos via HDMI passthrough Audio formats. It offers 8GB of internal storage. However, the power adapter will remain the same as that of Chromecast with Google TV (4K).
Chromecast with Google TV (HD) is running Android 12 carrying build number STTF.220621.013.
It is currently available in 19 countries including Australia, Austria, Belgium, Canada, Denmark, Finland, France, Germany, Ireland, Italy, Japan, Netherlands, Norway, Spain, Sweden, Switzerland, Taiwan, United Kingdom, and the United States. The Chromecast HD is now up for grabs via the Google Store and Best Buy at $29.99.