Echo Dot & Google Home Mini or the new Nest Mini are two well-established smart speakers out there. Whether if you're looking for a voice assistant for chit chat or planning for some home automation, then these are among the top smart speakers you could buy. In this guide, we'll explain in detail the difference between Echo Dot vs Google Home Mini.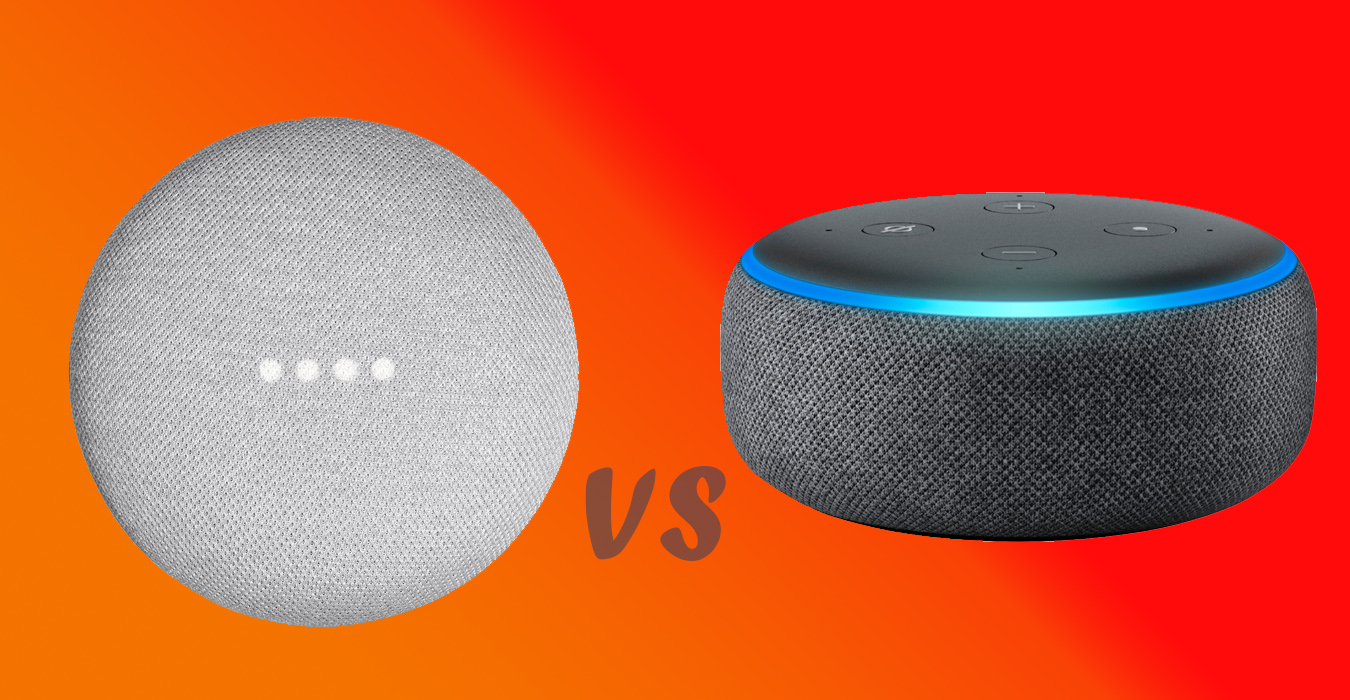 These two tiny speakers can do a lot more than you think, today we'll have a look at what these small but effective speakers have for us. If you're planning on buying one, we highly recommend that you go through the comparison between Echo Dot vs Google Home Mini (Nest Mini) thoroughly.
Amazon or Google
The most notable difference between these two is, of course, the people who make them. The Echo Dot is from Amazon and the Google Home Mini Google (who else would you expect?). This fact alone would be the choosing factor for most users.
Alexa vs Google Assistant
They're both capable voice assistants. If you've used them, then you probably would've noticed by now that,
Alexa is for the best shopping experience and.

Google Assistant is suited for general search and information requests.
Both of them are equally good when it comes to smart home devices and system. But we guess the Google Assistant be a little better handling these devices (just a teensy bit). Also, the Google Assistant is better at understanding mixed syntax and more complex queries. And combined with the voice, Assistant tends to feel a bit more natural.
But if you're more of a shopping guy, then Alexa would be the perfect choice for you, as it comes from a company which makes most of their money through online shopping.
Audio Playback
It's almost a win-win for both in this segment. In the case of raw audio quality, the Echo Dot clearly holds its lead. You can connect it to external speakers via 3.5mm Aux or Bluetooth. You could even use two Echo Dots to get a stereo playback. The add-on subwoofer is also a plus for the Echo Dot.
While the Google Home Mini is allergic to Aux output, we can still use Bluetooth for external connectivity and can pair two Google Home or Nest speakers for Stereo output. Google has the edge when it comes to music. Both are capable of streaming from popular services like Spotify or Pandora. But Google lets you listen to your own digital music library.
Calling
It is another essential feature of both devices. Amazon Echo Dot provide you audio call via Skype as they have partnered with Microsoft. Meanwhile, Google also allows the calling feature. It has extended the calling feature with Duplex which can make calls on your behalf.
Smart Home Ecosystem
Amazon got the head start here by offering Alexa integration, but Google has been catching up. Both the services now support the somewhat same number of smart appliances. Some products do support both these services but do confirm the supported service by your particular device.
Hardware
This one should be the first in the list, but it would be best we discuss this one in the end. Even though both these devices are roughly the same size, the Echo Dot is a bit taller than the Google Home Mini. The Echo Dot is the bulkiest with a shape similar to that of a hockey puck. It is available in light grey, dark grey, or off-white. The Google Home Mini keeps a low profile and is available in chalk, charcoal, or coral
Both the speakers need to be connected to power to use them. While the Echo Dot connects to its power supply with a barrel connector, the Google Home Mini uses a USB power supply. Both speakers have some good microphones, so placemen won't be an issue.
Echo Dot and Google Home Mini are two of the best smart speakers out there and we hope this guide helped you choose the one that best suits you.