In this guide, we have explained how to factory reset Nest outdoor camera. Google Nest Cam Outdoor is a security camera. As the name suggests it is set up outdoors. It is part of the Google Nest ecosystem of smart home products. It is usually set up as a home security system.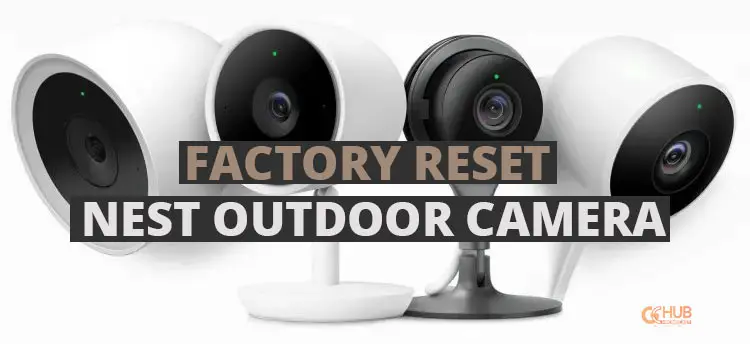 The Nest Cam Outdoor can record high-quality video footage in 1080p HD resolution. It also offers a 130-degree field of view allowing efficient monitoring. The smart security camera is comes equipped with night vision to capture clear video even in low-light conditions.
Factory Reset Nest Outdoor Camera
The requirement for factory resetting a nest outdoor camera arises when you are facing software issues with the gadget and no amount of fixing is resolving the problem. Also, when you sell away your Google Nest outdoor camera to someone in case you are moving places, for safety & security it is wise to reset your camera before selling it.
What Happens When You Reset Nest Outdoor Camera? 
All the personalized settings of the camera will revert to default settings.
The entire video history and snapshots of the camera will be deleted for good. and cannot be recovered. Note that there is no system to back up the data that gets deleted.
The Wi-Fi network name and password connected to the nest cam will be removed permanently.
In case your camera has a 1st gen Nest Aware subscription you need to cancel that subscription before factory resetting the camera. Canceling the subscription will remove subscription-specific features like Activity Zones and delete the entire video history.
Steps to Reset the Nest Outdoor Camera
Unplug the power adapter connected to the camera to Disconnect your camera.
Now wait for ten seconds.
Plug the power adapter back into the power outlet. The camera will restart.
Resetting the Nest Outdoor Camera Using Google Home App
Using the Google Home app you can also reset the Nest outdoor camera.
Launch the Google Home app.
Tap on the Nest Outdoor camera icon to access its settings.
Tap on the gear icon to go to Settings.
In the menu scroll down to Remove Device and tap on it.
Tap on the option Remove to confirm the factory reset.
If you are resetting the nest outdoor camera to debug technical issues, then after the reset you have to configure it again. Otherwise, if you are selling it to someone, they will set it up with their Google Home app/ Google account when they start using it as their home security system. I hope this guide on How to factory reset nest outdoor camera was informative.