Google Chrome and Microsoft Edge are the two most popular browsers used in Windows operating systems. Chrome has been around for quite a while, and the lack of competitors has been a favoring factor. But on the other hand, Edge has been the browser with the highest inflow of users from its launch. We hope you'll be able to arrive at a decision after this Google Chrome vs Microsoft Edge comparison.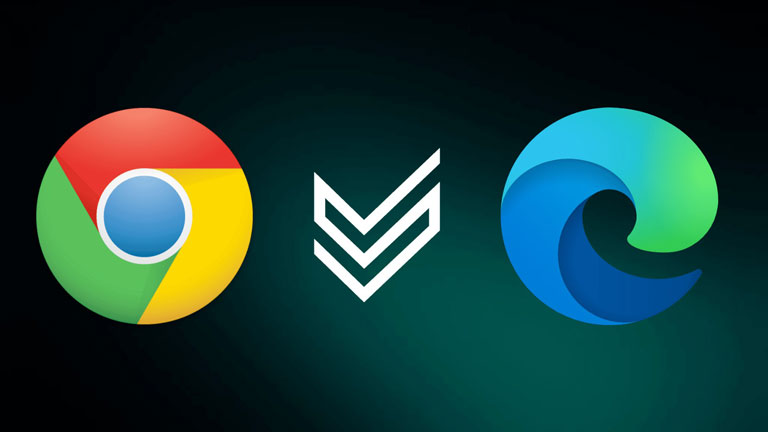 Personal preferences and the way a person uses their browser have remained somewhat consistent over the years. This would also be a switching factor for Chrome users as they're well attached to it. This further stretches the switching process. So let's see what makes each of these browsers stand out in its own way.
Platforms and Availability
Both the browsers are available on all major platforms. And to be honest, Chrome has the upper hand in most of those platforms. Android and iOS might be the dominant platforms when it comes to the userbase. This is because most users own an Android or iOS device. While Microsoft Edge is a real competition for Chrome in the PC segment, Chrome has quite a big lead in platforms other than Windows. 
There is no denying that Chrome is the most used browser, thanks to mobile devices. So it will be best if we compare the desktop variants of these browsers, especially Chrome and Edge for Windows. Also, we do hope that most of you will be here to find the champion in the Windows platform. 
Google Chrome vs Microsoft Edge: Which one to choose
Both the browsers are proven to be the best choice for Windows operating systems. So let's see the pros and cons of each of these browsers. 
User Interface
Both the browsers share a somewhat similar User Interface since both of them are Chromium-based browsers. However, Edge can be a little more customized to make the browsing experience better.
Features & Extensions
Edge being a browser designed by Microsoft for a Microsoft-owned operating system is a clear winner. It comes with features that improve user experience, security, and safety. Chrome manages to stay on track with extensions and cross-platform compatibility.
Vertical tabs
Edge struck a blow to Chrome by introducing Vertical tabs. When turned on, Microsoft Edge will arrange all windows in a vertical bar at the left side of the browser. The feature is raw, and many users might not be able to digest it at first. Because we are somewhat hardcoded to use the horizontal tabs.
Going back to horizontal tabs might be impossible for users once they get used to the Vertical tabs. The feature allows the user to group and arranges the windows anyway they seem fit with ease. The best part is the user can identify windows by names irrespective of the number of open tabs. While Chrome users can group windows, vertical windows seem far from reach for them.
Sidebar for Quicker Search
We all might've encounter situations in which we want to search for something on a website but doesn't want to stray too much. Edge has a feature that will enable one to search for something quicker, namely, Search in Sidebar. Simply select and right-click on whatever you want to search. Click on Search in Sidebar to see the result listed in a small window at the right side of your browser.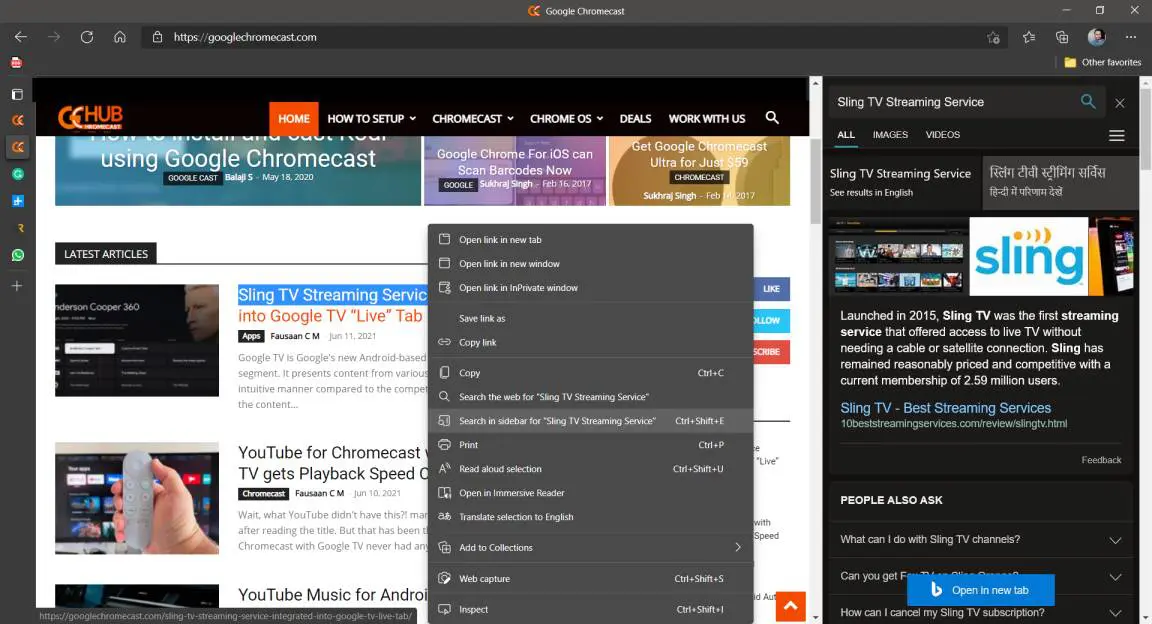 Extensions and add-ons
Chrome still holds the lead when it comes to add-ons and extensions. Even though Microsoft Edge lets anyone add Chrome extensions to the browser, the feature is still far from perfect and requires some serious attention. However, it is worth noting that some extensions can cause the browser to drag like a snail. Moreover, Google has also warned the users to verify the extensions before adding them to the browser. 

But there are some extensions for Chrome that adds a ton of functionality. These extensions will make Edge look outdated but be aware that extensions are from third-party developers. 

Edge offers a Read Aloud feature that will come in handy for visually impaired people (or the lazy ones among you). Both browsers also let the user turn webpages into apps. The process is a bit different in either browser, but the net result is the same. These apps will run well on both platforms.
Web capture is yet another feature offered by Edge. It lets the user take screenshots of complete websites. The user can also capture only a section of the screen using the tool. On Google Chrome browser there are a lot of screenshot extensions that you can use to take screenshots.
Sync and Webpage Compatibility
Chrome nails this one as most users will be using Google as their default search engine. The user can sync the data between their smartphone and PC with ease. Chrome is also the browser of choice for web developers as they won't have to worry about webpage compatibility. Cross-platform compatibility is also a plus for Chrome.
However, if you're willing to ditch Bing for Google, you could sync your data between smartphone and Edge. Microsoft has claimed that the switch to Chromium has eradicated the concern of webpage compatibility. The introduction of Visual Studio Code as a code editor seems to be a smart move by Microsoft to lure developers. And lucky for them, the idea is working as the editor is already the favorite for many. Web developers are also making the switch due to the below concern. Still, some older government websites and portals stay a constraint in Edge's path to achieving their goals.
Performance
Chrome has been good at using minimal system resources to function. But that is no longer the case. Many users who switched from Chrome did so because of the terrible resource management of Chrome nowadays. Chrome consuming 2gigs of RAM for 10 tabs still remains a mystery for many. 
Edge being a Microsoft product, knows how well to utilize these resources. Recently Microsoft introduced a feature named Sleeping tabs. It will put unused tabs to sleep. Users always can set exceptions. However, it has been reported that Chrome is working on something similar.
Security & Safety
Edge scores yet again, thanks to its ability to work well with Windows Defender. Microsoft has officially said that Windows Security is all the security you need. And that claim might be valid to some extent as Windows Security and Microsoft Edge do a great job at keeping ransomware and security threats at bay. Chrome also provides security and protection from online attackers. But if you've been following the news, the newer QSCX ransomware and similar online threats are likely to get into your PC through Chrome than Edge.
User privacy is also a concern for many. Google Chrome is free software that comes with its downfalls. Edge, on the other hand, is part of the Windows package you're paying for. So it is logical to assume that the browser is good at keeping your identity and data from others. Chrome does let the user adjust privacy settings to a great extent. Tuning them might be not as convenient as with Edge.
To wrap things up
Both Google Chrome and Microsoft Edge are good at doing what they claim. Chrome has the advantage of being the browser that had decades of improving and perfecting itself. We've come from loading simple HTML websites to more complicated ones that feel and function like a desktop app. If you talk about the Windows platform Microsoft Edge has an edge of being the browser that can communicate better with operating system. The developers behind the software do understand the underlying operating system and the kernel to provide optimized performance like no one else.
The decision is subjective and will vary from person to person. But our verdict here is that if you're a Chrome user, start using Edge. The browser has come a long way over its short lifespan, and we hope you might be able to remove the wrong one from your PC, be it Chrome or Edge. Although, if you can't bear Bing, Edge will let you change your default search engine.