Black friday is a few days away and almost every major retailer has put out their black Friday deals. Now here is an exciting deal in which you will get a Google Fi Simply Unlimited SIM kit for just $35 on Amazon. Usually, the Google Fi Simply Unlimited SIM kit was sold for $50 for a single line. So it is the cheapest SIM kit available now.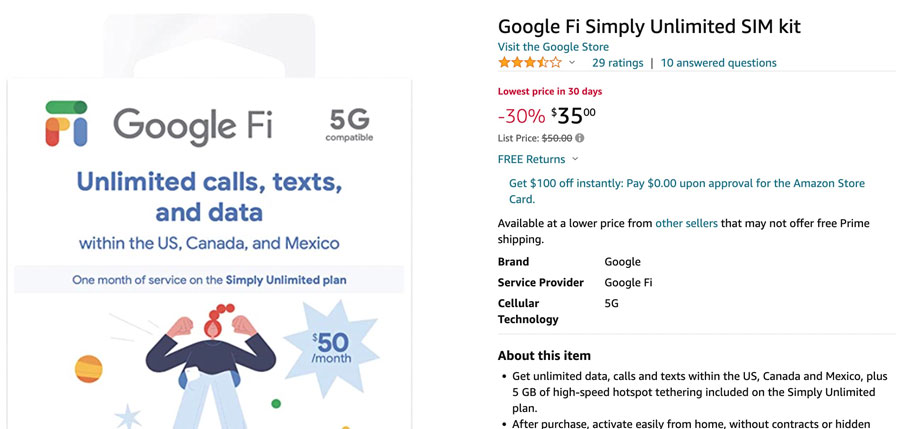 Talking about the Google Fi Simply unlimited plan, it includes unlimited calls, texts, and data throughout Canada, the US, and Mexico. Moreover, along with the plan you will also get a built in VPN and 5GB high-speed hotspot tethering. If you don't know Google Fi is only available for the US citizens. Google Fi was earlier known as Project Fi till 2018.
Google uses T-Mobile and US Cellular Network to provide users with calling facilities, SMS, and data. It was first started exclusively for the Nexus 6 smartphone on April 22, 2015. If you want the cheapest Google Fi Simply unlimited SIM kit, go through the link below.
Buy Google Fi Simply unlimited SIM Kit form Amazon.
However, Google has also gives huge discounts of up to $150 on its various products during the Black Friday 2022. The products includes newly launched Google Pixel 7 and Pixel 7 Pro. Moreover, the list also includes Pixel 6a, Pixel Watch, Chromecast with Google TV HD /4K both the variants, Nest Hub 2nd gen, Nest Thermostat, Nest Cam, and Nest Doorbells. For more deals, news, how-to guides stay tuned with us.