Google TV is the new face of the Android TV platform. The search giant seems to be not stopping at improving and personalising their new Smart TV environment. Google has now released an update that will let Google TV users add user profiles. The update ensures a much more personalised viewing experience as we have on services like Netflix. The update has also improved the ambient mode screensaver.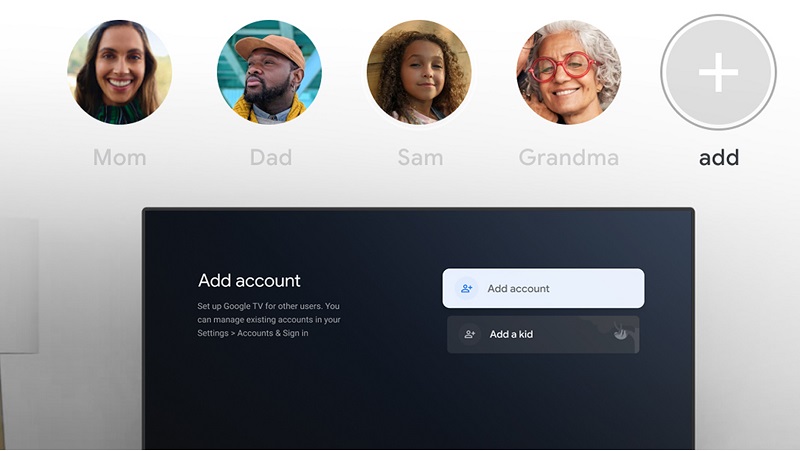 Google has managed to squeeze in some new features and improvements with this update. Besides adding more users, one can also enjoy the expanded live TV menu on Google TV. The budget live TV streaming service Philo has somehow made it to the live TV menu on Google TV. It is the third service after YouTube TV and Sling TV to be integrated into Google TV's live TV menu.
Google TV will let you create user profiles.
Google's intention here is clear. Each user is different and will have different tastes when it comes to entertainment. Once a profile is created, a user will receive TV and movie recommendations. Personal watchlist and Google Assistant is yet another advantage of creating a profile for everyone. Google could always benefit from the surplus of user data they could then later use for tailored ads. In fact, the idea in itself isn't new. A similar feature was implemented in Android phones up until recently.
A screensaver that knows you
As we said, the update has tweaked the screensaver that automatically appears on your TV if you're not using it. The screensaver will now include profile-linked information like custom recommendations, scores of your favourite games, weather, etc. It also features shortcuts to quickly access photos or music. 
Even though it is a good thing to have custom profiles for everyone in the family, we believe this is just a way for Google to milk more from you and your family. However, we recommend you try it out yourself. The update will be available to all TVs and streaming devices that are powered by Google TV.