Facebook might be the most sought out social media service of all time. It is almost impossible to find someone who wouldn't have seen Blue F. The service redefined how we think of connecting people. Aside from chatting with friends, Facebook offers a buttload of features. One such feature is the ability to stream media. Still, most of the contents are from other popular streaming services like YouTube. But it's always great to havethem on Facebook. But what if you wanted to watch them on the TV. In this guide, we'll show you how to stream Facebook on Roku.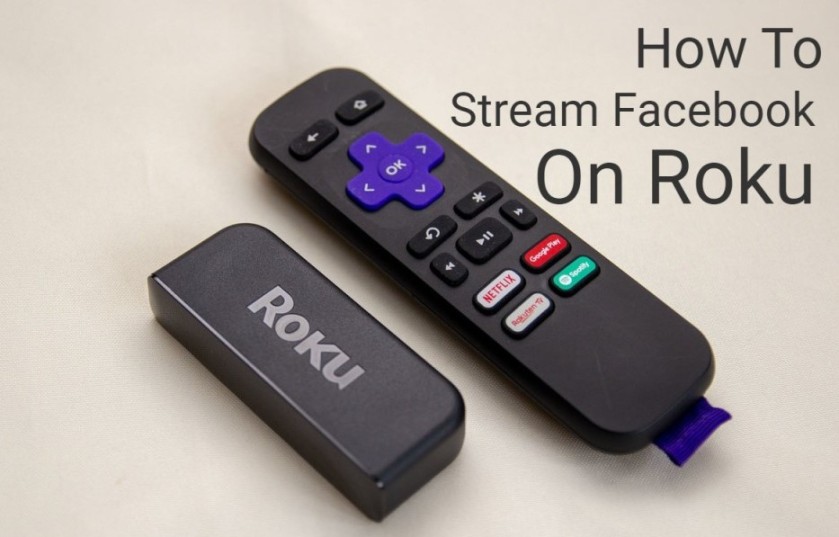 Roku is a popular streaming device out there. They let the user Cast their smartphones/tablets on to a TV or even something much larger like a projector. This feature helps us achieve things that are unless difficult with traditional TVs. And one such thing the ability to stream Facebook to Roku. So let's see how to stream Facebook on to that shiny new television of yours. But before we get started, make sure your setup meets the following.
Pre-requisites
Make sure both the devices are connected to the same Wi-Fi network. 

Ensure your Android device is running on version 4.2 or later. 

Verify that the Roku stick runs on the latest firmware for better performance (Roku OS 7.7 or later).

Most Roku streaming players and Roku TVs support screen mirroring except the following. 

Roku Express: 

Screen Mirroring is supported on the model 3900 but not on the 3700.

Roku Express+: 

Screen Mirroring is supported on model 3910 but not on 3710. Note that model 3910 only supports Screen Mirroring over the HDMI output. 
Steps to Stream Facebook on Roku
If you're an Android or a Windows user, then you're in luck. We can stream Facebook to a Roku device without the need for any fancy apps. As of now Streaming on to a Roku device is not natively supported on an Apple device. 
Stream Facebook from Android
Casting Facebook from an Android device follows the same steps for any other app. We can Cast an Android device either from the notifications panel or from the Settings.
Open the Notification Panel and look for Cast (it could go by names like Smart View, SmartShare, Wireless Projection, Cast, etc.).

Click on it and wait for it to search for any available devices.

Click on the name of the Roku device to which you wish to Cast. Your Android device will now appear on the TV.

Alternatively, you can go to Settings and look for Cast under 

Device Connectivity

, 

Connection

,

 Network,

 or under 

Display Settings

. 

You can also refer to the manufacturer's guide to Cast from your particular Android device.

The rest is the same steps 2 and 3.
Once the above steps are done, we can start streaming Facebook on TV. Also, note that this method will display everything running on the phone on to the TV. So be very cautious if there is anything of importance on your device.
Stream Facebook from Windows
It is possible to stream Facebook from a Windows machine. However, we recommend that you use the latest version of Windows 10 for better performance. Follow these steps to stream Facebook from a PC. 
Open the 

Action Center

 on your Windows device.
Open it by pressing the 

Windows key + A

.

You can also open it by click on the rightmost icon on the 

Taskbar 

(for Taskbar at the bottom or top of the screen). 
Click on 

Connect

. If you can't find it, you may need to expand the Action Center.

Give it a moment to scan for supported devices. 

Select your Roku device and follow the on-screen instructions.
Your PC will now appear on your TV, and you can use Facebook from any browser of your choice. This method can be used to Cast anything from a Windows machine. 
Problems?!. 
Depending on the model of the Roku device, you might want to allow incoming Cast requests. This setting will be enabled by default, and it can be changed from the Settings.
Press the 

Home

 button on the Roku remote and click on 

Settings

Select 

System 

and go to 

Screen mirroring

.

Click on 

Screen mirroring mode

 and select any desired choice.
Roku is a popular streaming device, and Facebook is even a much popular service. We hope these guys figure out what's best for the user, at least in this age of streaming. After all, it is never too much to ask for a Facebook app for Roku. We hope you found this guide helpful. Reach us through the comments if you need any further information.