Roku TVs have become increasingly popular due to their ease of use, versatility, and compatibility with a wide range of streaming services. However, losing or breaking your Roku remote can be a frustrating experience. Fortunately, several ways exist to control your Roku TV without a remote. In this comprehensive guide, we will walk you through various methods and provide step-by-step instructions on how to use your Roku TV without a remote.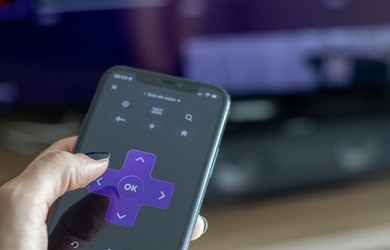 Using the Official Roku App
The simplest way to control your Roku TV without a remote is by using the official Roku app, available on both iOS and Android devices. The app allows you to manage your Roku device via the Wi-Fi connection between the two devices and perform all the same functions as a Roku remote.
Follow these steps to turn your smartphone into a Roku remote and set up a Wi-Fi connection:
Step 1: Download the Roku App
Download the iOS version of the Roku app from the App Store or the Android version from Google Play.
Step 2: Open the Roku App and Connect to Your Device
Open the app and follow the on-screen instructions to connect it to your Roku TV. If you have multiple Roku devices, ensure the app is connected to the desired device. A green dot and the device name should be displayed at the top of the screen, indicating a successful connection.
Step 3: Use the App as a Virtual Remote
Once connected, you can use the app's remote interface to navigate your Roku TV's menus, settings, and channels. Remember that your smartphone and Roku TV must be connected to the same Wi-Fi network for the app to work correctly.
Setting Up a New Roku TV Remote
If you purchase a replacement remote or find your old one, setting it up is straightforward. We'll explain how to pair a Roku Infrared Light (IR) remote with a Point Anywhere (Enhanced) remote and reset, re-pair, unpair, and add a second or new remote.
Connect a Roku Infrared Light Remote
Some Roku remotes use infrared light to transmit signals to the device and require a clear line of sight. IR remotes do not need to be paired with the device. Insert AA or AAA batteries into the remote, which will be ready for use.
Pair a Point Anywhere or Enhanced Roku Remote
Both Standard Point Anywhere and Enhanced Point Anywhere remotes use Bluetooth, radio frequency, or Wi-Fi to establish a connection and can function even with obstructions in the way. However, they require pairing before use. Follow the "Pairing, Re-pairing, and Unpairing Your Roku Remote" steps below to set up your remote.
Must Read | How to Turn Off Caps Lock on Chromebook
Using a Universal Remote
If you don't have access to the Roku app or prefer a physical remote, you can use a universal remote to control your Roku TV. Many universal remotes are compatible with Roku TVs and can be programmed to perform all the same functions as the original remote. Check your universal remote's manual for specific instructions on programming it for your Roku TV.
Pairing, Re-pairing, and Unpairing Your Roku TV Remote
Whether you're setting up a new remote, troubleshooting an existing one, or switching between multiple remotes, you may need to pair, re-pair, or unpair your Roku remote. Follow these steps for each process:
Pairing Your Roku TV Remote
Insert fresh batteries into your remote.

Ensure your Roku device or TV is turned on.

Place or hold the remote near the device, and it will automatically find the remote and pair it.
Re-pairing or Resetting Your Roku TV Remote
Disconnect your Roku device, then power it back on after about five seconds.

Once the home screen appears, insert batteries into the remote, leaving the battery compartment open.

Locate the "pairing" button inside the battery compartment and hold it down for about five seconds or until the pairing light starts flashing.

Wait for approximately 30 seconds as the Roku pairs with the remote. A confirmation message should appear on your TV screen.
Unpairing Your Roku TV Remote
Long-press the "Home," "Back," and "Pairing" buttons simultaneously for about three to five seconds.

The indicator light should blink three times, indicating that the remote has been unpaired.

Press some buttons on the remote to confirm that it is no longer connected to the Roku TV.
Adding a Second or New Remote
Adding a second remote to your Roku TV can be helpful for multiplayer gaming or as a backup in case your primary remote is lost or broken. Here's how to add a new or second remote to control your Roku player or TV:
Go to the "Home" menu on your Roku TV, then select "Settings."
Choose "Remotes & devices," then "Pair Remote."
The following screen will display the currently paired remote.
Click on the right arrow and follow the on-screen instructions to add a new remote.
Related | How to watch Tubi TV on Roku
So don't panic as losing or breaking your Roku remote doesn't have to be a disaster. With the help of the official Roku app, a universal remote, or a mobile hotspot, you can still enjoy your Roku TV without needing a physical remote. Follow the steps and tips in this comprehensive guide to ensure a seamless experience with your Roku TV, regardless of whether you have a remote or not.