Are you tired of fumbling with different remote control codes to operate your LG TV? Sometimes, programming a universal remote control can be a real headache, especially when you have to try multiple codes before finding the right one. But worry no more! We have compiled a complete list of LG TV universal remote control codes that will make your life easier. With this list, you can quickly and easily program your remote and start enjoying your TV without any hassle.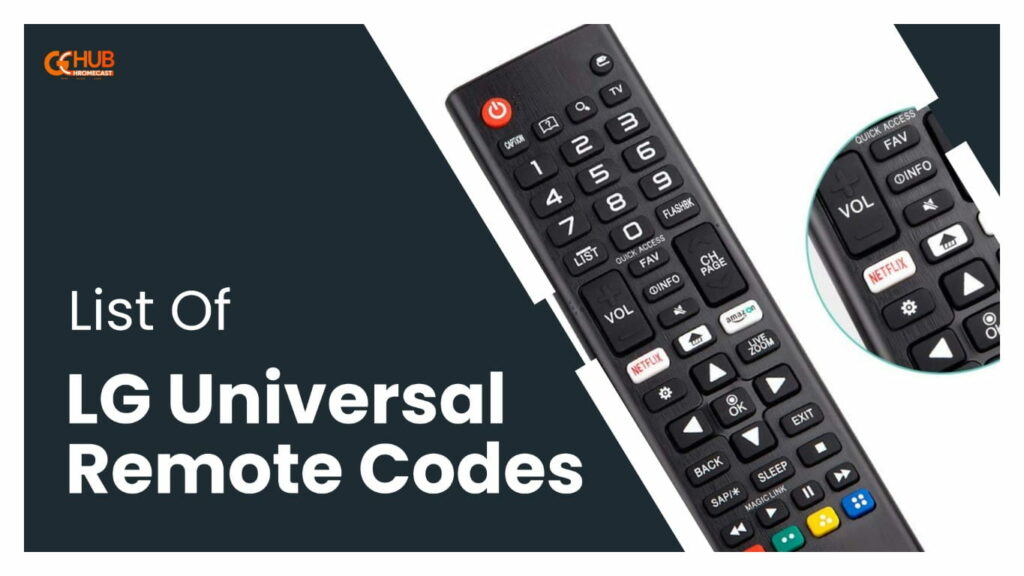 Must See: LG TV won't turn on: Troubleshooting Tips
LG's been in the TV business for ages and from standard Black and White TVs, we have now seen LG OLED TVs running the in-house WebOS. Along with the unmatched innovation in TV Panels, remote controls have been invented and evolved. From standard remote control for TVs, LG now ships Magic TV Remote which works flawlessly with its tracking mouse icon.
Why user needs Universal Remote?
Universal remotes are a convenient solution for anyone who has multiple electronic devices and wants to operate them using a single remote. Another benefit of universal remotes is that they can be programmed to work with a variety of brands and models. Below are some other advantages:
Universal remotes offer a convenient solution for controlling multiple electronic devices with a single remote.
They allow easy control of devices such as TVs, cable boxes, DVD players, and sound systems without the need for switching between multiple remotes.
Using a universal remote simplifies the setup process and eliminates the need for programming multiple remotes.
They help reduce cluttered surfaces by replacing multiple remotes with a single one.
Universal remotes can be programmed to work with various brands and models, making them versatile and flexible.
Even if you have multiple devices from different manufacturers, a universal remote can still control them all.
Overall, universal remotes are a practical and useful device for simplifying electronic devices' control and reducing the need for multiple remotes.
Overall, universal remotes are a useful and practical device for anyone who wants to simplify their electronic devices' control and eliminate the need for multiple remotes.
So, let's dive into the list of universal remote control codes for LG TVs!
Must See: How to cast on LG TVs with and without using Chromecast [all methods]
How to Program a Universal Remote Control for LG TV?
If you have a universal remote control and want to program it for your LG TV, you can follow these simple steps:
Turn on your LG TV and the universal remote control.
2. Press and hold the "TV" button on the remote until the LED light blinks twice.
3. Enter one of the codes from the list of universal remote control codes for LG TV.
4. Press the "Power" button on the remote. If the TV turns off, the code has been successfully programmed. If not, try another code from the list.
5. Once the TV is turned off, press the "OK" button on the remote to save the code.
List of Universal Remote Control Codes for LG TV
Here is the complete list of universal remote control codes for LG TV:
3 Digit Codes for LG TV
004
005
009
012
050
057
080
156
227
338
420
505
506
512
520
553
615
627
653
678
766
773
4 Digit Codes for LG TV
0004
0004
0005
0009
0012
0030
0037
0050
0056
0057
0080
0108
0109
0156
0178
0227
0338
0361
0556
0606
0644
0698
0714
0715
1002
1004
1005
1014
1025
1078
1081
1095
1096
1097
1098
1099
1100
1101
1111
1128
1130
1132
1134
1144
1149
1171
1205
1305
1343
1346
1396
1423
1637
1663
1681
1840
1842
1859
2065
4086
5 Digit Codes for LG TVs
10017
10178
10442
10700
10856
11178
11265
11423
11530
11637
11758
11934
11993
12358
12424
12612
12834
12864
12867
13397
13979
FAQs about LG TV Universal Remote Control Codes
Q: What should I do if the TV does not turn off with any of the codes?
A: Try programming the remote with another code from the list. If none of the codes work, you may need to purchase a new remote.
Q: Can I use these codes for other LG devices?
A: No, these codes are specifically for LG TVs and may not work with other LG devices.
Q: Can I program a universal remote control without a code?
A: Some universal remote controls have an auto-search function that can find the code for your TV automatically. Check your remote's user manual for instructions.