The search engine giant launched its first streaming device, i.e. Google Chromecast in 2013. Google's affordable stick is available for everyone at a price of $35. Since then, Google Chromecast is very popular among people who are using standard TVs to smart ones. Casting also makes daily life easy for users who want to showcase something to their family and friends.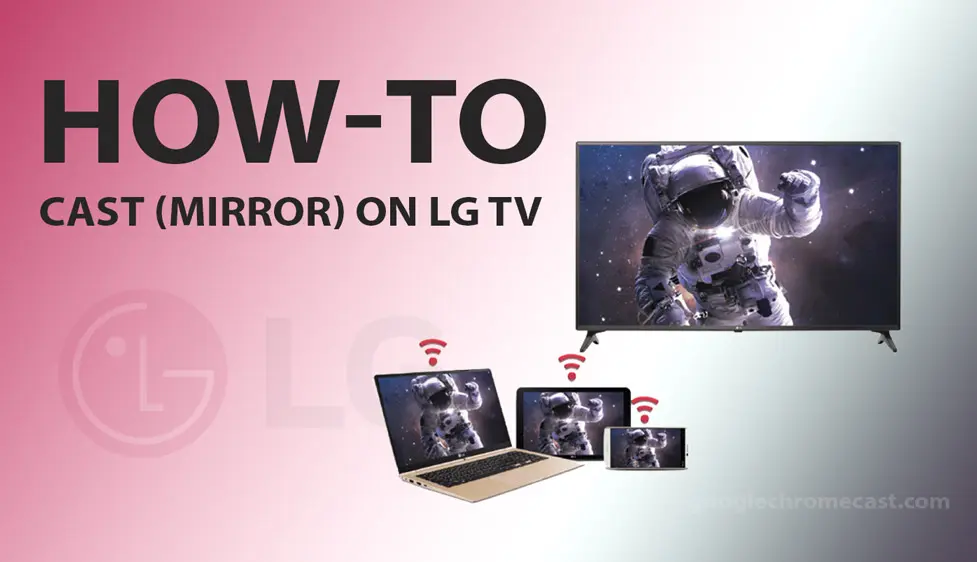 Till now, Google has launched 6 streaming sticks – Chromecast, Chromecast 2, Chromecast 3, Chromecast Ultra, and Chromecast with Google TV that can stream up to 4K quality videos. Chromecast with Google TV comes with remote control. Google Chromecast can be used on a TV that has an HDMI port. Now talking about how we can cast on LG TVs. In this article, we have listed some best ways to cast your content on LG TVs.
Cast (Mirror) your device on LG TV using Google Chromecast Home App
Connect the power adaptor to Google Chromecast and after that, you have to plug in the Chromecast into the HDMI port of your LG TV. Nowadays, almost every TV is packed with an HDMI port.
Connect the Chromecast to your WiFi network. Make sure your device is connected to the same WiFi network.
Now, Download the latest Google Home App from the Play Store and iOS APP Store.
Select your TV source to HDMI from settings, and then Open Google Home App on your respective device, it will automatically start searching the Chromecast device nearby. When the Chromecast device is found, click continue.
Now you will see a code on your TV and Device, and if both the codes match then click on "That's my code" in the Chromecast App.
After that, Google Chromecast is ready to cast. If you have any Chromecast compatible app, then you have to tap on the cast button to view the content on TV.
Enjoy!
Related: How to fix frequent WiFi interruptions on Google Chromecast
Cast (Mirror) your device on LG TV using SmartShare Screen Share
LG SmartShare screen share will cast your smartphone, tablet, and PC on the TV display. It uses WiFi Direct to wirelessly transmit 1080p quality content to the TV screen from your device (mobile, tablet, and PC). Using LG SmartShare screen share, you can cast your phone's display, and photos, and you can also watch movies with this.
Note: LG SmartShare Screen Share will only work on Android Devices and Windows PC. Unfortunately, Apple does not support this technology. So iPhone and iPad users will have to use the Google Chromecast method to cast listed above.
Just follow the steps below to cast(mirror)
Make sure your LG TV and your device are on the same WiFi network.
Now find the Screen Share app in your LG TV's smart menu and open it.
After opening it, you will see the Listening mode button, Click on it and turn it ON if it is in OFF state.

Open your device settings.

Android: Find the Screen sharing(cast or mirroring) in settings of your device and tap on it to open. Now you will find a list of wireless devices, from which you have to select your LG TV. After that, you will see your Android device display is casting on your LG TV.

Windows: In settings, go to the display section and search for a "connect a wireless display" under multiple displays. After that, you will see the available displays. Now you have to click on it to cast your PC's screen on your LG TV. However, Windows 7 and 8 users have to run the WiDi application to cast.

Enjoy!
Also Read: How to cast on Haier TV using Google Chromecast
Cast (Mirror) your PC screen to LG TV using Google Chromecast via Chrome Browser
Download and open the Google Chrome browser on your PC/ Laptop.
Now make sure both your TV and PC/Laptop are on the same WiFi network.
In Google Chrome, at the top right side, click on the three-dot menu, and find the cast option in the list.

After that, you will see the listed Chromecast-enabled device on which you can cast. But by default use "Cast Tab" which means in this type of casting, only the particular Chrome browser tab will be mirrored on your TV. There are three types of casting options, that can be accessed by clicking on the sources button.


Cast Desktop: In this, you can cast the entire display of your PC/Laptop. Now, you have to select the device on which you want to cast it. After that, you can enjoy watching what is running on your computer's screen.

Cast File: In cast file mode, you can stream video or audio files. After selecting this option, you have to select the file which you want to play on your TV screen. Now, you have to select the Chromecast device on which you want to play it. Now enjoy your content on the bigger screen.

Enjoy! 
Also Read: Guide to Cast DVD to Chromecast – Stream from Laptop to TV
We hope you're now able to cast your device display on the LG TV by following the steps listed above. If you get any error while casting to your TV, do tell us via comments below. We will try to fix the error.