Casting the contents to a bigger screen was a nightmare until 2013 when Google dropped the Google Chromecast. Seven years later, we are here with an ultimate battle. Though Google has been consistent in upgrading it every generation, it has clearly differentiated its portfolio with the launch of Chromecast Ultra. The bigger price gap of over $30 makes us wonder, Which is the best Chromecast to buy? We are here with an answer.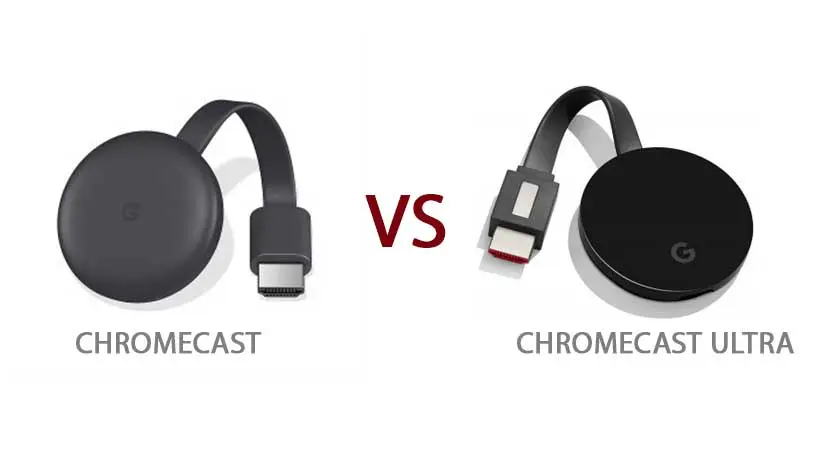 What is Chromecast?
Chromecast by Google is an affordable Streaming device. It was first introduced by Google in 2013. It is a small round-shaped device with an HDMI cable that gets connected to an HDMI(High-Definition Multimedia Interface) port present in a TV, Smart TVs, A/V Receivers or other displays that has one. It draws power from a separate USB cable that is present on the other side of the device. After setting up the device and connecting it to a TV, all the contents from a mobile or a Laptop can be streamed to the bigger screen. Chromecast can also mirror local content on your screen, but if you choose an OTT platform like NETFLIX, it draws the content from it directly and not the phone.  To know how to set up a Chromecast, Refer our best guides on Setting up the Chromecast.
Chromecast vs Chromecast Ultra Major Differences
Google had made a clear stand on the Ultra version when it launched three years back. The support for HDR10 and Dolby vision was actually a rarity back then since not all 4K TVs with HDR10 and Dolby certification were commercially affordable in the market. This justified the price difference between the basic and the Ultra Variants. Three years later, the market has changed today. Affordable 4K TVs and better connectivity make our decision tougher. Take a look at some of the key differences between them below:
Product
Chromecast 3rd Generation
Chromecast Ultra

Launch

October 2018

November 2016

Streaming Quality 

Up to 1080p (1920×1080 pixels)
Up to 4K (3840×2160 pixels) & HDR10(High Dynamic Range) and Dolby Vision

Load times

Ultra-Fast 
Faster load times

Ports & Compatibility

USB port with an Adapter, A HDMI-in

USB port, A HDMI-in, an Ethernet port with the USB Adapter

Connectivity 

WiFi-only
WiFi and Ethernet Connectivity

Similarities

Surround sound, Android Screen Mirroring, Compatible with Chromebooks, iPhone, iPad, Mac and Windows machines

Price

$35

$69
In addition to this, the Ultra has an extra MISO(Multi-Input Single Output) antenna that can give stable internet speeds even at blackspot areas.
The Chromecast Ultra, unlike the basic variant, has support for Google Stadia out of the box. If we recall, Google had talked about Stadia so much that it can be a big thing in the future. Currently, you need a Stadia controller to play games via the Chromecast and although the support for AAA titles on Stadia is less if you are a lover of the cloud gaming services, you can purchase the Google Stadia Premiere Edition here.
Related: How to reset Google Chromecast 1st, 2nd or 3rd Generation?
Which one should you buy? The Final Verdict
The stand-off between the two Chromecasts comes down to the personal preference a user has. 4K TVs are mainstream today unlike 2016, and hence the need for high-resolution content has widened than ever before. But there is always a nitpick between the budget and premium category. If you have a 4K TV or planning to upgrade to one soon, you should probably get the Chromecast Ultra. Some of the Main OTT and Social media platforms like YouTube, Netflix, Amazon Prime, Apple and Google services which have already started offering a wide variety of 4K Contents and it is only going to get better in the future. Hence, it would be a future-proof to get the Ultra by spending slightly more money.
On the downside, if u do not have a budget to afford a 4K TV or an Ultra anytime soon, you can get the Chromecast 3rd generation. It also has streaming support up to 1080p streaming which is still the top quality offered in the majority of contents online. Also, you need a stable connection of at least up to 25Mbps(stated by Google) for the Chromecast to work properly without any hiccups.
At the end it's totally up to you Overall, if have a 4K TV and budget then Chromecast Ultra will be good for you. Otherwise, the Chromecast standard version is also good to have. If you want to buy any one of these you can go through the links below.