The users are quite familiar with Roku Streaming devices but might have also heard about the recently launched Roku Smart Home products. Launched in October 2022, Roku ferried into the Smart Home market to compete against Amazon, Google Nest, and other competitors in the market. At the time of its launch, Roku introduced some products in different four categories of cameras, doorbells, lighting, and plugs.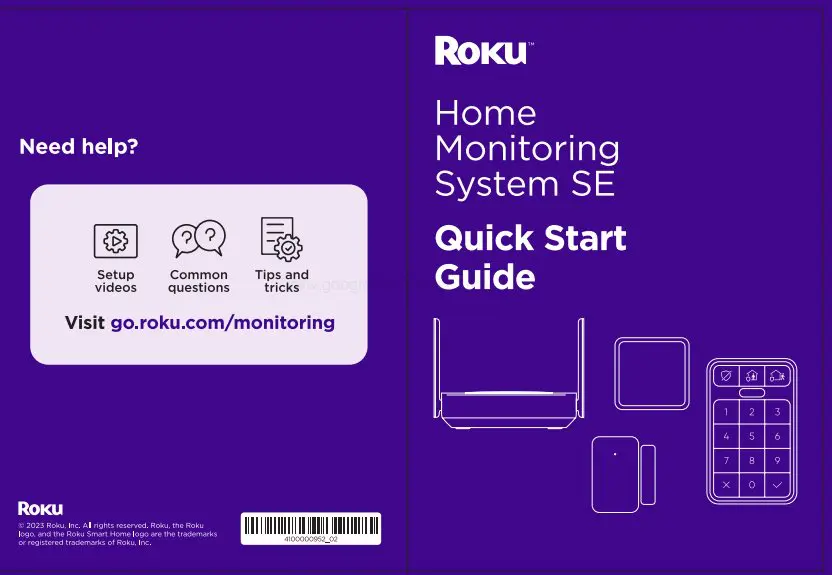 Must See: How to Fix Netflix Not Working on Roku Issue?
Roku appears to be expanding its product portfolio as four new products have surfaced on FCC. There is a new Roku Monitoring Hub SE, Roku Entry Sensor, Roku Keypad, and Roku Motion Sensor. These devices are bundled under the Roku Home Monitoring System SE. All the details and live pictures are intact with the listing and below we have detailed each product.
Here's the snippet from its user Manual, defining the features of each product or device.

Roku Monitoring HUB SE (SS100BX)
It is the primary Monitoring HUB, which will act as Hub for all other products listed below. The device offers a built-in siren which gets activated once intruders intercept your defined boundaries in the house. It ships with a 5W adapter. Below are some photos of the device.
Roku Motion Sensor (SS100MX)
As the name defines it is a Motion Sensor device bearing model SS100MX. The device runs with 2x AAA DC 3.0V batteries. It can detect motion up to 25 feet and is designed to detect people and not pets. The package comes bundled with Roku AAA Batteries and Screw Kit. It is part of the Roku Home Monitoring System SE.
The user would require Roku Monitoring Hub to function. You can see Some images above of the actual device.
Roku Entry Sensor (SS100EX)
Roku Entry Sensor is an alert device that activates when a door or window is opened or closed or left open. The package comes with 2x AAA batteries only. Including this, all other three devices are part of the Roku Home Monitoring System SE.
You can have a look at the external and internal photos of the ROku entry Sensor.
Roku Keypad (SS100KX)
It is Rpku Keypad that quickly lets you arm and disarm the system and manually triggers the alarm. The package comes with 3x AAA batteries. You can see the pictures of the actual device below.
Related: Roku Partners with Doordash to give users 6 months of DashPass
These products are manufactured by Wyze and will be sold under Roku branding. However, there's no information related to its launch yet.