Toshiba launches its new Hard Drive with Wireless capabilities. Product Name is Canvio AeroCast Wireless Hard Drive it is powered with High capacity wireless storage with built-in SD memory card slot, Built-in rechargeable battery for ultimate mobility, Share media with up to six smartphones, laptops, tablets and PCs at the same time.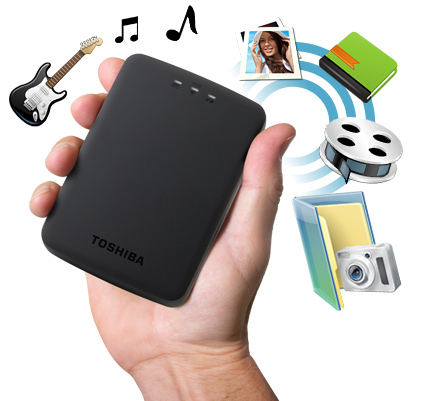 The AeroCast is only available with 1TB of storage, which is slightly disappointing, but its complete PC, Mac, tablet and smartphone compatibility more than makes up for the lack of capacity options. You may have to limit your digital hoarding, but at least you know accessing and sharing the content will be as easy as pie on all mobile and computing platforms.
The Canvio Aerocast Wireless Hard Drive allows users to wirelessly access and manage their stored files, and will come in handy for Chromecast users in particular, who can access their media files stored on the drive without another device between the two. This latter feature is facilitated by Toshiba's Google Cast Ready app.
Canvio AeroCast is available through Toshiba's website and select retailers for $220 USD. The Canvio Cast Wireless Adapter, meanwhile, is also available through Toshiba's website and some retail stores for a lesser $80 USD. See the Gallery Below.