Google recently launched Chromecast with Google TV featuring some exciting features. A new device appears to be in works, as a Google Device bearing model number GUIK2 has appeared on FCC with Soli. However, the device carries FCC ID A4R-1701AA1 which resembles that of the Google Nest devices. The guarantee Code A4R is used by several other Google Nest or Home-based devices as listed on the FCC (Listed below some old Google devices carrying A4R Guarantee Code). A Google Interactive device bearing A4RGZRNL was spotted late last year on FCC.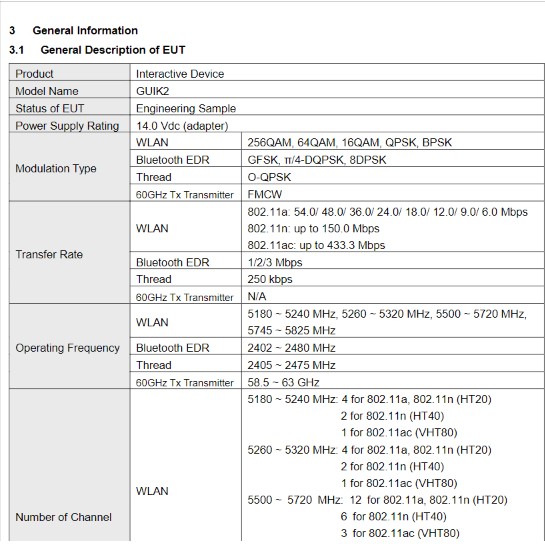 The device appears to be featuring dual-band WiFi, Zigbee (Wireless Communication protocol) and Bluetooth support. FCC listing has labelled it as an Interactive Device and uses AC Power. All these findings confirm that it is some new Nest device which could launch later this year. The device supports Soli at 58-63.5 GHz frequency.
Moreover, the device is tested at the Porton International INC EMC where all prior Chromecasts and Nest devices were tested for wireless communications.
Google's unreleased device with model number GUIK2 supports 14.0 Vdc adaptor for power supply. Other details about the device are yet unknown, but the listing confirms it being a new Nest device.
It could be the nest generation Google Nest Speakers, or some other devices such as Nest Thermostats, Nest Audio devices, Nest Hub, Nest Camera, etc. We need for some more leaks or certifications to verify the speculations.
The image below confirms that the A4R Guarantee Code being used by FCC to label Google Devices over the past few years. The below snapshot carries some old Google Nest and Pixel devices.

Stay Connected with us for more information in the coming days. However, you would love to check our guides to learn about Chromecast and Chromebooks.
(source)