Walmart is a global retail company, and recently they've stepped into the Android TV market. They've been experimenting with some prototypes for the last couple of years. And now, Walmart revealed Onn Android TV Box on their website. The listing also details the specifications and compatibility of the device.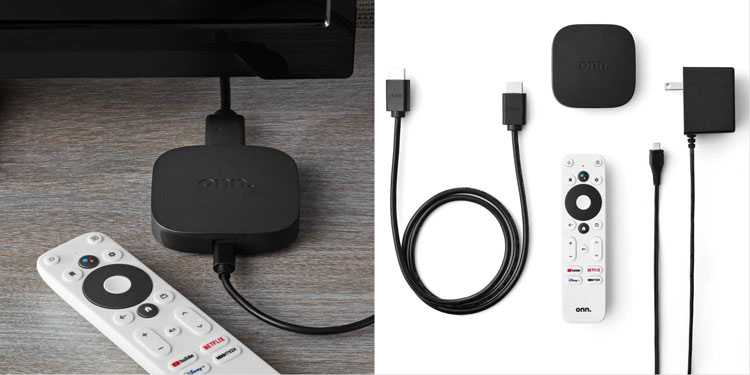 Walmart Onn Android TV Box Specifications
The device looks very similar to Google's ADT-3 developer kit, and who knows, maybe it might be based on the same. The included remote controller seems to follow Google's G10 design, and we expect more and more devices will follow the same.
The device can be powered using the included Micro USB adaptor. It uses HDMI to connect to a TV. The remote controller has dedicated buttons for Netflix, YouTube, Disney+, and HBO Max.
The listing also confirms some basic specs.
The device supports both 2.4GHz and 5GHz Wi-Fi networks.

It is an Android TV, not a Google TV.

The device supports 4K out of the box. Which is considered the standard these days.

Dolby Audio is supported. And you can have it any color as long it is black.
What makes it unique?
Most of you might be wondering what's new with this one. The answer is, no, there is nothing new with this one. It's just an Android TV box, similar to all other Android boxes. But the impressive part about this one will be its price. You can purchase this 4K Android TV Box with all the essentials for just $29.88. And yes, that's a great deal for a 4K Android TV Box under $30. 
At this price point, we believe the Onn Android TV Box will perform well in the market. Only time will tell. Stay tuned for further updates on streaming devices and services.