Google TV is a user interface that runs on Android TV OS. It was launched back in October 2020. Now Google TV is one of the most popular platforms used on smart TVs all around the globe. On this platform, you will get content recommendations on the bases of your interest from various streaming services and apps.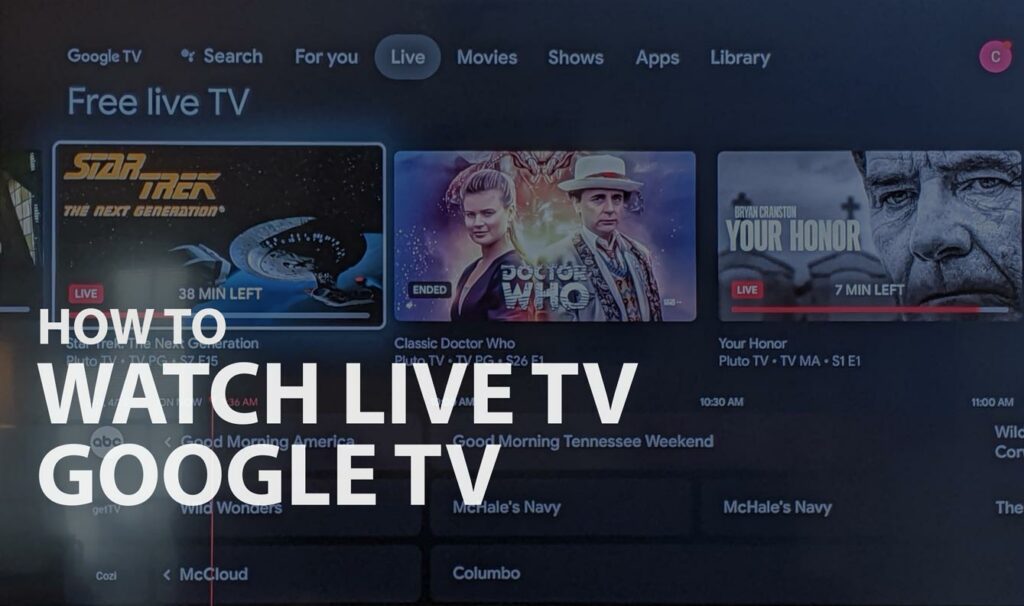 If you want to watch live TV on your smart TV with Google TV. If you're living in the US then a Live TV option will also appear on the Home screen of Google TV.
Streaming Services That Provide Live TV
There are various services that provide Live TV on Google TV. We have listed some best apps below.
YouTube TV 
It has 85 channels that provide Live content, which CBS, NBC, ABC, ESPN, National Geographic, Disney, Discovery, and many more. YouTube TV also has unlimited cloud DVR storage. It will cost you $64.99/month, however, you can start Youtube TV with a 30-day free trial. When you have an active subscription you see the live channels in Live TV on the Google TV home screen.
Sling TV
The service has 35 channels that include AMC, BET, CNN, Comedy Central, Discovery Channel, ESPN, History Channel, NBC, and more. Sling TV has a base bundle that will cost you $35 per month. Moreover, the service also provides some small add-ons to add some specific channels. It's important to tell you that Sling TV is also supported by the Live TV tap on Google TV.
Philo
The service has 60 live channels that include AMX, Comedy Central, and more. Philo has the cheapest bundle available in the market with a price tag of $25 per month. It is also packed with an unlimited recording of live content and future shows for up to 12 months.
Pluto TV
It is a free ad-supported Live TV service that has 300 live TV channels. Pluto TV includes CNN, NBC News, CBS News, Classica, Rescue 991, and more. Recently, Google integrated Pluto TV with its Live TV feature on Google TV.
Hulu +Live TV
It is packed with 99 channels along with on-demand shows. On Hulu, you will also get access to the content of Disney+ and Espn+.  The service is priced at $69.99 per month with unlimited DVR storage.
At last, I hope now you know how to watch live TV on Google TV. Moreover, there are more streaming services that provide Live TV you can go through them also.