It has been over a decade since the launch of Google TV, which has been one of the most popular streaming services. It introduced Watch with Me cards that will display the person they're interviewing and their watchlists. Google interviews Zooey Deschanel this week, an American actress, musician, and songwriter. She made her film debut in Mumford and is known for projects Dreamin, WildNew Girl, and 500 Days of Summer.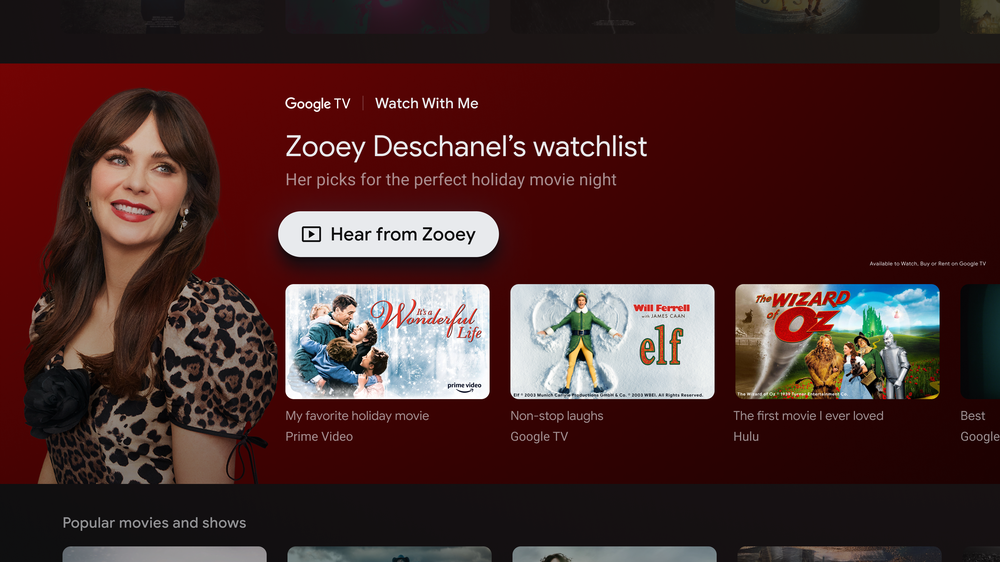 Earlier, Google displayed the top picks of Leslie Odom Jr in Watch With Me cards. Zooey Deschanel grew up in a family of filmmakers. Her upbringing has a major role in her watchlists. She grew up watching movies by filmmakers like Hitchcock and Kubrick. The watchlist primarily contains classics and also includes many Christmas-themed movies. These movies include Elf, in which she is an actress. She explains that she is a repetitive watcher, i.e., repeatedly watching the movies she loves the most.
Related | Google rolls out October 2022 patch update for Chromecast with Google TV 4K
The actress also urges everyone to create a watchlist of their own. The Google TV devices, such as the Chromecast with Google TV, will display the actress's watchlist. In addition, TVs from Sony, HiSense, Philips, and TCL will also display the watchlist. Google said it will start displaying her watchlist in a blog post starting today.