In a bid to enhance its hardware and integrator partner programs, which help the customers around the world get the most out of its unified communications platform, Zoom created the hardware certification program back in October 2019. While a year later, to be precise in 2020, Zoom added certification for VoIP hardware including Session Border Controller (SBCs), Analog Telephony Adapter, gateway, and other devices to help customers switch to Zoom Phone.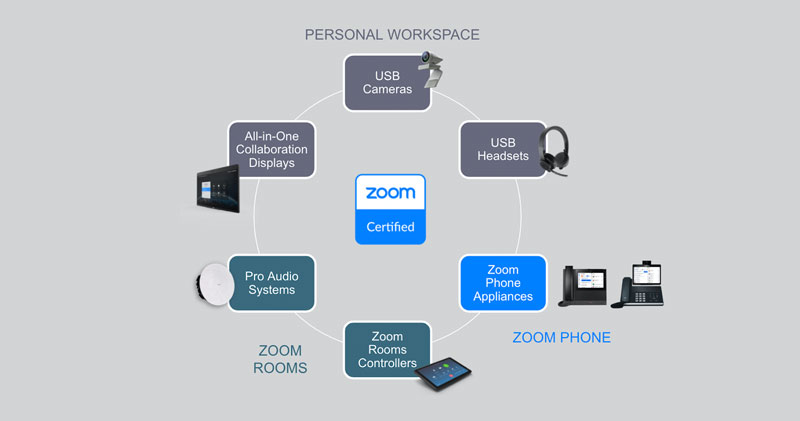 Must See: How to Cast Zoom Meetings on Firestick
Zoom didn't stop there, now by providing hardware partners with an opportunity to create and sell Zoom Certified hardware – Its hardware certification program is constantly expanding. A month or so ago, it added additional categories to the hardware certification program to help organizations return to offices and classrooms safely while supporting hybrid environments in this era.
Characteristics of Certified Zoom Room Appliances
As per Zoom, a Certified Zoom Rooms Appliance enables straightforward implementation, an intuitive user experience, and simplified management without sacrificing security or functionality. These devices under certification can support both hybrid work and learning. As an added benefit, businesses can simplify hardware acquisition and installation, while educators can easily implement certified Zoom Rooms Appliances on mobile carts to teach those both in the classroom and at home.
Addition of New Lineup of Devices to Hardware Certification Program
This time Zoom expanded its program by including new devices belonging to various categories. You may see the list below.
1.Personal workspaces
Personal collaboration displays

USB cameras

USB headsets


2. Zoom Phone Certified Hardware
Zoom Phone appliances
Intercom / Paging
3. Zoom Rooms Certified Hardware
Pro Audio Systems
Zoom Rooms Controller

Apart from the above newly added lists, there is another handful of hardware under Zoom Certification. For the full list of devices, you may head over to Zoom's official website through this hardware certification overview link.