If you've been following us, then you'd already have noticed that we've gone through several guides on how to Cast various apps and services to a Chromecast or a Chromebook. But that doesn't mean we're only about Chromecasts and Chromebooks. This time lets have a look at how to cast them on to a Fire TV Stick. Specifically, how to Cast Zoom on Firestick.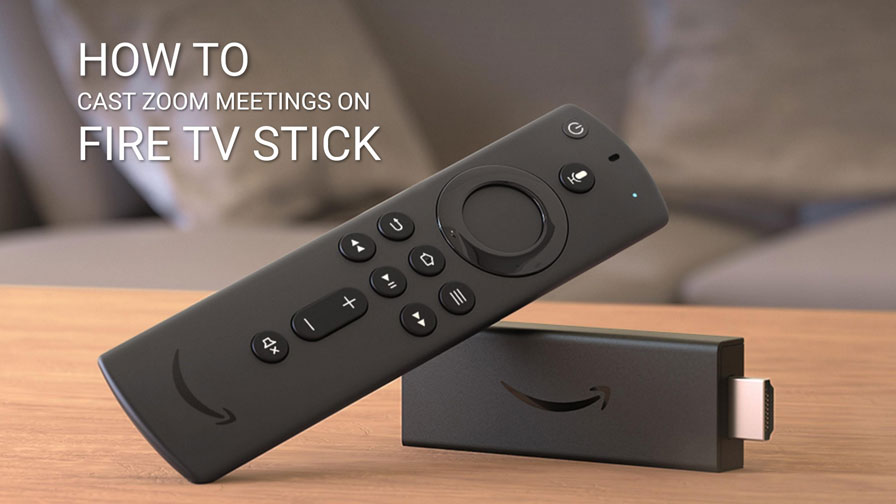 Zoom has become a service that doesn't need any introduction, Chances are you might've already heard someone say "Let's Zoom!". We've already discussed how to cast/use Zoom meetings on Chromebooks in our dedicated article. Now, let's look at how we can cast it on to a Fire TV Stick. Before we proceed, make sure you have the following.
Pre-requisites
Download and Install Zoom on your device.

Make sure you have Fire TV Stick setup on your TV.

Ensure your device and the Firestick are connected to the same Wi-Fi.
Steps to Cast Zoom on Fire TV Stick
Even though Zoom lets you share your screen with other, it doesn't have an option to Cast a meeting to another (odd, isn't it?). But we can Cast our entire device to the Firestick, can't we?. So let's have a detailed look at how it can be done in all leading OS platforms. The setup for Firestick is the same for every method, so we'll discuss it first.
Setting up Fire TV Stick
Press and hold the Home button of the Firestick Remote.
Select Mirroring from the list of options.
Keep note of the name of the Firestick.
Cast Zoom meetings from Windows
Click on the 

Notifications

 icon at the 

rightmost corner

 of the 

Start menu

 to open the 

Action Centre

.

Tap 

Connect

 to see the list of available devices.

Click on the name of the Firestick you wish to Cast.

Give it some time, and your entire desktop will now appear on the TV.

By default, the Projection mode will be set to 

Duplicate

. You can try the 

Second screen Only

 to watch it only on the TV. 

You can now enjoy your meeting on the big screen, make sure your webcam is placed close to your TV. 
Cast Zoom meetings on Firestick from Android
Casting Zoom from an Android device is the same as Casting most Android apps. You'll have to mirror your entire device to the Firestick. The steps will slightly vary from device to device, so keep that in mind.
Open the 

Notification Panel 

by scrolling from the top. 

Click on the icon that says 

Cast

, 

Mirror

, 

Wireless Projection

 or anything similar.

Wait for it to scan for available devices. Click on the name of the Firestick to connect. 

Your Android device will now appear on your TV.

Open Zoom from the Android device to watch it on the big screen. 

Place your phone/tablet in front of the TV, so that others can see you as well.
Cast Zoom meetings

on Firestick

from iPhone
Apple, for some reason, doesn't allow us to cast to a Firestick (for security purposes?). So we'll have to go with a third-party app. We'll be installing an app called AirPlayMirror Receiver. It's a paid app, but you can use a trial version of the app. 
Install AirPlayMirror Receiver on your Firestick. We won't be needing to install anything on the iPhone/iPad.
To start mirroring from iPhone to Fire TV, enable AirPlay on your device and select the AirPlayMirror receiver from the list.
Cast Zoom meetings 

on Firestick 

from Mac
Unlike the iPhone, we don't need any third-party apps on Mac. We'll be using Mac's inbuilt feature "AirPlay". Follow these steps to access AirPlay.
Open Mac and go to System Preferences
Select Displays
Check Show Mirroring options in the menu bar when available. Now the Mac will show the AirPlay icon on the top menu bar when a device is available for Cast.
Tap AirPlay and select the Firestick device from the drop-down box to start screen mirroring.
That's it. your Mac screen will be mirrored to your TV screen through Amazon Firestick.
Zoom is a leading commute platform, and to be able to meet with your friends on the big screen is always a thing. We hope that Zoom came with a direct approach for Casting to devices like the Firestick and Chromecast.