Google One is the cloud storage service offered by Google. When you run out of your free 15GB storage across various Google services, then Google One comes to your rescue. You can pay every month and subscribe to various plans that offer you extra cloud storage starting from 100 GB and going all the way up to 2TB of online storage.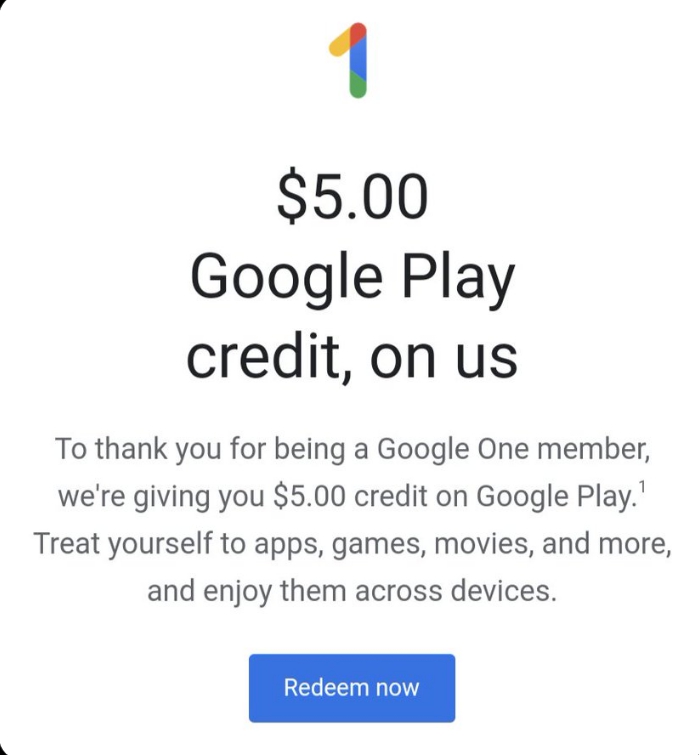 Interestingly, if you have a Google One subscription, the base plan that offers 100 GB storage at $1.99, then you are eligible for a free Play Store credit of $5. It's not clear if users subscribed to the top tier plan of 2TB storage at $9.99 are also eligible to receive the free play store credit of $5.
Though $5 is not a huge amount to boast of, it can still add up to your existing Play Store credit. You can use it to purchase ebooks over Google Play Books. Also, you may use it to buy productive apps on Play Store. You may even save this $5 for some future purchases. It's a win-win anyway right?
Initially, a Twitterati noticed this development and shared about his $5 play store credit on his Twitter handle.
How to Stay Updated Regarding the Google One Free Play Store Credits
If you are wondering how to know if you have bagged that $5 play store credit, then you need to check out your Gmail inbox for notifications. Also, you can check the rewards tab in the Google One subscriber's dashboard.
Related: Privacy Guide for Google Chrome goes official
Everyone loves freebies and we are sure you do not want to miss out on the fun. We can hope that subscribers of other cloud storage plans of Google One also win some reward. Which plan you are subscribed to and have you received your play store credit? If yes, mention it in the comments below.
Also, have you checked the 10 Best games for Chromebook that you can enjoy in 2022? If not, then check our guide on the same.