Amazon and Nividia are two of the most renowned tech giants. While the first focuses on the e-commerce business, the latter focuses on graphic card design for gaming and professional markets. Fortunately, both these American tech giants happen to make some of the best streaming devices available in the market. So in this Amazon Fire TV Stick 4K Max vs NVIDIA Shield TV 4K guide, we'll cover in detail the pros and cons of both streaming devices.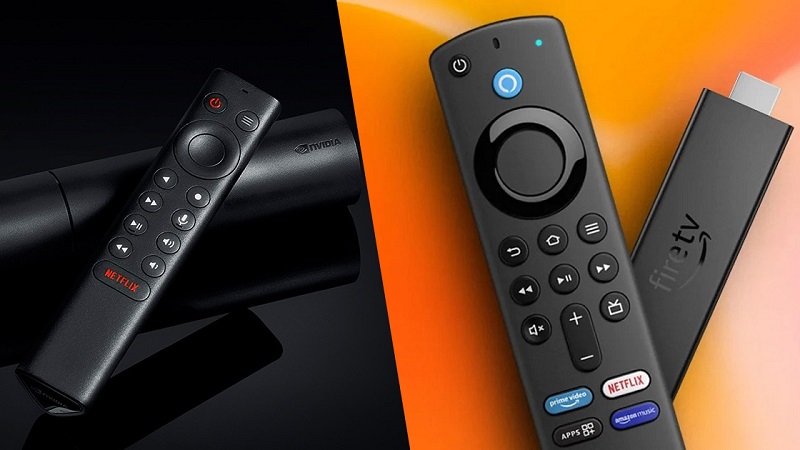 There are different factors that you could focus on while looking for a streaming device. Most importantly, the price, video and audio quality, app selection, assistive features, etc. Both our candidates for the day are capable streaming devices that put on the tight competition.
Fire TV Stick 4K Max vs Shield TV 4K: Which to choose?
As we said, it might be hard to choose between these two, unless you know how they differ from each other.
Amazon Fire TV Stick 4K Max
This one is an updated version of the Fire TV Stick 4K. Amazon might've put Max in the end so that you could distinguish it from its predecessor. Physically both these devices look and feel the same. Like many Amazon products, this one is also priced at an aggressively lower price. It's just a cool business trick from Amazon to get people into their Amazon ecosystem. That brings us to our next point as, like other Fire TV products, this one also comes with banner ads on the home screen. Prime Video contents are also pushed a bit further in the new Fire TV Stick 4K Max.
NVIDIA Shield TV 4K
This one is more than just a streaming device, and yes, NVIDIA does charge you more for what you're getting. The Shield TV 4K is a streaming device that comes with quite an impressive array of features that improve your viewing experience. The device was primarily designed as a means for playing games remotely. This one is a must-have if you're planning to stream games from your PC to your TV, as NVIDIA has come a long way in developing the Shield. Also, you could set up your NVIDIA Shield as a hub for your smart home. 
With that out of the way, let's see how well they compete with each other.
Pricing
Amazon scores here as it only costs you around $55 for the new Amazon Fire TV Stick 4K Max. Priced at $150, the NVIDIA Shield is roughly 3 times costlier than the Fire TV Stick. At first, it might feel ridiculously overpriced, but the Shield does pack in some real punch for what you're paying. 
Video
NVIDIA nails with their AI upscaling in this one. We have seen such features on modern TVs, and they're nothing more than a selling gimmick. But NVIDIA being a video card manufacturer, has done a great job with their AI upscaling feature. The feature lets the user stream HD/FHD videos in 4K quality with up to 30 FPS.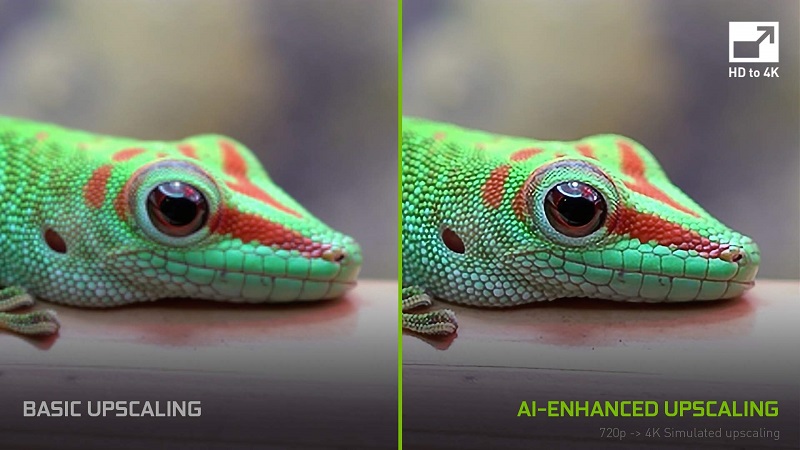 Both the devices let you stream 4K 60FPS videos and meets modern-day standards like Dolby Vision HDR and HDR10. Amazon took it a step further by adding support for HDR10+ content. NVIDIA did manage to squeeze in support for more video formats. 
Audio
Nothing special here as both our candidates meet modern standards like Dolby Atmos and DTS-X surround sound over HDMI. Amazon does offer you HDMI ARC output which might come in handy if you have a speaker system that takes in HDMI input. 
Connectivity
Even though the Fire TV Stick 4K Max comes with Wi-Fi 6, we believe NVIDIA is a clear winner in this segment. To start with, the Shield TV 4K comes with a Gigabit Ethernet port for wired internet access. The device also offers a microSD card slot which might be one of the most impressive features of the Shield. It also comes with HDMI 2.0b with HDCP 2.2 and CEC support. While cable management might be messy with the Shield, it seems like a practical choice compared to the Fire TV Stick.
Performance and Storage
The Stick 4K Max comes with MediaTek's MT8696 and 2 gigs of RAM. Amazon claims this one to be 40% faster than its predecessor from 2018. As for storage, you're getting 8 gigs that cannot be expanded further. The Shield, on the other hand, comes with NVIDIA's Tegra X1+ CPU paired with 3GB of RAM and a 256-core GPU. You're getting base storage of 8GB which can be expanded using the microSD card slot in the device. This should technically make the Shield superior to Amazon's latest Fire TV Stick 4K Max. 
OS and apps library
Amazon is using its custom Android build in the new Fire TV Stick. This should mean you won't be able to use Google Play Store. NVIDIA Shield is powered by Android TV, meaning you'll be having access to the Play Store and, more importantly, Google Assistant. You could also use Alexa in the Shield device, but you can't use Google Assistant on a Fire TV Stick. As for streaming services, you're getting all you need with both devices. But the Shield comes with NVIDIA GameStream that lets you stream games from a supported PC/Laptop.
Controlling the device
Both Amazon and NVIDIA have provided remotes for controlling these streaming devices. Amazon's remote seems more functional with more dedicated buttons for accessing apps. However, NVIDIA offers an IR sensor for your TV. It also features a remote locator, which will come in handy if it goes missing.
Amazon Fire TV Stick 4K Max vs NVIDIA Shield TV 4K Specs Comparison 
| | Amazon Fire TV Stick 4K Max | NVIDIA Shield TV 4K |
| --- | --- | --- |
| Price | $54.99 | $149.99 |
| Processor | Quad-core 1.8 GHz | Tegra X1+ Processor |
| RAM | 2 GB | 2 GB |
| Storage | 8 GB | 8 GB |
| Resolution | Up to 4K Ultra HD | Up to 4K HDR |
| HDR | HDR10, HDR10+, HLG, Dolby Vision | Dolby Vision, HDR10, HLG |
| Audio | Dolby Atmos, 7.1 surround sound | Dolby Atmos, 7.1 surround sound |
| Remote | Voice remote with Alexa | Voice remote with Google Assistant |
| Apps | Amazon Prime Video, Netflix, Disney+, HBO Max, and more | Google Play, Netflix, Amazon Prime Video, Hulu, and more |
| Gaming | Supports some mobile games | Supports GeForce NOW cloud gaming service |
| Other features | Wi-Fi 6, HDMI eARC, Dolby Vision calibration | AI upscaling, Chromecast built-in |
Fire TV Stick 4K Max vs Shield TV 4K: Our Verdict
Both are excellent streaming devices. The Fire TV Stick 4K Max might seem like the best choice for many, including some of us. This is likely due to the reason that the device feels worthy for what the user is paying. At just $55, you're getting a streaming device that checks almost all your requirements. The Shield TV's price might seem inflated at first, but considering the features offered by the device, we do believe you won't be losing your money.
Go for the Fire TV Stick if you're on a tight budget and don't care too much about upscaling, gaming, and Google services. It is one of the most value-for-money streaming devices that offers a premium viewing experience. But if you need the ultimate viewing experience and plans to game on your TV, the Shield TV 4K won't be a disappointment.