Anker is an electronic manufacturer that introduces itself as the charging expert and innovator of smart devices for entertainment. The relatively new Chinese electronic company seems to be working hard to place itself in every sector. The effort for this includes a series of projectors under their subsidiary brand, namely Nebula. Now Anker might seem to be planning to get in deep into the set-top boxes market. Anker has launched a new 4K streaming dongle under the Nebula brand. They have named their new device Nebula 4K Stream Stick, and it does cost you more.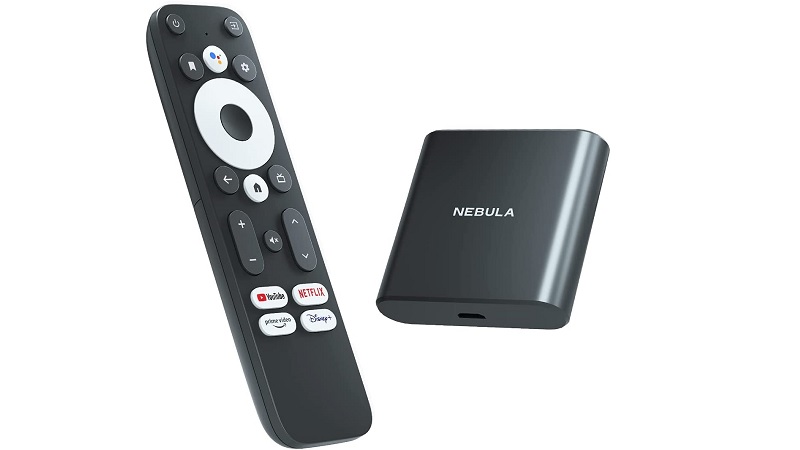 This trend of hopping into new areas is nothing new in electronics. Almost every established brand have done that. Samsung and LG are great examples of electronic brands expanding to most consumer electronic sectors. But Chinese brands like Xiaomi, Anker and Realme seems to be doing it at a much faster pace.
The new Nebula 4K Stream Stick
The Nebula 4K Stream dongle is the first-ever Android TV device from Anker. Like most streaming sticks out there, this one also comes in black. It seems these brands are following Henry Ford with the thought that you can have any colour as long as it is black, except we are not buying a car. But something more serious is the pricing. The new Nebula streaming dongle is priced at a much higher $89. We wonder how well it compares to the much cheaper $50 Chromecast with Google TV.
For the $89 price tag, you'll be getting 4K video streaming along with all the apps you would need. As usual, the remote comes with dedicated buttons for launching YouTube, Disney+, Prime Video and Netflix. Also, the included remote looks good, at least in the renders. That hefty price tag we mentioned earlier is only for the US. There is no clue as to when the product will be available in counties outside the US. 
Other pros include a more vanilla experience of Android 10 with the ability to stream 4K HDR10 at 75fps. Bluetooth 5.0 and 5G Wi-Fi will help the dongle cope up with anything you throw at it. Dolby Digital Plus multichannel audio and HDMI 2.1 support should provide one of the best home cinema experiences. 
The 2 gigs of RAM might be more than enough to keep everything running smoothly, but Anker could've gone for 16 gigs of onboard storage instead of the included 8 gigs. In 2021, that 8 gigs make the Nebula streaming dongle look shorthanded, especially considering that $89 price tag. Anker's decision to ditch Google TV for Android TV might also play a role in the success of the new Nubula streaming dongle. Be sure to check out the dongle from Amazon.