We've dealt with many aspects revolving around Chromecasts and its accessories but Speakers. So with this, we'll be getting that cleared as well by listing out the Best Chromecast Compatible Speakers in 2021. Well, we're about to welcome the 2022(Time flies) but we reckon these speakers will be able to give tough competitions to the speakers coming the next year as well.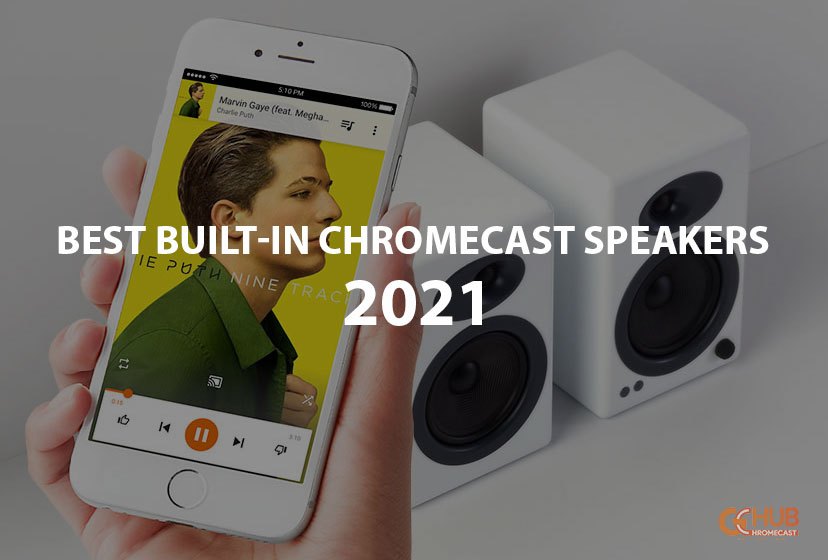 Must See: Chromecast with Google TV vs Realme 4K Smart Google TV Stick
Let's dive in and see the series of speakers which you can use along with the Chromecast.
JBL Playlist 150 Wireless with Built-in Chromecast Speaker 
First on our list is the JBL Playlist 150 Wireless Speaker. JBL, as you know is one of the leading audio equipment manufacturers, and its Playlist 150 assures you the best audio output. It comes with a built-in Chromecast Speaker by which you can cast your favorite audio anywhere, anytime.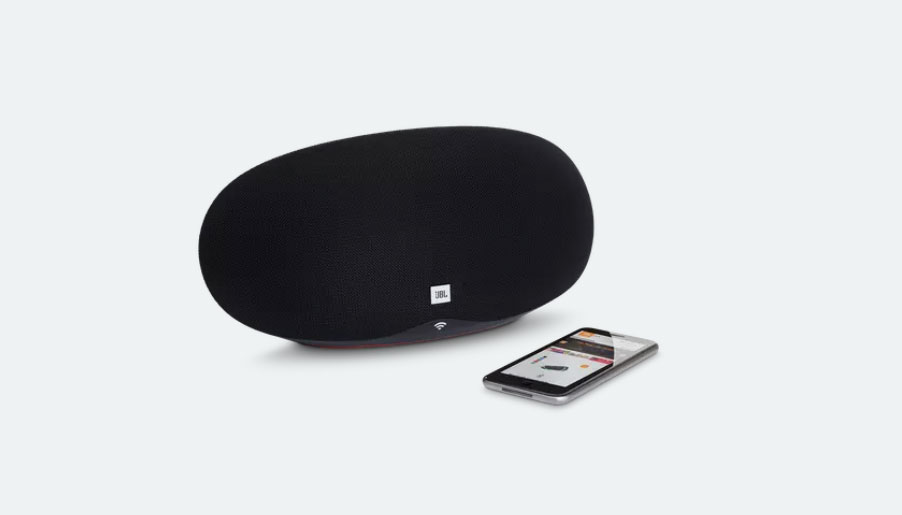 You may control the speakers from anywhere in the house on your iOS or Android device(s), Mac or Windows laptop, or Chromebook. With Chromecast built-in, just tap the Cast button from your favorite mobile music apps to instantly start playing on the speakers. Then control the speakers right from your phone — search, play, pause, and turn up the volume — anywhere in the house.
If interested, you may get one from here.
Harman Kardon OMNI50+ Outdoor Chromecast Speaker
Next on our list is another JBL speaker, perhaps from its Parent company – Harman Kardon. Yes, the Harman Kardon OMNI50+ is a brilliant product for audiophiles. Harman Kardon – the pioneer in the audio world has made the Harman Kardon OMNI50+ waterproof, so don't worry about if you love to listen to music in the pool or similar premises. It features a 24bit/192kHz HD audio streaming capability, Bluetooth, digital and analog connectivity, and the best – a built-in Chromecast.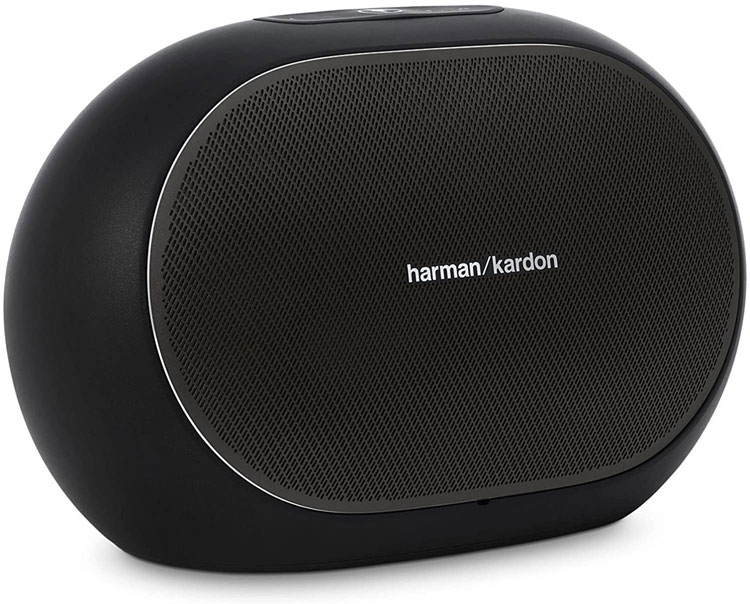 The OMNI50+ is priced at almost $499 and if you find it appealing and would like to get one, do check the product listing page on Amazon. We're dropping the link down below.
Buy from HERE.
Toshiba TY-GC1000 High-Resolution Google Cast Wireless Bluetooth Audio Speaker
Not belonging to the Harman family, Toshiba Google Cast Wireless Speaker is another product that you can count on…!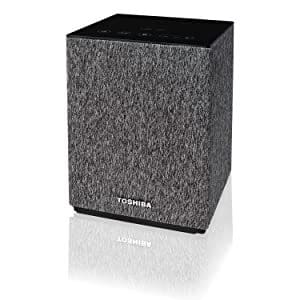 It's a high-resolution Bluetooth speaker compatible with the wireless streaming technology of Google Cast as well. Featuring an auxiliary input jack and an output power of 2 x 15 watts, the Toshiba speaker won't let you down in terms of audio quality. In case if you don't know, the bass reflex port tube delivers a heavenly and well-rounded/Deep bass.
As per the listing, the Toshiba TY-GC1000 includes 5 control keys for Optimal control (power, volume +/-, BT pairing, play/pause). Thanks to the Google cast application support you can personalize your listening experience.
The speaker is listed on Amazon at an affordable rate. You can check the listing here.
Definitive Technology Studio Advance 5.1 Channel Sound Bar with 9 Speakers
You should have to check the Definitive Technology Studio Advance Speaker if you're out in search of a powerful speaker for your home theatre set-up. The 5.1 channel Studio Advance delivers a powerful home theater and virtual surround sound experience. Bolstered by sonic precision and deep, accurate bass from the wireless subwoofer.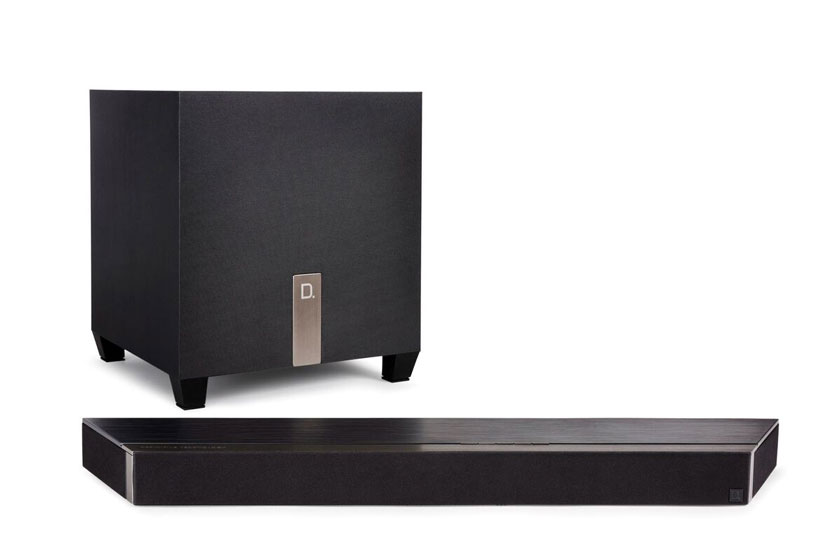 Watching films and shows in 4K HDR with an advanced HDMI video section will be an amazing experience, to say the least. You can transfer audio from your TV to the soundbar via HDMI ARC with the included HDMI cable, and use your TV remote to control the bar.
The Chromecast built-in lets you stream music through WiFi and control your music hands-free through the Google Assistant. As said earlier, definitely go through the complete specification of the speaker over here.
Polk Audio Signa S3 Ultra-Slim TV Sound Bar
With an ultra-thin profile, the Signa S3 soundbar delivers an incredible, room-filling home theater experience. Compatible with any HD, 4K, and 8K TV via HDMI ARC, the Signa S3 is easy to set up and can be controlled with a single remote. You can team your favorite music with Chromecast built-in. Being a narrow, sleek soundbar it can well settle even if the space is less in your room or home theatre.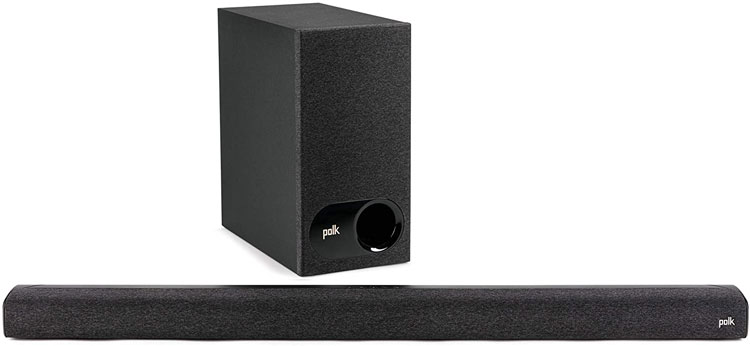 Coming to some of its USPs. The Polk Audio boasts Polk-patented Voice Adjust technology for clear dialogue, and Dolby Digital decoding for immersive, performance-tuned surround sound. If that is not enough, take the wireless subwoofer for deep bass impact.
BUY FROM HERE.
That's it, do let us know which is your pick among the best speakers listed above with built-in Chromecast. So, don't forget to hit the comments.