Chromecast with Google TV is the pioneer among smart TVs and streaming dongles. Google frequently pushes updates to the dongle to ensure it can cope with the newer TVs and dongles. However, a new Chromecast with Google TV update seems buggy as users have already taken things to Reddit. The update has left users who own a USB-C hub helpless as they're no longer able to power it on.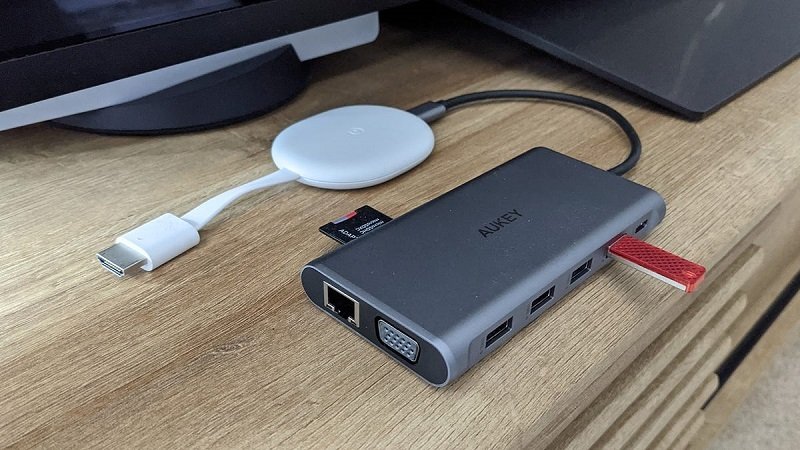 It is convenient for us to add peripherals to a Chromecast with Google TV using a USB-C hub. We've even covered some of the best USB-C extenders you could get for your Chromecast device. This gave Chromecast an edge over competing dongles. However, many users reported that an update prevents them from powering on their Chromecast device with a USB-C hub connected to it. 
A new Chromecast update is buggy. But there's a simple fix.
From what we know, the Chromecast with Google TV won't turn on after the update if you have a USB-C hub attached to it. Users are reporting that it won't turn it on even with the 30W power adaptor from Google. Users are treated with the usual power warning of the Chromecast dongle. The bug seems widespread, and the hub is not to blame. 
As for the fix, you just have to remove the USB-C hub and connect the dongle directly to the power adaptor. You can then turn on the device, and it should turn on. Once that is complete, you could reattach the USB-C hub and connect the peripherals of your choice or extend the storage using an SSD/HDD. If that doesn't fix the bug for you, you might try a different power adaptor that could deliver more juice. Just make sure that the voltage is the same as the original adaptor of the dongle. 
These are minor bugs that Google could fix like a champ. We hope they fix this as users also reported the bug was also present in previous updates. It might be irritating for many to reach the USB-C hub whenever they update the device.