Google Meet and Zoom Meetings, two of the most widely used and powerful video conferencing tools of the new era. You can go wrong with neither of them, some of them prefer Google's offering while others are a fan of Zoom's easy and user-friendly approach. Eventually, it seeps down to user preference and their likings, here we'll have a closer look at what makes these two conference tools stack up with each other.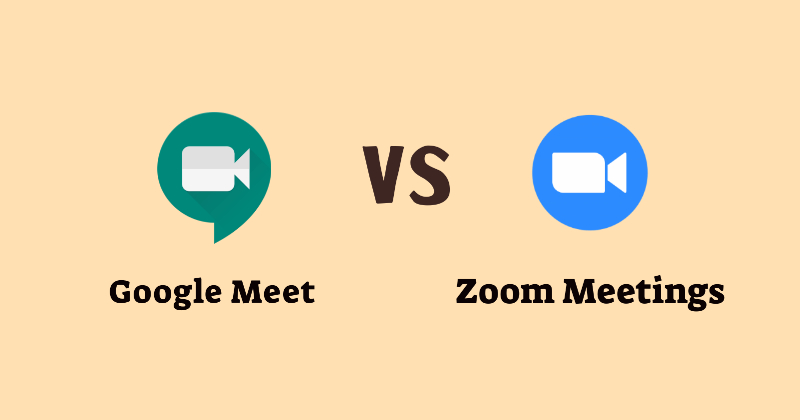 Must See: How to cast Google Meet [all methods]
Whatever may be, these services are engineering marvel, which let us connect even when we're disconnected by distance. Kudos to those minds working on these platforms.
Undoubtedly, Google Meet and Zoom are two popular and powerful video conferencing services. Even though they might sound similar to someone new to video conferencing, there are noticeable differences that make each one unique. In this article, we'll discuss in detail the pros and cons of both services so that one can choose the best one that suits them.
Before we begin, a brief intro on Google Meet and Zoom.
Google Meet
Previously known as Hangouts, Google Meet is a video conferencing service from the tech giant Google. Google primarily advertises Google Meet as "Secure video meetings for teams and businesses". This might make sense to someone who's had some knowledge regarding the recent leaks of video contents from Zoom.
Zoom
Zoom is a video conferencing software developed by Zoom Video Communications. It provides videotelephony and online chat services through a cloud-based peer-to-peer software platform. Just as people say "Google it" instead of "search it," we can also hear them say "Let's Zoom" in reference to online meetings and calls, which is enough to prove that Zoom is popular.
Google Meet Vs Zoom Meetings: Key Differences 
Availability
Both the services are available on every major platform including iOS and Android. However, there are some important points that need to be noted.
Google Meet
In the case of Android, the user needs to install Gmail in order to use Google Meet. For iOS, the users need to install Google Meet app from the Apple App Store. In the case of desktops and laptops, the user doesn't have to install any software. Google Meet can be accessed from any browser. This makes it easier to use irrespective of the operating system in which the user needs to use Google Meet.
Zoom
The installation of Zoom on Android and iOS are the same as Google Mee. However, the user needs to install plug-ins or standalone software for desktops and laptops. Zoom provides installation instructions for Windows, Mac, and Linux on their website. This makes the setup of Zoom a bit more tedious than Google Meet.
Maximum participants and Meeting time
Google Meet user host up to 100 participants for each meeting. A single meeting can be up to 60 minutes.
Zoom
With the free version of Zoom, a user can host up to a maximum of 100 participants for each meeting. A single meeting can be up to 40 minutes.
User Interface
Google Meet
Google Meet's UI is a trimmed down version of Zoom's. It shows up to 16 participants at once by expanding the tiled layout. Google Meet has a low light mode that uses AI to adjust the video based on lighting conditions. As of now, this feature is limited to mobile
users only.
Zoom
Zoom has a Gallery view that displays up to 49 participants on a
single screen. Zoom also supports extra features like Raise hand, Emojis, a whiteboard and virtual backgrounds. Zoom does provide recording of the chat without any premium membership. Google Meet and Zoom provide the ability to share the screen with the
participants of the meeting. The users can also enable real-time captions to understand what other participants are saying.
Security
This is a section in which Google Meet stands out, because of the very reason that Google Meet is a service from Google. Since it is a Web App it will always remain updated in case of security. Google Meet follows standards put forth by the IETF(Internet Engineering Task
Force). Since there are no standalone apps like Zoom the users need concern themselves to update the software manually.
Zoom is known for the security flaws it had in the past couple of months. With the latest update Zoom claims to have improved their user's security and privacy.
Premium features and pricing
Google Meet
Google Meet offers a premium package for $6 per month per user. With premium Google Meet lets the users record the chat and even save it to the cloud. Users can live stream for up to 100,000 viewers. With premium, a meeting can have up to 250 participants.
Zoom
Zoom offers a premium package for $15 per month per user. With premium Zoom lets the users store their recordings to the cloud. An increased meeting time limit of 24 hours and advanced meeting control features. A meeting can have up to 500 participants. Users can live stream for up to 250,000 viewers.
Both Google Meet and Zoom are two exceptional video conferencing services. As of
now Zoom clearly holds the lead. Google Meet is catching up with increasing user base
every day. Since Google Meet Is a product from Google no one needs to be concerned
about security and privacy. But with advanced features and improved security Zoom still
remains the choice for larger business meetings.