Google has recently launched Live TV for Android TV, bringing a wealth of free entertainment to users in the United States. This new addition allows Android TV users to enjoy over 800 free channels, including local and international news stations. This article will provide an in-depth look at what Live TV on Android TV offers and how users can make the most of this new feature.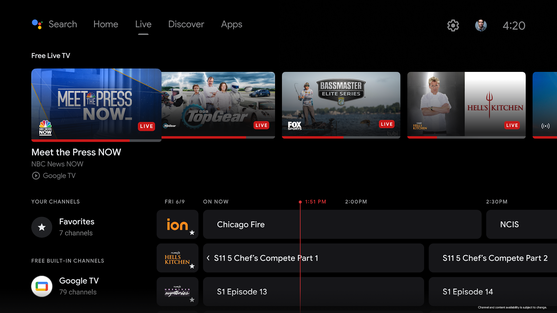 Google TV's Live TV Tab: A New Way to Watch Television
The Live TV tab is a new addition to the Android TV interface, located between the Home and Discover tabs. This tab holds over 800 channels, including content from major networks such as NBC, ABC, CBS, and Fox and international programming from countries like India and Japan. The Live TV tab on Android TV offers a seamless browsing experience for users, showcasing all the available channels and providing personalized recommendations based on viewing history.
Accessing Live TV on Android TV is a hassle-free process, as there is no need to install any additional apps or pay extra charges. The Live tab will be automatically updated on Android TV devices in the United States over the next few weeks. Users can expect the new Live TV tab and channels to appear on their devices soon. Android TV allows users to save their favorite channels and pin them to the top of the TV Guide to make it easier to find their preferred channels. Users can filter channels by category, making browsing and discovering new content even more convenient.
The Live TV tab on Android TV caters to a diverse audience by offering programming in over ten languages, including Spanish, Hindi, and Japanese. This means that users can enjoy a wide range of international content, from news and sports to movies and TV shows, in their native languages.
In addition to the free channels available through the Live TV tab, users can access additional channels if they subscribe to a TV provider. Users can unlock even more free channels by adding their TV provider information, further expanding their entertainment options on Android TV.
Recommendations and Personalized Content
Like other Google products, the Live TV tab on Android TV offers personalized recommendations based on the user's viewing history. The customized recommendations on Android TV's Live TV tab include live sports games, news, and other entertainment options. This ensures that users can stay up-to-date with the latest events and happenings while enjoying their favorite shows and movies.
In addition to the recent launch of Live TV on Android TV, Google has also released new tools for developers to incorporate Material You design into their TV apps. Users can expect an even better Android TV experience with improved app designs and user interfaces.
As Google continues to refine and expand the Live TV tab on Android TV, users can expect to see even more features and improvements in the coming months and years. Whether it's new channels, expanded international programming, or further integration with TV provider subscriptions, the future of Live TV on Android TV looks promising.