It's been raining Google's wireless products this season, as it's the third consecutive 'wireless product' from the search giant that appeared on FCC after G28DR and expected Chromecast HD with Google TV. The new listing leaves our challenge to solve what's this new 'wireless product' is, and accumulate specifications from the technical sheets that arrive along a listing. However, there are slight details that come up with the FCC listing.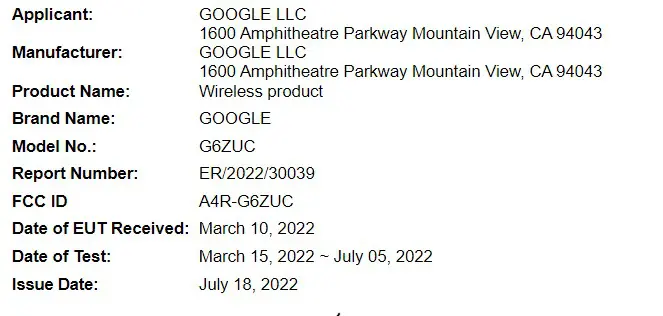 The new 'wireless product' from Google – G6UZC comes with WiFi (including the 5 GHz bands of Wi-Fi 5) and Bluetooth Connectivity. The device comes with a 10V AC adapter and seems to run on Qualcomm Radio Control Tool /V4.0.00195 software.
The documents further reveal that the device is tested with a Laptop and a 10V AC adapter.
If we conclude these specifications, then it could be some Nest device. The 'Label' file describes that the label is located at the foot of the product. So, it could be a device carrying a display like a Nest Hub.
There is no official information from Google about the device, we hope this could be a part of the hardware event that is scheduled this fall.