Want to block emails in Gmail? In this guide, we have covered various methods to block emails from unsolicited senders. This includes businesses sending you spam marketing pitches, scammers sending you malware links, and similar irritating emails that you don't want to see in your inbox.
Often you may have accidentally subscribed to receive newsletters via email. We have explained how to unsubscribe from such unwanted emails. You will also know how to block emails in Gmail from your phone and PC.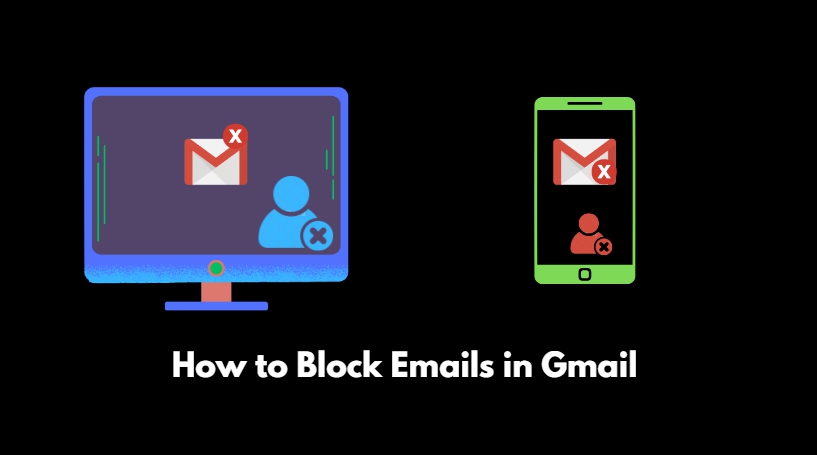 Interestingly, when you block emails from one or more senders, you will still receive the emails from them in your inbox but the incoming emails will be redirected to the spam folder. You may also set filters through Gmail settings to delete emails sent from spammers and unsolicited individuals or businesses.
How to Block an Email Address in Gmail from a PC?
Most people use Gmail from their PC browser. To block emails on your PC browser and the corresponding email address that are sending them, follow the steps mentioned below.
Log in to your Gmail account.
First, open the email that you want to block.
On the right-hand side, click the 3-dot icon.
From the menu, scroll to Block "xyz".

In Step-4, xyz denotes the name of the sender which could be a person or a business. The screenshot should help you understand it better.
How to Block an Email Address on Gmail App for Android/iOS?
If you prefer to use Gmail from your smartphone such as an Android or iOS device, then to block an email address on the Gmail app follow the steps provided below.
Open the Gmail app.
Access the email which you want to block and its corresponding sender.
Tap the 3-dot icon at the right-hand side of the email body.
From the menu, tap on tap on Block User.

Again, "user" indicates the name of the sender of that email or the originating email address from where the email has been sent to you.
How to Unsubscribe from Marketing Emails in Gmail?
As the name suggests, marketing emails are the ones sent by businesses. When you purchase something from online stores, it will require your email ID to sign in as a customer.
As per their policy, they will use your email ID to send you updates on new products that may be of any interest to you. It is a common practice followed by online businesses. At times such emails can fill your Gmail inbox and take up a lot of your Gmail storage. You may get confused while trying to look for any important email in your inbox.
Launch Gmail on your PC browser or phone app.
Open any of the marketing emails that are frequently sent to you from a particular business.
As you scroll down the email, towards the footer of the email there will be an option Unsubscribe. Click on it or tap on it depending on whether you are accessing Gmail from a web browser or the app.

Then follow the instructions on the screen and confirm unsubscribing from the mailing list.
The above steps are the same when you access Gmail from a web browser or smartphone app for Android and iOS devices.
How to Create a Filter in Gmail to Delete Emails from Blocked Email Address?
To set a filter on Gmail to delete emails sent from blocked email addresses, follow these steps.
Open Gmail on your PC browser and log into your Gmail account.
On the inbox, click on the gear icon.
Then under the Quick Settings panel, click on See All Settings.  
Next, click on the tab Filters and Blocked Addresses. Click on Create a New Filter.

Set your criteria like the email address from which you want to stop receiving emails, specific keywords, or if it has any attachments.
Click on Create Filter.

Next, you will be asked when an email from a blocked email address reaches your inbox, and what should be done with it. Click the checkboxes "Delete it" and "Never Send it to Spam".
To set the filter, click on Create Filter.

Frequently Asked Questions (FAQs)
Will Someone Know When I Block Their Email Address on Gmail?
No, that is not possible for anyone to know when they/their email address gets blocked by someone else on Gmail.
Where Do the Emails from Blocked Email Addresses Go?
In your inbox, emails from blocked email addresses will be redirected to the spam folder. You won't be notified of such emails unless you manually check the Spam folder.
Can a Blocked Email Address Still Send Me Emails on Gmail?
It is not possible to send emails from the blocked email ID. However, the sender may create another email ID and send you emails on Gmail. They may contact you over other platforms such as social media or via phone number if they have access to those.
I hope these tips and tricks will be helpful for you in blocking spam emails and their corresponding email addresses on Gmail.