Amazon Music Prime provides unlimited, ad-free access to on-demand streaming of curated playlists and Stations, plus millions of songs and albums at no additional cost for eligible Amazon Prime members. Eligible Prime memberships include Amazon Prime membership.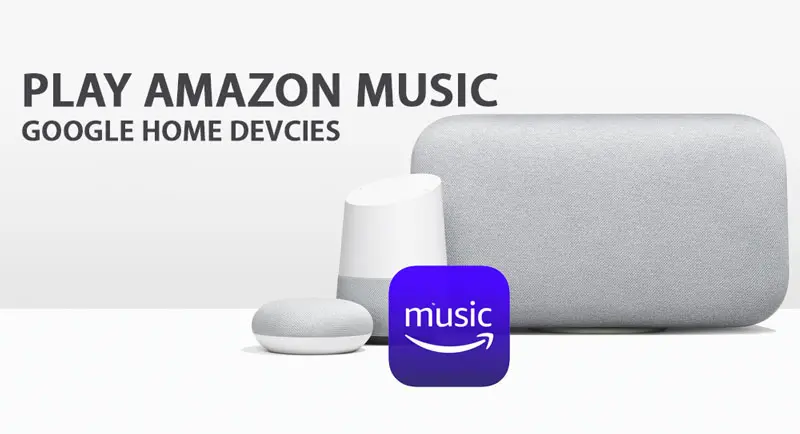 It's quite simple to use your free Prime Music subscription or your paid Amazon Music subscription with Google Home Devices.  The service is a competitor to Spotify and YouTube Music, but what makes it so appealing is that the Prime members get over two million streaming songs for free with their subscription, and Prime members get a reduced price to gain access to nearly 60 million songs. Let's take a look at how to listen to these songs on both your Google Home or Home Mini and your Chromecast or Chromecast Audio.
Steps to Play Amazon Music on Google Home using Your Computer
To cast Amazon Music to a Google Home speaker from your computer, you need to use Chrome. Before we started, please make sure you have installed the latest version of Google Chrome. Otherwise, download and install Chrome on your computer firstly, also your Google Home and your computer have to be on the same Wi-Fi network for you to cast.
First, open Chrome on your computer and open up a new tab. Navigate to the Amazon Music Web Player then sign in to your Amazon Prime Music or Amazon Unlimited Music account. Click on the three dots in the top-right corner of your browser to open the Chrome drop-down menu, and choose the Cast option then click it.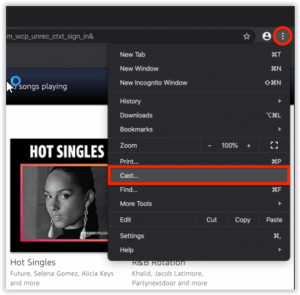 When you select Cast, Chrome will open a new menu showing all of the devices on your network that is available for casting. Find your Google Home speaker then select it and choose your track, artist, album, or playlist you want from your library on Amazon Music, and then the selected songs will be played from your computer on your Google Home speaker.
Steps to Play Amazon Music on Google home using Your Android Device
Amazon has updated the Amazon Music app for Android to include Chromecast support. This means that, as long as you have an Android phone or tablet, you can use the Amazon Music app to play your favorite songs, playlists, and more to Google Home speaker. It's a useful option for anyone subscribing to Amazon's service. But make sure that your phone is connected to the same Wi-Fi network as your Google Home.
Open the Amazon Music app on your Android device and then log in with the Amazon account also switch on your Google Home. Locate the Cast tab in the app. It may be visible at the top right corner. It looks like a TV with a Wi-Fi symbol inside.
Choose your Google Home speaker from the available devices list. Choose a song that you want to listen to and it will begin playing on your selected Google Home speaker.
Also Read: Difference between Echo Dot Vs Google Home Mini
If you happen to have Amazon Music on an iPhone or an iPad, you're out of luck. As of January 2021, the iOS app still doesn't have support for Chromecast, which means it can't stream to your Google Home speaker.