Chromecast with Google TV is an excellent streaming device available in the market. This soap-like device sports the necessary hardware that lets you enjoy 4K with HDR and Dolby Atmos. Also, the launch of Google Stadia elevates the possibilities of these devices. Now, XDA Developers Nolen Johnson and Jan Altensen have managed to unlock the bootloader of the Chromecast with Google TV. However, we don't know for sure what this would mean for the future of Chromecast with Google TV.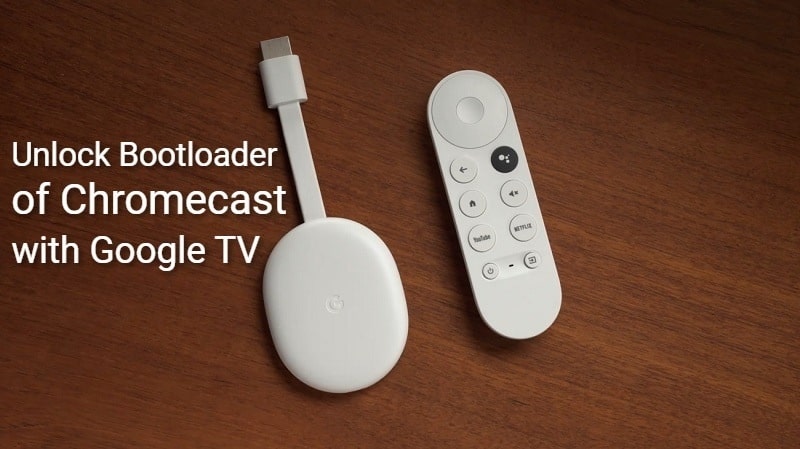 The Chromecast with Google TV is not a smartphone. It is a device that is aimed at ordinary users to use with their family or friends. There is no reason for Google to provide a proper method to unlock the bootloader. This forces the developers to rely on security vulnerabilities to improvise new ways to unlock the bootloader.
What makes you eligible
Since newer units come with a bootROM password protection mechanism, you need a Chromecast manufactured before December 2020. Even if you own an older model, make sure you're running on firmware versions below February 2021 patch level. Because the bootROM password protection mechanism will be part of the said update.
How To Unlock the Bootloader of Chromecast with Google TV
Once you've confirmed your device can be unlocked, remove it from the HDMI port and hold the button on the rear while plugging the device into a PC. It is important to press down on the button to trigger the Amlogic USB burning mode. You can connect the Chromecast to a PC using a USB-A to USB-C converter. The unlocker script communicates with the libusb-dev library, and it requires a 64-bit Linux operating system. So make sure you have one lying around. 
Now you need to download the unlocker suite and run a shell script that executes the exploit chain. The modded bootloader will modify the /env partition. The device will ignore the anti-rollback check and the signature during the U-Boot to identify itself as bootloader-unlocked. You can follow this GitHub thread to get a step-by-step walkthrough of the procedure. 
Lucky you if you've managed to pull this off without bricking your Chromecast device. Even though there isn't much you could do now with an unlocked bootloader, the future of modding stays lit for the Chromecast with Google TV. Johnson said that LineageOS builds are on the way for Chromecast. Someone has already been able to boot the Ubuntu distro from a USB drive, so yes, there will be ROMs for you to play around with.