Microsoft Edge and Mozilla Firefox are two browsers with a lineage unmatched by most others in existence. Firefox came in 2002, whereas Edge is a direct descendant of the infamous Microsoft Internet Explorer, who happens to be a millennial. Things took a turn for these browsers when Chrome entered the game. Now it seems the tides are now finally turning in their favor. In this Microsoft Edge vs Mozilla Firefox comparison, we'll discuss how well these browsers compare. We'll also discuss what impact they have on the future of Chrome.
Continued use makes it hard for someone to switch to another app that does the same thing. This might not be the case for browsers, as most follow a somewhat similar UI and UX. However, some differences make each one stand out in their own way. So we'll discuss the quirks and perks of both Edge and Firefox. This should hopefully give you an idea of which one to choose. 
Microsoft Edge vs Mozilla Firefox: The right one for you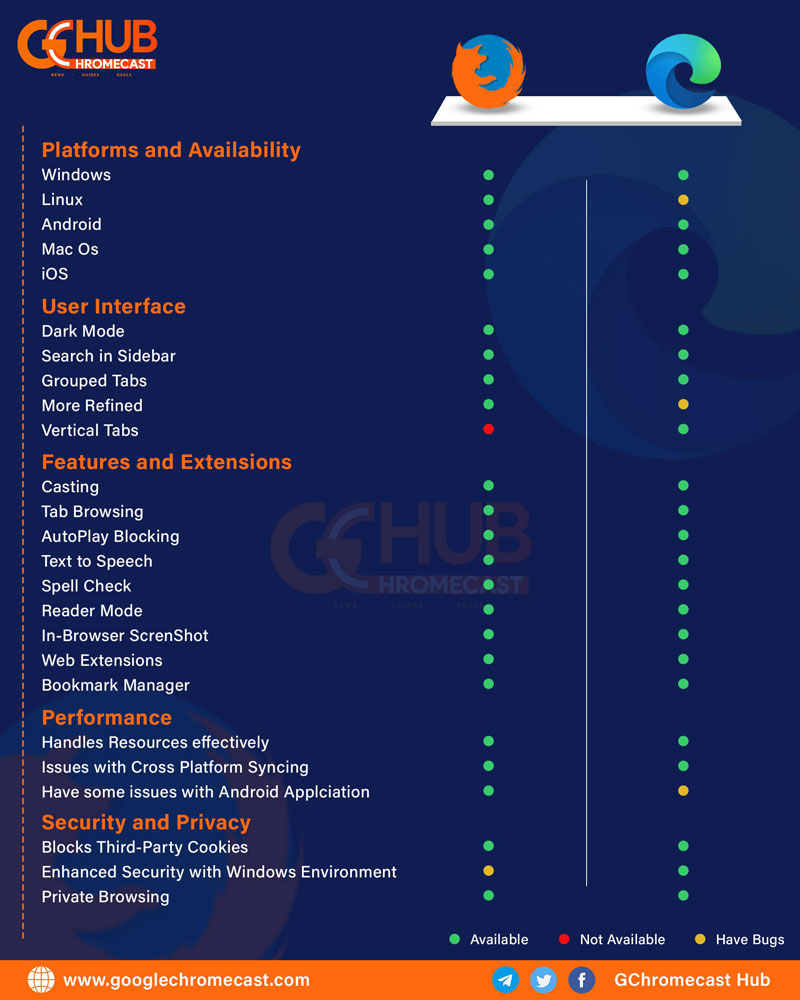 There are multiple factors at play that makes any application great. This includes availability on different platforms, overall UI and usability, features and extensions, security and privacy, performance, etc. 
Platforms and Availability
Both Firefox and Edge are available on almost all major platforms. Edge falls short as a stable version of the browser is yet to arrive for Linux distros. You could, however, try the Edge for Linux from Microsoft Edge Insider Program. 
Firefox has been the default browser for many Linux distros, including Ubuntu for Desktop. Microsoft Edge, on the other hand, is the default browser for Windows 10. You could install it fairly simply on older versions of Windows. Firefox also seems to perform well on mobile devices. Edge is a browser that might suffer outside the Windows realm. 
User Interface
Even though both browsers share a somewhat similar User Interface, there are differences between them as they are based on two different engines. Edge is built upon the more common Chromium engine, whereas Firefox uses their proprietary Quantum browser engine. Firefox uses Google as their default search engine, whereas Edge uses Microsoft Bing as the default search engine. 
Both the browsers offer modern features like dark mode and grouped tabs. Edge lets the user navigate the open tabs in a vertical manner, namely, Vertical tabs. This might come in handy if you're someone who opens every search result in a new tab. Edge also comes with a feature that enables one to search things without leaving an open window, namely, Search in Sidebar. Both browsers also support themes, which you most likely ignore. 
However, the occasional freezing and stuttering of Microsoft Edge won't go unnoticed. Firefox, on the other hand, has got more refined and responsive. Firefox is one of the very few browsers in the market that doesn't use a generic engine and still manages to throw a punch.
Features & Extensions
Both the browsers are packed with features that make browsing a lot easier and convenient. The Vertical tabs and Search in Sidebar are features unique to Edge. Casting is another concern for home and professional users. Even though Edge holds the lead, remember that casting is also possible with Firefox. 
Edge and Firefox offer utility features that cannot be found in most competing browsers. This includes Autoplay blocking, Text to speech and In-browser screenshot tool. Aside from these unique features, both browsers come with most features you'd find on a modern browser, including Reader mode and Spelling check.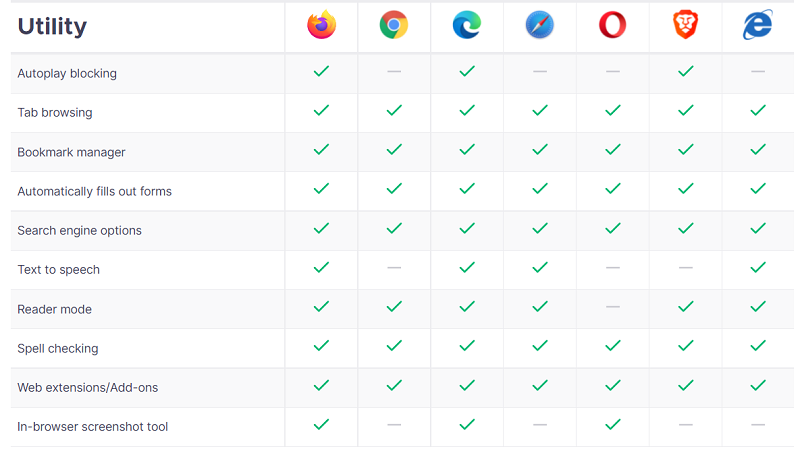 As for extensions, Edge is a Chromium-based browser that supports most extensions made for Chrome. This puts a lesser load on developers as they only need to make one that fits for all. The story is somewhat controversial and, at the same time impressive, for Firefox. Even though it is based on a different engine, the developers have had sufficient time to deliver most (or better) extensions we find on a Chromium-based browser. The extensive support and resources these developers received from Mozilla are unmatched.
Microsoft Edge vs Mozilla Firefox: Performance
Both the browsers are extremely good at handling resources. Edge took it further by introducing sleeping tabs, a feature that minimizes the use of system resources. Firefox is now selling the card of being the most optimized browser for your hardware. By the end of our extended periods of testing, we've also arrived at a similar conclusion. 
Edge and Firefox also support cross-platform syncing. Edge failed to load some web pages, and Firefox wasn't great either. But we believe the issue might be with those web pages as they seemed outdated in 2021.
Security & Privacy
The majority of users looking for an alternate browser might be influenced by the said factors. Luckily, both Edge and Firefox seem to deliver the best in class security and privacy. The user can block third-party tracking cookies, social trackers, and crypto mining scripts with ease. These browsers also feature private browsing modes that ensure masking from a network. However, we highly recommend you not to rely on them and go for a premium VPN service for absolute security and privacy. 
Microsoft Edge vs Mozilla Firefox: Our Verdict
Microsoft Edge and Mozilla Firefox are capable browsers that pack a punch. Picking one will be easy if you're a non-Windows user. But if you're a Windows user recommending one might be difficult. Edge is the default browser on Windows 10. So if you're someone who likes to keep things minimal, Edge might be the right choice for you.
If you're a developer, then you'd probably know the right choice for you. Edge is a feature-rich browser meant for beginners. Whereas Firefox offers an advanced level of control for the user, one must know how to use them. 
Like in the previous cases, the choice is subjective and will vary from person to person. It is worth mentioning Chrome's impact on the internet and how well it inspired others, including Microsoft and Mozilla. Both these browsers came a long way and picking one might be a hard choice. Edge and Firefox are now more focused on delivering a secure and private browsing experience. This holds relevant when users become aware of the importance of every bit of data on their personal devices. This shift will make things difficult for Chrome. A browser whose business model is primarily set on ad revenue.