Google Chrome is by far the most used browser in history. However, things have been quite the opposite when it comes to Samsung devices. Samsung is one of Google's greatest rivals. The Korean giant's efforts to de-Google their devices has made headlines over the years. Samsung has been confident enough to introduce a virtual assistant for their Android devices. Unlike other native browsers, Samsung Browser stands out better and to further prove our point, feel free to ask Android users. Samsung is hell-bent on creating a Samsung experience, and history proves they've been successful so far. In this Google Chrome vs Samsung Internet guide, we'll compare the differences and similarities between both the browsers.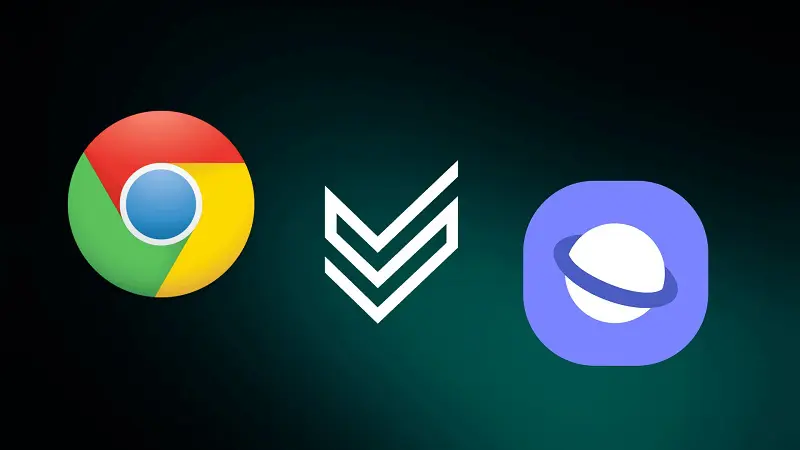 Both these browsers are based on the open-source Chromium project. However, Samsung Internet is only available for the Android platform. This gives Chrome an upper hand in cross-platform data syncing. Also, it should be noted that Samsung Internet is one of the few browsers that can be considered a worthy replacement for Chrome for Android. So let's see what makes each of these browsers best in their own ways.
Google Chrome vs Samsung Internet: Which to Choose
Availability & Cross-Platform Sync
Samsung Internet is only available for the Android realm. Whereas Google Chrome can be installed on almost all known operating systems in the market. Chrome is a clear winner in this segment as you can seamlessly access your browsing history and configurations from any device. Samsung Internet also lets users sync data between their Android devices, but it clearly falls short of Chrome.
UI & UX
Ever wondered what kept Samsung users attached to the Samsung browser, the overall user experience of the browser stands out from all other competitors. Samsung has also been the contributor of many Android features, including split-screen and battery saver.
The Samsung Internet is following the design principles of Samsung's own One UI. One UI was introduced to ease navigation within the OS on taller smartphones. As part of this, the menu and controls of Samsung Internet are located at the bottom of the browser. Chrome, on the other hand, still houses these controls on the top of the browser. The discomfort of reaching for the top menu is becoming hard on Android devices, and Google should pay attention to subtle details like this. Compared to Chrome, Samsung also provides a better dark mode and customizations. 
Security & Privacy
This is yet another segment in which Samsung Internet holds its lead against Google Chrome. Google's business model is based on ad revenue, and no one can blame them on that. But still, they could do a lot better than what they're doing right now, and the company is being criticized like never before. 
Samsung Internet comes equipped with features that ensure data privacy and security. The extend of this can be easily realized by just looking at the Secret Mode offered by Samsung in their browser. Secret Mode is the equivalent of Incognito mode in most browsers. The user can set a password (and Biometrics) to activate Secret Mode on Samsung Internet. This comes in handy as no one would mess with your phone. 
Ad blockers & Trackers
Ad blockers are yet at another advantage of using Samsung Internet. The user could choose from a plethora of services that let them block ads effectively. Chrome let the user block ads, but the setup is quite complex and time-consuming. Website trackers are yet another way of looting the user's data. Samsung shines here with the introduction of Smart Anti-tracking. The feature keeps the user updated on webpage trackers and allows them to restrain these trackers if needed.
You can see from the above picture how well Samsung Internet blocks ads. To be honest, Samsung Internet seems to do a better job than Brave on blocking ads. However, it should be noted that Samsung is smart enough to exclude the brand's ads on the browser's home screen. But there were none to be found while browsing. Also, from the above screenshots, you'll understand how well the Dark mode in Samsung Internet compares to Chrome.
Other "Useful Features"
Samsung has paid close attention to making their browser perfect by introducing dedicated settings for adjusting subtle details that affect the overall browsing experience. The ability to change the font size in real-time is a nice little Accessibility feature that is worth mentioning. Also, the user can control automatic media playback, enable/disable advanced media controls, manage links to external apps, etc.
When it comes to web page compatibility, both the browsers performed equally well as mobile browsers. Samsung Internet felt a little faster and responsive on our testing, but that could change with the network conditions. Also, users could load desktop versions of websites from both browsers.
Google Chrome vs Samsung Internet: Our Verdict
Both the browsers are good in their own ways. Even though Chrome is the most used browser, the mobile version is just a trim of the original desktop version. We believe Google never put too much into the development of the software because it is just a browser with limited capabilities. Even the included download manager on Chrome feels half baked compared to any other browser in Google Play Store. Many would agree with our statement as we're more familiar with Opera and UC Browser in Android than with Chrome for Android. Many would have it on their phones/tablets only because it came pre-installed on the device as part of Google services.
Samsung Internet, on the other hand, debuted as the default browser for Samsung devices. The browser is now making its way to non-Samsung devices after Samsung made it available for download on the Google Play Store. The ease of use and features of the browsers clearly dwarfs Chrome from a usability perspective. 
If you're someone who likes to sync data between your mobile and PC, then Chrome might be the right choice for you. But if you use the same Google account on both desktop and mobile, you might get along with Samsung Internet. Considering the features and responsiveness of the browser, we don't see any reason for you not to switch to Samsung Internet.