Since its inception, Chrome OS lacked an alternative browser other than Chrome. The reason for this could be the dominance of Google Chrome in the world of the internet. Users who needed an alternative never had any better option but those browsers built for Android or Linux (need some workarounds). There was clearly a slot open for an optimized browser for the Chromebooks. Lucky for them, they finally have a choice as Opera becomes the first third-party browser for Chromebooks.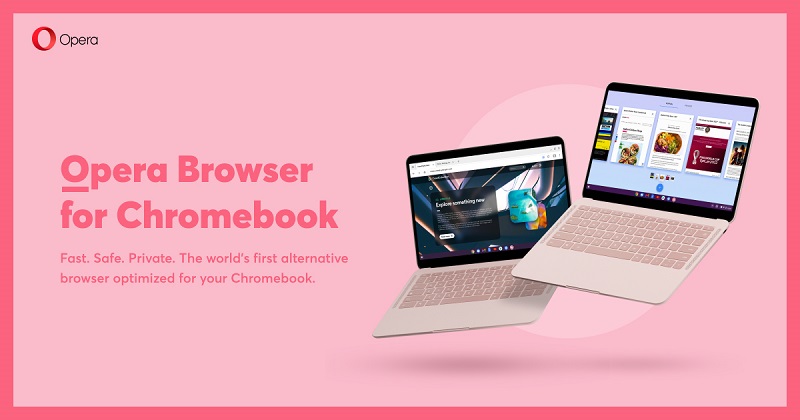 Yesterday Opera announced their new Opera Browser for Chromebooks. As the makers claim, the browser is the first optimized alternative browser for Chromebooks. While many would consider this a poor alternative for Chrome, our initial impressions are quite different. Opera for Chromebooks offers quite a lot more than surfing the net. 
Opera for Chromebooks Features
As said earlier, Chromebook users only had the provision to use the Android (mobile) or Linux versions of their browser of choice. This is not a pleasant experience in a desktop environment like Chrome OS. Even though Opera for Chromebooks is based on the Android version of the app, it is optimized to work well within the desktop environment of Chromebooks. This would mean that the user can use the trackpad and the keyboard to surf the net. The browser also comes packed with some useful features, and these subtle additions truly put it up against Chrome. 
Opera comes with an inbuilt VPN that does a great job at keeping your information private and secure. The included Ad-blocker and Cookie Dialog Blocker also did well during our time with the browser. Customization is also another way of personalizing your browsing experience. 
A Universal Chat app?!
Another feature of the browser is the ability to chat right from the browser. The feature lets the users use WhatsApp, Facebook, Telegram, Instagram and Twitter from within the browser. Opera can be installed from Google Play, so be sure to check it out.
It would be a hard challenge for Opera to compete with a browser that is an integral part of the operating system. We believe that this move by Opera will make things difficult for Chrome. We'll be putting these browsers to the tests and see how well each keeps up to the other.