The Chinese smartphone brand has entered the streaming device market with the introduction of the Realme 4k Smart Google TV Stick. Moreover, it is India's first streaming device to come with a Google TV experience. Although Google introduced a
Chromecast
with a remote last year, the device never made it to India. Here's our review of the Realme 4K TV Stick after usage for a few days.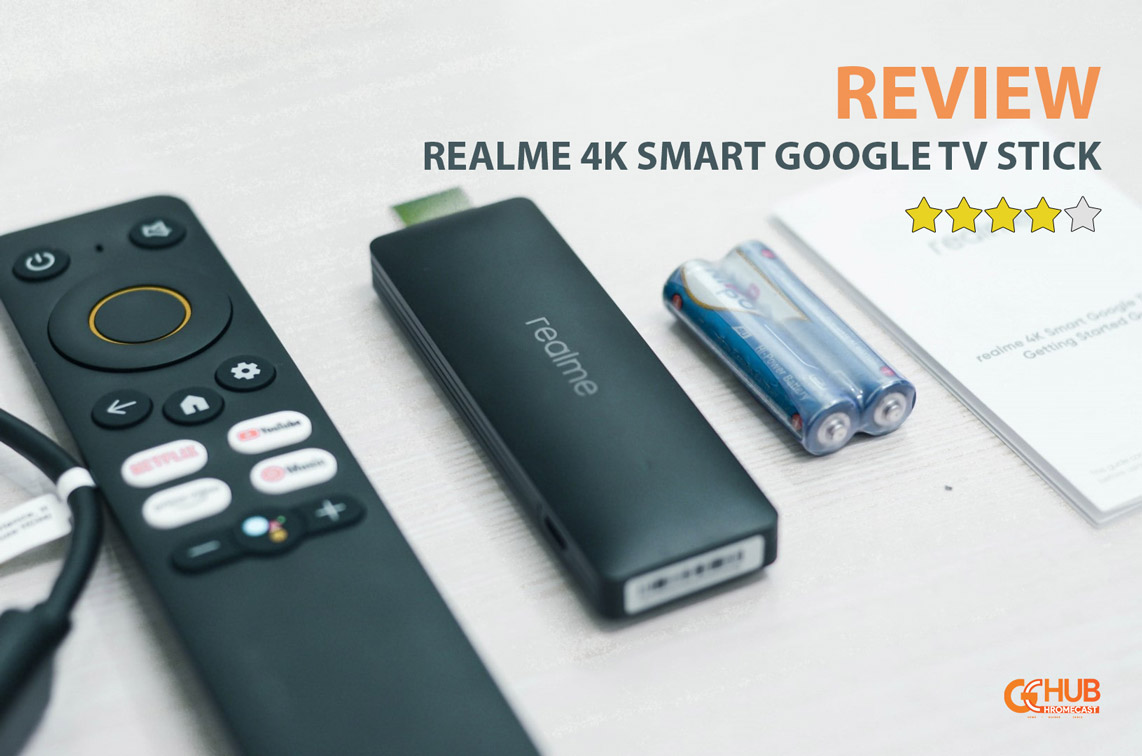 Specifications
Starting with the details, the Realme 4K TV Stick powers a quad-core CPU paired with 2GB RAM and a built-in Chromecast. Google TV adds all the goodies from Android TV along with refreshing UI and content suggestions. The stick is based on Android 11 with all its goodies and advanced permission settings.
Realme TV stick couples a remote like Google Chromecast with Google TV to offer better usability. For flawless connectivity, it supports dual-band Wi-Fi and Bluetooth 5.0. Additionally, the Realme 4K TV supports HDR10+ and can play videos for up to 4K at 60fps. It is a great competitor to Amazon Firestick TV 4K.
Operating System: Google TV based on Android 11.
Resolution: up to 4K 60fps, HDR10+
Ports: HDMI 2.1 out, micro-USB in.
RAM/Storage: 2GB/8GB.
Connectivity: Wi-Fi, Bluetooth 5.0.
Dimensions: 90 x 29.8 x 14.5mm, 30 grams.
Realme 4K TV Stick Reveiw
Setting up Realme 4K TV Stick
Connecting Realme 4K TV Stick was quite easy, but initially went through some hiccups which might be due to WiFi connectivity. However, it took me 5-10 minutes to connect it and start using it. You can easily connect with the TV Stick using the steps below.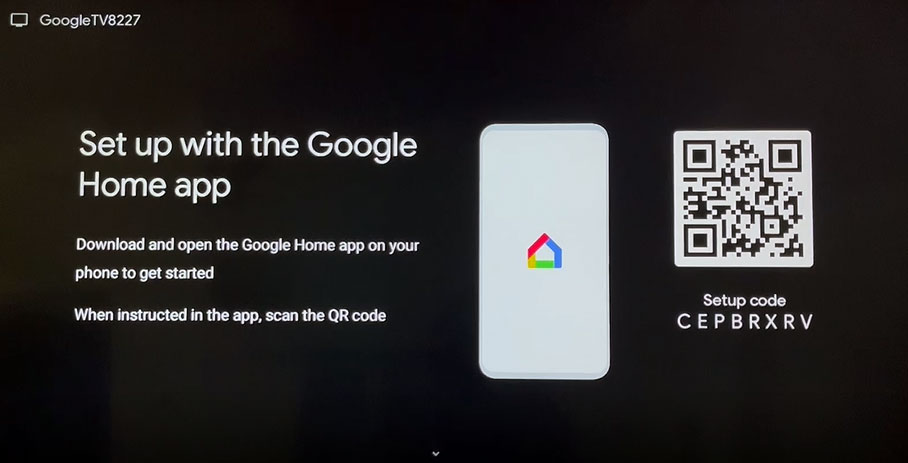 The first thing is to power the Realme 4K Stick by connecting it via a micro USB cable.
After connecting the cable on the streaming stick side, plug another end into the adapter.
It will take some time to boot. To set up the device, simply turn on the TV with a Realme 4K TV Stick and scan the given QR code and follow the on-screen instructions provided on the Google Home app. After a successful Wi-Fi connection and managing setup and preference, you will be directly taken to the home screen.
Now, you can enjoy the Realme 4K Stick streaming!
It will turn any non-smart TV into a smart one bundled with some advanced features. Or, if your smart TV UI looks boring, then the Realme 4K TV Stick will bring the all-new Google TV experience. It is currently available in India and is the first device to feature Google TV UI in the country.
Box Items – Everything you need, right out of the box!
The Realme 4k TV Stick Box packs all the necessary utilities including the Streaming stick, Bluetooth remote, a micro USB power cable, power adapter, and an HDMI extender.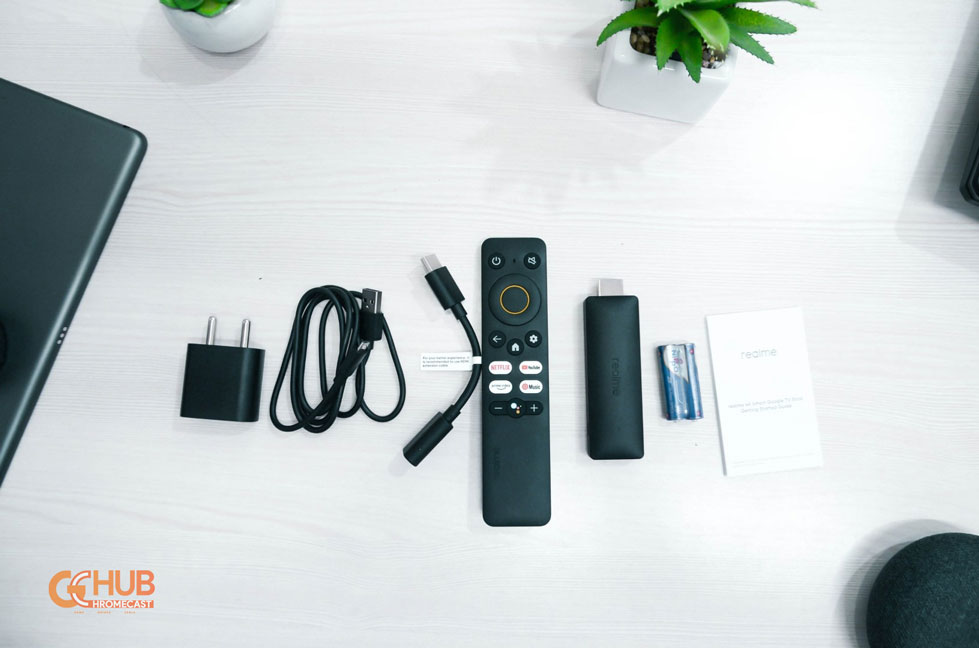 Remote + 2 AAA Batteries
As any standard remote, this as well is made up of plastic featuring a matte finish. The remote is thicker from the bottom and sleeker from the top-end. It operates via two AAA batteries, which are also part of the box items.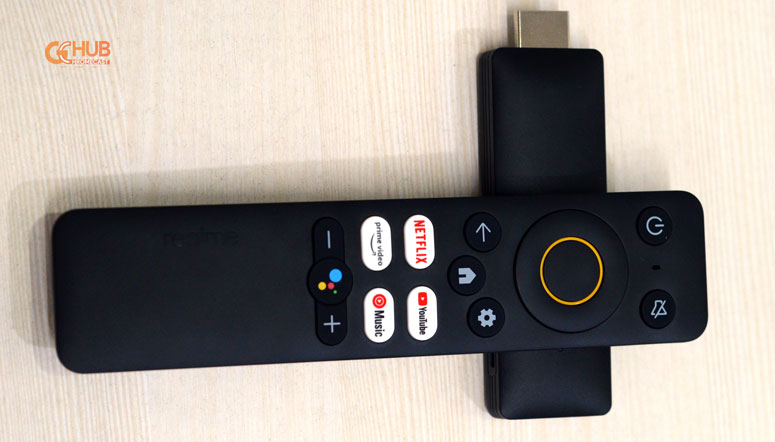 On the remote, as you can see, there are power and mute buttons on the top. Then, a D-pad to enhance navigation capability across all directions, and a select button at the center with a yellow ring around it. As with the CCWGTV, you also get the normal back, home, and settings keys. Additionally, there are four hotkeys—
Netflix
, YouTube,
Prime Video
, and YouTube Music for better accessibility.
At the bottom right side, there are volume keys while the middle Google Assistant key is a box of unlimited possibilities. A simple long press on this key will wake up the Assistant that will show its prowess upon asking something. The remote works in all directions as it pairs via Bluetooth.
Power Adapter + Micro USB Cable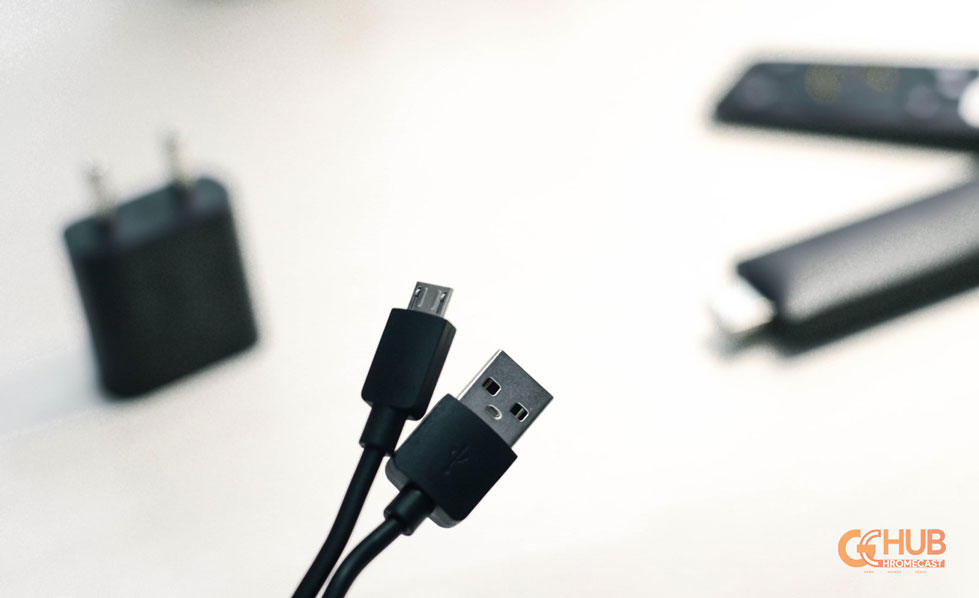 A 5W Power Adapter is bundled along with a MicroUSB cable in the box contents. However, you can use any other micro USB cable that has a power rating of up to 5W.
Realme TV Stick + HDMI Extender Cable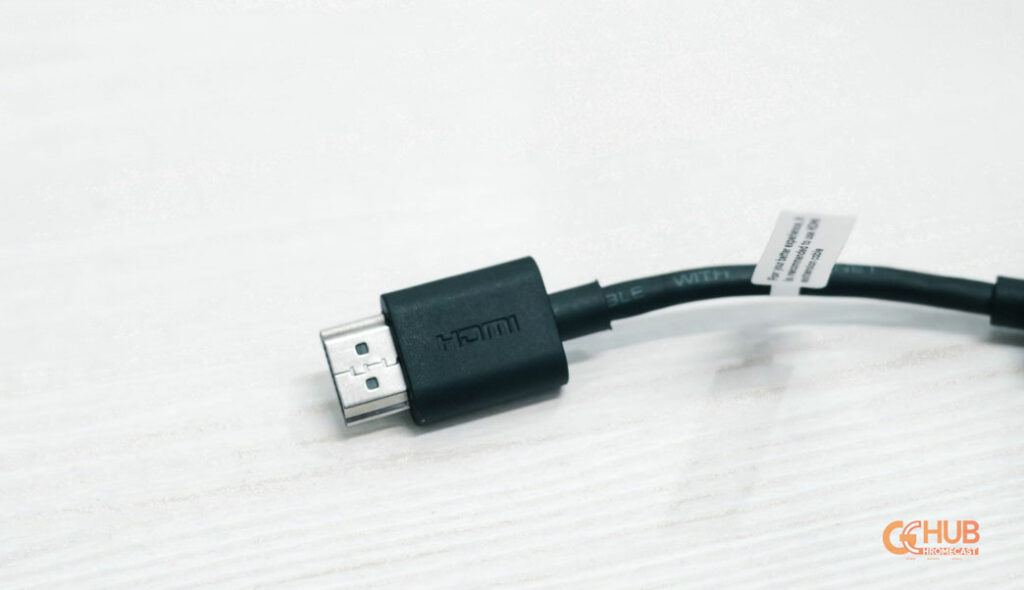 The Realme TV Stick is obviously also a part of the package. You can connect the device with the TV either by connecting via HDMI Extender cable or directly into the TV port. The extender can be quite handy if your TV is wall-mounted or placed in such a manner that you can't easily place the Stick into the HDMI port.
Realme 4k Smart Google TV Stick Features
As mentioned before, the Realme 4k TV Stick is the only streaming device in India offering the Google TV experience. It brings all the goodness from Android TV OS and provides a next-level experience with its AI-based content organizing ability from different streaming apps. Further, it is user-friendly and offers intelligent content suggestions after tailoring unnecessary things. On top, it has a convenient user interface providing four main tabs一 Search, Home, Apps, and Library to enhance usability and accessibility.
User Interface
Google TV User Interface looks well-polished and offers responsive buttons and navigation tabs on the top. The settings menu is well-placed under the Profile Photo. However, the user can manually switch to a screensaver for beautiful images from either the public library or via the Photos app.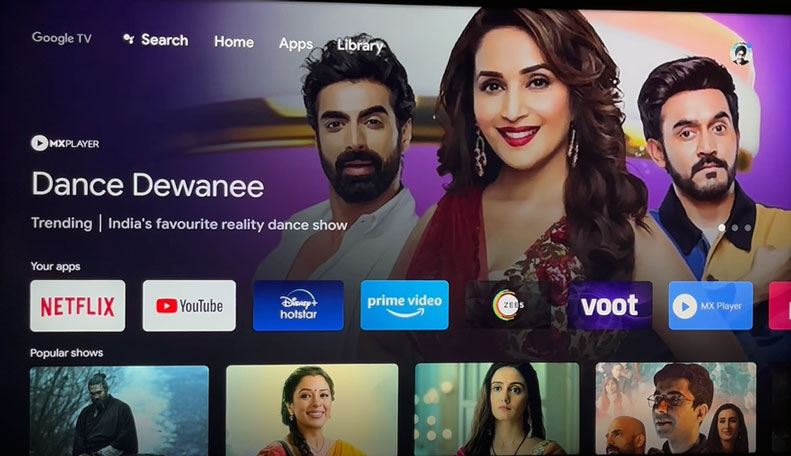 Overall, you will see a fluid experience while accessing the content or browsing different applications. After a week of use, we never saw the device getting freeze apart from normal stutters two-three times while switching between different animations and playing background music.
The Settings panel is quite similar to previous generations' Android TV OS. However, Google has beautifully managed to take advantage of landscape port view with filtered navigation across different settings. Taking advantage of the D-pad key on the remote control, the user can flawlessly shift between settings.
Long pressing any movie or show will bring more options in the same window for better browsing.
Four Different Tabs 
Search – It shows the search results for your query through Google Assistant.
Home – It is an interactive window showing recommendations, recently used apps, and other highlights aggregated from streaming apps. You can even manage services for aggregation by heading to the bottom of this page.
Apps – Unlike Android TV OS, the Google TV UI offers recommended apps, installed and other recommendations
Library – It consists of items you saved for later or we can say the content on your watchlist.
Google Assistant
Realme 4K Smart Google TV Stick offers the best amalgamation between Google Services in India. The device works better than the officially available Chromecast 3rd Generation dongle in India. Google Assistant works flawlessly with Indian English Accent, and most of the services and features work on the stick. The user can easily search for content on different apps, and even tweak settings as we do on our phones with Google Assistant.
However, there's hardly any lag while using the Google Assistant services from the Remote control.
Design
Carrying a dongle-shaped design, the device measures 29.8 x 90 x 14.5 mm and weighs 30grams. There's a micro USB port and an HDMI 2.1 for connectivity. Unlike the Realme 4K TV Box, it misses the USB port for direct storage usage. However, the user can use a micro USB hub to enhance the dongle capabilities to host an ethernet port or a new data drive.
Realme 4k Smart Google TV Stick Design
On the front side, there's a small LED dongle that shows the power status of the device.
Performance
Realme 4K TV Stick performs really well in rendering the 4K content while browsing the content and switching between the apps. It even fares between the Xiaomi Box S and ire TV Stick in terms of performance. The lightweight UI or optimized software could be the reason behind such an optimal performance.
It can output content in 4K (60hz, 50hz, 30hz, 25hz, 24hz, smpte), 1080p (60, 720p along with HDR10+ support.
Realme 4K Smart Google TV Stick bundles 2GB RAM and 8GB internal storage onboard. However the RAM is quite optimal, but the onboard storage shrinks to 4GB usable storage after installation of utility apps.
In the settings panel, the user can choose between different settings to enhance the viewing experience. For best Netflix viewing, always prefer HDR and 12-bit color depth if your TV display supports the configuration. Moreover, it supports HDMI-CEC for power control, which means you can manage TV through the dongle.
But…
Though Google TV arrives with a lot of features and goodies, it lags when it comes to integrating local content.
Moreover, the offered 8GB storage fills up really fast which could hinder the user experience.
Plus, if you try to pair earphones over Bluetooth, it can be unreliable.
Above all, there's no support for Dolby Vision. This actually is a deal-breaker for a solid deal, considering the Amazon Fire TV stick offers Dolby Vision.
Price and Availability
You can purchase the Realme 4K Smart Google TV Stick from Flipkart and the official Realme website for Rs 3,999(~$53) in India. There are some reports which suggest that Realme 4K Smart Google TV Stick will be launched in Europe next month.
If you wish to reset the Realme TV Stick, then make sure to follow the procedure mentioned below in the video.
Final Judgement
The Realme 4K Smart Google TV Stick is a good choice if you are looking for a device that can turn your non-smart TV into a smart one. Plus, the extensive features like 4K HDR playback, Google Assistant, and Chromecast are extra add-ons to the list. However, the absence of Dolby Vision and lesser storage can be a stumbling block. But the product is a good choice in a budget offering of Rs 3999 (~$53). It was initially on offer for Rs 2,999 (~$40) via Flipkart.