Want to reset your Google Home Mini? Then here is an easy guide that will help you perform the reset quite easily. The need for resetting arises if you are looking for upgrading to a better smart home assistant. Maybe you are just upgrading and want to sell the current Google Home Mini or gift it away to your sibling.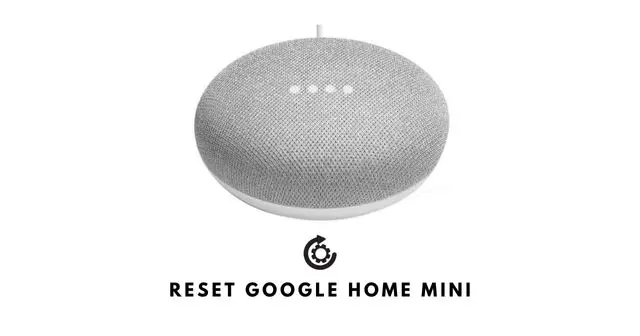 When you reset the smart home assistant, all the customizations and data that you have saved will be removed permanently. The device will become like a new one just like the day you first purchased it. This instructional covers how to reset a Google Home Mini 1st generation and a Google Nest Mini 2nd generation. Both serve the same purpose except the 2nd gen Nest Mini has a few extra features and it is mountable on a wall. 
Before jumping into the reset process for both generations smart home speakers, you may try to reboot them. It is easy and doesn't lead to the deletion of any existing data or configurations. Simply launch the Google Home app. Go to Settings > Device settings. Expand the menu by tapping the 3-dot button. Then, tap on the option Reboot.  
Steps to Reset a Google Home Mini 1st Gen
Let us begin with resetting the 1st Generation Google Home Mini. When we talk of reset you have to use the physical button provided on the smart home speaker. 
Right below the power cord, you can check for a button.

Press this button for at least 20 seconds.

Release the button only when you listen to a sound that indicates the completion of the reset process.
Factory Reset a Google Nest Mini 2nd Gen
If you have got a second-generation Nest Mini, you can reset it using the steps mentioned below. 
Besides the smart home speaker, turn off the microphone by sliding the switch.

When you turn that off, you can see orange light glowing on the top of the speaker.

The above phenomena indicate that the reset process has been initiated. 

Now, press and hold on to the center of the Nest Mini speaker. 

You will hear a voice message that the device is being reset completely. 

Keep pressing your fingers on the speakers until you hear a sound. Then release the fingers. 
With the reset process in action, the Nest Mini will de-register itself from the concerned Google account with which it was being used. Do Not remove the power cord of the Google Nest Mini while the reset process is going on. It may take around one minute to complete the resetting.
That's it on how to reset the Google Home Mini completely to its factory defaults. Not only while reselling or giving away the smart home speaker resetting is useful. Even when you are facing any bugs or technical issues, resetting the Home Mini or Nest Mini proves very useful in resolving them.