At some point of time, the PWA (Progressive Web Apps) would automatically get installed along with certain apps when downloaded from Google Play Store on Chrome OS.  But as of now, YouTube Music is taking this PWA feature to a whole new level. The latest PWA feature is being recognized as a separate entity on Chrome OS systems through Google.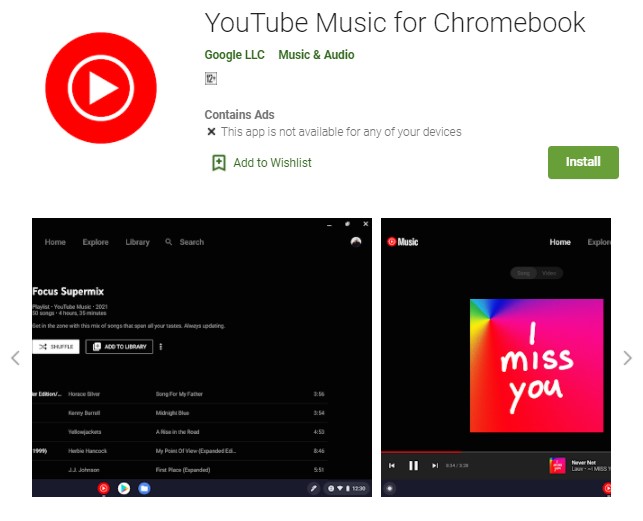 Must See: How to watch YouTube TV on Xbox One
When Chrome OS Play Store gets navigated for certain apps like Twitter, Google Keep, YouTube TV, it gets installed as a shortcut which is not an Android app rather it is the website itself loaded locally on your device. In fact, even if it opens in the form of full browser, it lacks the basic User Interface elements such as the address bar, tab strip and such.
Google's streaming service team released 'YouTube Music for Chromebook' yesterday by taking a separate PWA approach and listing. The version youtube.music.pwa.standalone_20201217_A_RC00 has over 10 installs and is 151kB in size.
A new music streaming service from YouTube.
The 'YouTube Music for Chromebook' version has taken over the place of the previous web version music.youtube.com. However, the YouTube Music Android app can still be downloaded and exists as a separate entity. Also, a small reminder – YouTube Music for Android TV also exists separately under the main YouTube client and appears as a shortcut on the home screen.
We can simply conclude the reason for the two listing approach- not being able to download songs from YouTube Music PWA for offline purposes. A key loss that can be noted with this latest update of Android to PWA is that macOS and Windows users would lose all their downloads if Google automatically upgrades the version. Google is likely to continue with this approach until PWA finds offline support.