Live TV streaming services are becoming more popular with their additional features over the regular cable service. There are many live TV streaming services available in the market with different plans and features. However, there are two services that are the contenders for the best live TV streaming services, these are YouTube TV and the Hulu Plus Live TV. Both services offer premium features to the user to stay above the other services.  However, you have to choose between these two services, so, which one will you choose? We are going to help you by comparing both the services YouTube TV vs Hulu Live in different areas and find out which is the best for you.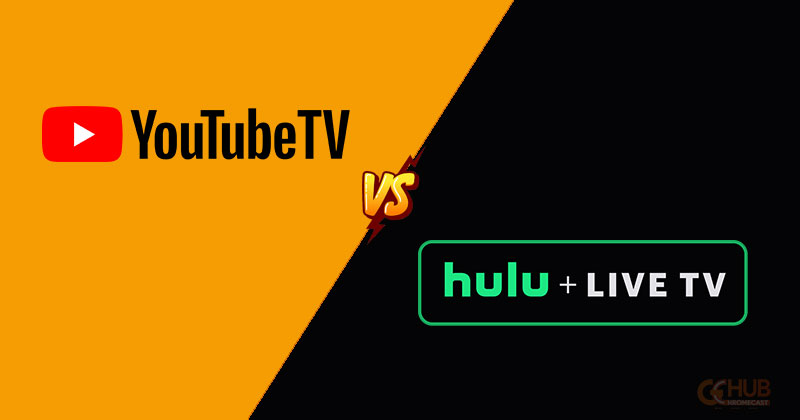 While comparing both the services we are going to learn about the price, features and the channels these services provide. Let us start with the price as it is one of the major aspects when buying any service. YouTube offers YouTube TV at $65 per month and Hulu Plus Live TV comes for $70. Both services offer addons by paying extra, but if you are fine with base plans, YouTube TV will save a few bucks for you.
Channels – YouTube TV vs Hulu Live Tv
Both services offer local channels like ABC, NBC, CBS, and FOX. You can check the entire list of local channels in your region by entering your ZIP on their website. Hulu offers a total of 89 channels while YouTube TV offers 118 channels.
Here is the list of channels these services offer.
[table id=14 /]
Both streaming services offer extra add-ons for users which can be availed by paying extra. The prices for these add-ons differ according to the add-on packages. YouTube offers two add-on packages, here is the list of channels included in the addon.
[table id=17 /]
Here is the list of Hulu Plus Live TV addons:
[table id=18 /]
Device Support
Both live TV streaming services are available on various devices like TVs, streaming devices, and gaming consoles. You will find both services on all the major streaming devices and TVs, here is a detailed list of supported devices.
[table id=16 /]
Features
Both services provide premium features to users like on-demand video streaming, DVR, multiple streaming support, and more. YouTube TV provides on-demand videos but it is limited as YouTube TV provides this content from the partner networks. Meanwhile, Hulu Plus Live TV comes with the regular Hulu on-demand service, so the number of on-demand content is more on Hulu. So, in the on-demand section, Hulu is a complete winner.
The areas where YouTube TV is ahead of Hulu Plus Live TV are Cloud DVR storage and simultaneous streaming. YouTube TV provides unlimited DVR storage whereas Hulu provides 50 hours of DVR storage which can be upgraded to 200 hours by paying extra. Both services provide you the ability to skip through commercials on the recorded content, however, you have to pay for it on the Hulu Plus Live TV.
In the case of simultaneous streaming, YouTube TV offers up to 3 screens on a single account that can be upgraded to unlimited screens. Hulu Plus Live TV provides only two screens per account for simultaneous streaming. Both services provide up to 6 profiles for families on an account.
Conclusion
Both the services provide premium features and a very big list of channels for users. However, if we see the number of channels and features, YouTube TV comes out on the top. YouTube TV comes at a base price of $65 and even if we add the add-on packages to both the services, YouTube TV will be a better choice for users. The only area where YouTube TV is lagging is the on-demand content, which can be upgraded over time. So, if on-demand content is not the priority for you, YouTube TV is the best choice considering all other factors.