Live TV streaming services are becoming more popular with their additional features over the regular cable service. There are many live TV streaming services available in the market with different plans and features. However, there are two services that are the contenders for the best live TV streaming services, these are YouTube TV and the Hulu Plus Live TV. Both services offer premium features to the user to stay above the other services.  However, you have to choose between these two services, so, which one will you choose? We are going to help you by comparing both the services YouTube TV vs Hulu Live in different areas and find out which is the best for you.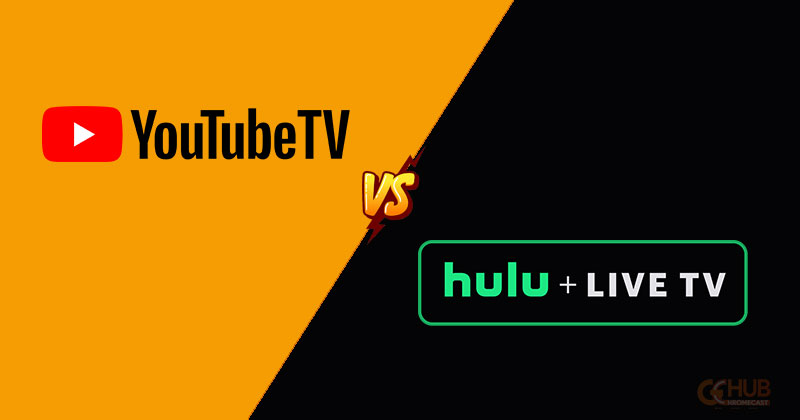 While comparing both the services we are going to learn about the price, features and the channels these services provide. Let us start with the price as it is one of the major aspects when buying any service. YouTube offers YouTube TV at $65 per month and Hulu Plus Live TV comes for $70. Both services offer addons by paying extra, but if you are fine with base plans, YouTube TV will save a few bucks for you.
Channels – YouTube TV vs Hulu Live Tv
Both services offer local channels like ABC, NBC, CBS, and FOX. You can check the entire list of local channels in your region by entering your ZIP on their website. Hulu offers a total of 89 channels while YouTube TV offers 118 channels.
Here is the list of channels these services offer.
YouTube TV
Hulu Plus Live TV
ABC
ABC News
ACCN
Adult Swim
AMC
Animal Planet
BBC America
BBC World News
BET
BET her
Big Ten Network
Bravo
Cartoon Network
CBS
CBS Sports
Cheddar
CMT
CNBC
CNN
Comedy Central
Comet TV
Court TV
CoziTV
Dabl
The CW
Discovery Channel
Disney Channel
Disney Junior
Disney XD
Docudrama
Dove Channel
E!
ESPN
ESPN2
ESPNU
ESPNews
Food Network
Fox
Fox Business
Fox News Channel
Fox Soul
Freeform
FS1
FS2
FX
FXM
FXX
Galavisión
Game Show Network
getTV
Golf Channel
HGTV
HLN
IFC
Investigation Discovery
Law & Crime
Live Now from Fox
Los Angeles Football Club
MLB Game of the Week
MLB Network
MotorTrend
MSNBC
MTV
MTV2
MTV Classic
My Network TV
National Geographic
Nat Geo WILD
NBA TV
NBC
NBCLX
NBC News Now
NBC Sports Network
NBC Universo
NewsNation
NFL Network
Nickelodeon
NickJr.
Nicktoons
Olympic Channel
Oprah Winfrey Network (OWN)
Oxygen
Paramount Network
PBS
PBS Kids
Pop
QVC
SEC
Smithsonian Channel
SNY
Start TV
SundanceTV
Syfy
Tastemade
TBS
TCM
Telemundo
Teennick
TLC
TNT
Travel Channel
TruTV
TV Land
TYT
UniMás
Universal Kids
Univision
USA
VH1
WE tv
YouTube Originals
A&E
ABC
ABC News Live
ACC Network
Adult Swim
Animal Planet
BET
Big Ten Network
Bloomberg Television
Boomerang
Bravo
Cartoon Network
CBS
CBS News
CBS Sports Network
Cheddar News
CMT
CNBC
CNN
CNN International
Comedy Central
Cozi TV
Crime+Investigation
CW
Dabl
Discovery Channel
Disney Channel
Disney Junior
Disney XD
E!
ESPN
ESPN 2
ESPNEWS
ESPNU
ESPN College Extra
Food Network
Fox
Fox Business
Fox News Channel
FS1
FS2
FreeForm
FX
FXM
FXX
FYI
Golf Channel
HGTV
History
HLN
ID
Lifetime
Lifetime Movies
Localish
MSNBC
Motor Trend
MTV
NASA
National Geographic
Nat Geo Wild
NBC
NBCLX
NBC News NOW
NBC Regional Sports Networks
News Nation
NFL Network
Nickelodeon
Nick Jr.
Olympic Channel
OWN
Oxygen
Paramount Network
Pop
QVC
SEC Network
Smithsonian Channel
Start TV
SyFy
TBS
Turner Classic Movies
Telemundo
TLC
TNT
Travel Channel
TruTV
TVLand
Universal Kids
USA
VH1
Vice
Both streaming services offer extra add-ons for users which can be availed by paying extra. The prices for these add-ons differ according to the add-on packages. YouTube offers two add-on packages, here is the list of channels included in the addon.
Sports Plus
a-lá-carte
beinSports
Billiard TV
Fox Soccer Plus
GOLTV
MAVTV
NFL Red Zone
Outside TV
Players TV
Poker Go
Sports Grid
Stadium
TVG
VSiN
Acorn
Allblk
AMC+
Cinemax
Comedy Dynamics
CON TV
CuriosityStream
Docudrama
Dove Channel
EPIX
Fandor
Fox Nation
Hallmark Movies Now
HBO
HBO Max
IFC Films Unlimited
Law & Crime
MLBTV
NBA League Pass
OusideTV Features
Pantaya
ScreenPix
Screambox
SHOWTIME
Shudder
Starz
Sundance Now
Up Faith & Family
VSiN
WE tv +
Here is the list of Hulu Plus Live TV addons:
Sports
Entertainment Networks
Español Networks
MAVTV Motorsports Network
NFL RedZone
Outdoor Channel
Sportsman Channel
TVG
TVG2
American Heroes Channel
BET Her
CNBC World
Cooking Channel
Crime + Investigation
Destination America
Discovery Family
Discovery Life
DIY
Great American Country
Military History Channel
MTV2
MTV Classic
Nicktoons
Science
TeenNick
CNN en Español
Discovery en Español
Discovery Familia
ESPN Deportes
FOX Deportes
History Channel en Español
NBC Universo
Device Support
Both live TV streaming services are available on various devices like TVs, streaming devices, and gaming consoles. You will find both services on all the major streaming devices and TVs, here is a detailed list of supported devices.
| Device | YouTube TV | Hulu Plus Live TV |
| --- | --- | --- |
| Apple TV | Yes(4th Generation or later) | Yes(4th Generation or later) |
| Android TV | Yes | Yes |
| Amazon Fire TV and Stick | Yes | Yes |
| Chromecast with Google TV | Yes | Yes |
| Vizio SmartCast TVs | Yes | No |
| Samsung TVs | Yes (Select models) | Yes (Select models) |
| LG TVs | Yes (Select models) | Yes (Select models) |
| PS5 and PS4 | Yes | Yes |
| Xbox | Yes (Xbox Series X, Xbox Series S, Xbox One X, Xbox One S, and Xbox One) | Yes (Xbox 360 and Xbox One) |
| Nintendo Switch | No | Yes |
| Roku | Yes | Yes |
| TiVo Stream 4K | Yes | No |
| HiSense TVs | Yes | No |
Features
Both services provide premium features to users like on-demand video streaming, DVR, multiple streaming support, and more. YouTube TV provides on-demand videos but it is limited as YouTube TV provides this content from the partner networks. Meanwhile, Hulu Plus Live TV comes with the regular Hulu on-demand service, so the number of on-demand content is more on Hulu. So, in the on-demand section, Hulu is a complete winner.
The areas where YouTube TV is ahead of Hulu Plus Live TV are Cloud DVR storage and simultaneous streaming. YouTube TV provides unlimited DVR storage whereas Hulu provides 50 hours of DVR storage which can be upgraded to 200 hours by paying extra. Both services provide you the ability to skip through commercials on the recorded content, however, you have to pay for it on the Hulu Plus Live TV.
In the case of simultaneous streaming, YouTube TV offers up to 3 screens on a single account that can be upgraded to unlimited screens. Hulu Plus Live TV provides only two screens per account for simultaneous streaming. Both services provide up to 6 profiles for families on an account.
Conclusion
Both the services provide premium features and a very big list of channels for users. However, if we see the number of channels and features, YouTube TV comes out on the top. YouTube TV comes at a base price of $65 and even if we add the add-on packages to both the services, YouTube TV will be a better choice for users. The only area where YouTube TV is lagging is the on-demand content, which can be upgraded over time. So, if on-demand content is not the priority for you, YouTube TV is the best choice considering all other factors.