Are you having trouble understanding the difference between Chromecast vs Micracast? Then, you've landed on the right page as we will distinguish between both the technologies in our guide. Both the Chromecast and Miracast services' goal is to provide wireless display casting from one device to another. It can be from mobile device to compatible computer display, or to TV or vice versa. However, these services are not identical, their working and compatibility differ in various ways. We will have a deep talk about the comparison of both services.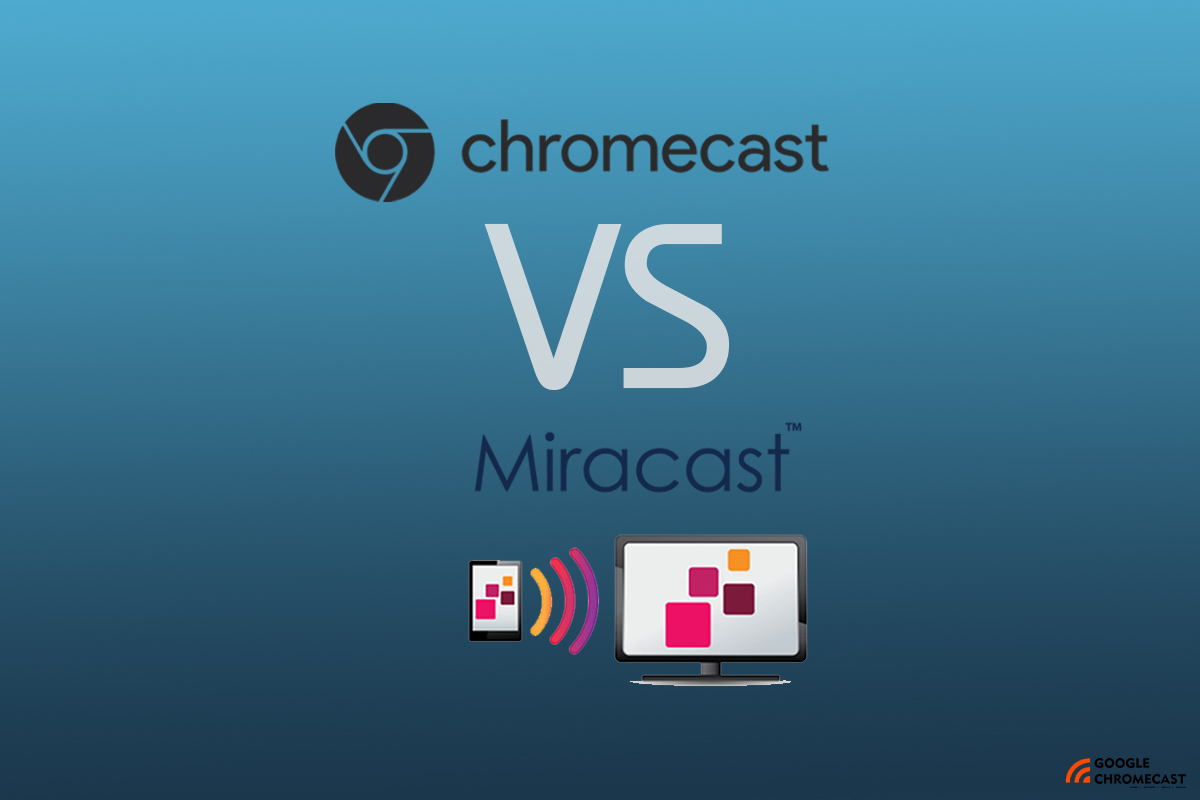 Before the advent of both these services, it was nearly impossible to cast two different displays working on varied Operating Systems without a cable. Miracast and Chromecast have opened different spheres of possibilities for wireless connectivity. Unlike AppleCast, AllShare cast, both the Miracast and Chromecast are hardware independent services to cast the content on different devices wirelessly.
We will let you know the major differences between these two services. Let's begin with Google Chromecast.
Google Chromecast vs Miracast
| Chromecast | Miracast |
| --- | --- |
| Supports Windows, Mac, Linux, Android, and any Smart TV OS (Hardware Independent) | Supports Windows, Android devices, Smart TVs (Hardware Dependent) |
| Supports Screen Duplication | Supports Screeen Duplication |
| It does not support PC to PC casting | It support PC to PC casting. |
| Supports 720p, 1080p, 4K resolution | Supports 1080p resolution |
| Software Encoding | Hardware Encoding |
| Supports Audio | Supports Audio |
| Works over WiFi 802.11 b/g/n | Works on WiFi Direct |
| Chromecast needs active wireless network such as(WiFi Router. (Network Dependent). | Miracast is Network Independent. |
| Chromecast is available for $35. | Miracast is present almost every compatible WiFi device. (Otherwise Dongle costs $50-$100) |
| Chromecast other apps in mobile devices. It can direct cast online services to TV without mirroring. | Miracast is just a mirroring solution. It duplicates your display to receiver display. |
| Latency is more than Miracast. | Latency is less than Chromecast. |
| Better for Home Use | Better for Office Use |
| Supports Apple and any other devices having HDMI Input | Does not support Apple devices. |
What is Google Chromecast?
It is a Google supported simple plug and play dongle device which can be connected with any TV or device via an HDMI port using a WiFi network and (even without WiFi network in some scenarios). It can not only cast screen but even provide audio casting, browser casting from a laptop to big display, and across various services.
Google Chromecast supports cross-platform services and devices running iOS, Android, and Macs running the latest versions. The Chromecast is prominently used by Apple users to transfer locally stored media files from Apple devices. However, there are certain limitations like it needs working internet connection to cast photos even from your own phone or harddrive. It can even mirror the sound device.
Google Chromecast didn't depend on the host device to stream content if using services like Spotify, Netflix, Plex, or any other popular streaming service. The user can easily buy CHromecast as it is available across the globe from online and offline stores.
Google Assitant devices and Google Home devices interact seamlessly with Chromecast. The user can control the devices, content streaming with voice.
Moreover, Google offers two casting services:
Google Cast – It comes inbuilt with Android TVs, it works like the Google Chromecast dongle.
Google Chromecast – It is plug and plays dongle which can be inserted in TVs via an HDMI port.
Whats is Miracast?
Miracast is a feature present along with the WiFi as it is considered a standard protocol Wi-Fi Alliance – a worldwide consortium of companies. The benefit of such service is that it allows us to wirelessly cast content on displays carrying Micracast support. Unlike the Google Chromecast, the user need not buy any additional device if there's a WiFi device supporting Miracast.
Miracast uses WiFi Direct technology to cast display content wirelessly across different devices in the proximity. It does need any WiFi router or anything as it can easily connect other Miracast-device effortlessly with faster exchange rates. In layman terms, we can it is a wireless HDMI cable that can connect with any device.
Miracast need not to have an active internet connection to work, it can work without any kind of internet connection.
There are many Miracast dongles that are available in the market if your device does not carry inbuilt support.
Miracast Compatibility
Miracast is present on almost every gadget manufactured after 2014. Every TV, most of the laptops and smartphones Miracast under different names like AllShare, SmallShare, and others. However, you can head over to the WiFi alliance website's product finder to whether your is compatible or not.
You can buy Google Chromecast, or Anycast M100 dongle on the basis of your preferences. There are many other Miracast alternatives available on major online retailers that you can check.
We hope you got to know the difference between Chromecast and Miracast. Stay connected with us for more.