All of us are familiar with the renowned videoconferencing service Zoom meeting. We could undoubtedly say that Zoom and other similar videoconferencing services, helped us stay put together amid the pandemic. Zoom Rooms is a beefed-up version of Zoom meetings intended for business. The service lets companies virtually expand their conference rooms. Unlike traditional conference room sharing, which involved a ton of expensive (and specialized) equipment, wiring, and dedicated software, Rooms lets the attendees commute wirelessly with ease. And now, Zoom Rooms brings Updates for Office Re-Entry and Hybrid Workforce. This simply means WFH and office re-entry will be a lot more safe and secure.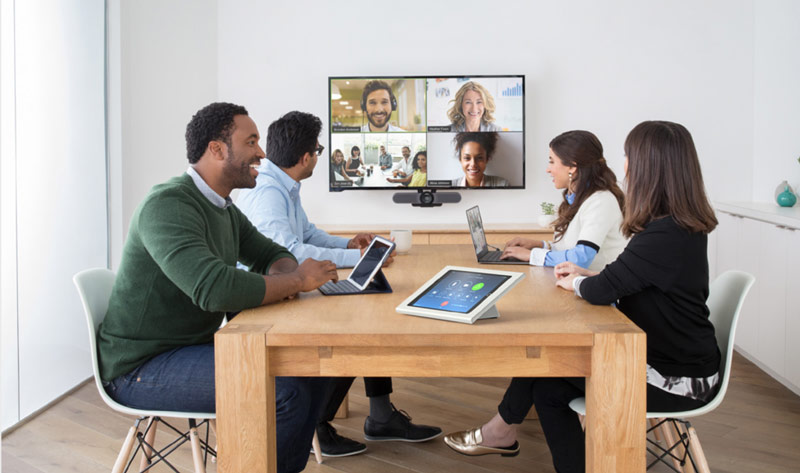 As said earlier, connecting multiple conference rooms was always considered a challenge, as it needed rather complicated hardware and software. Most smaller businesses even dropped the idea as the cost and effort never added to the final result. But with Zoom Rooms, it has become extremely convenient to connect between multiple rooms. All they need is a faster and stable internet connection, paired with some decent hardware of their choice. And now, Zoom brings some well-placed updates for Rooms, which are best suited for the ongoing situation. Let's have a look at some of them that are worth pointing out.
Zoom Rooms 'Everywhere Workforce' Features
Virtual receptionist and Real-time people count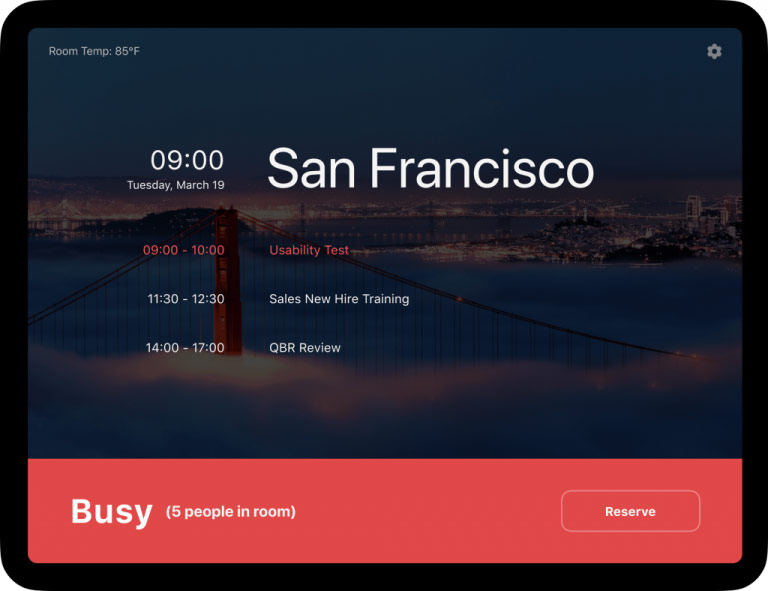 Safety is the top priority at most companies nowadays. And with Zoom Rooms Kiosk Mode, a virtual receptionist can now greet people entering/leaving the office using a Zoom Rooms for a Touch device. They can also see how many people are there in a room on the Zoom Dashboard. This is critical to ensure social distancing by preventing overcrowding of people inside a room.
Monitor air quality
With the new Neat Sense, you can continuously monitor the air quality inside the room. You can monitor the temperature, humidity, CO2 levels, and Volatile Organic Compounds (VOC) levels inside the room. This data be viewed in real-time for better control of the air conditioning inside the room.
Device management
Disable users from setting up devices


IT managers can now control users from signing into Zoom on self-managed Zoom for Home devices. This ensures safer and easier management of WFH devices.
Set PIN for Zoom for Home devices


Admins can now ask users using Zoom Rooms Appliances and Zoom for Home devices to set up a screen PIN to lock their devices, This will ensure a secure meeting environment if people are meeting remotely.
Improved Sharing
Sharing data between others in the meeting comes with some promising improvements.
Share a whiteboard to Zoom Chat


Users can now send a whiteboard to Zoom Chat or email. If it's a personal Zoom Room, you can also send it to your chat groups as well.

Use Gallery view when content is shared


Users now have the option to select Gallery View while sharing content. This allows users to share content from one device while using Gallery View on another.
Control a shared desktop from Zoom Rooms for Touch


Zoom Rooms for Touch Users can now control the desktop of the person currently sharing their screen.

Direct share via ultrasound on Zoom for Home


Users can now share via ultrasonic sound proximity detection on Zoom Rooms Appliances and Zoom for Home devices.
Improved Functionality
New in-meeting toolbar


The in-meeting toolbar and controls on Zoom Rooms for Touch devices are having a new design and look which seems to focus more on functionality and simplicity. 

Real-time transcription


Users can now get real-time transcriptions for over. This ensures linguistic fidelity between the users.
A beta feature worth mentioning is the ability to use voice commands to control these devices. Even though it is still in beta, it appears to work just fine every single time we checked. 
Zoom is an excellent video conferencing service with a bright future ahead. They brought some jaw-dropping ideas and innovations to the industry. Rooms are one such innovation and we believe Zoom will remain surprising us in the future.