Google Chromecast has become a part of our life during this quarantine. People who own it will know what we are trying to say. This simple plug-and-play device breaks a lot of hurdles and stress while we work from home these days and keep looking at a small screen all day. The projection onto a TV or a monitor certainly makes things easier. If you want to customize what is displayed on the display when the device is in an idle state. Then this article is for you, let us look at how you can change background screensaver pictures on Chromecast with ambient settings to make your life a little easier and more pleasing to watch.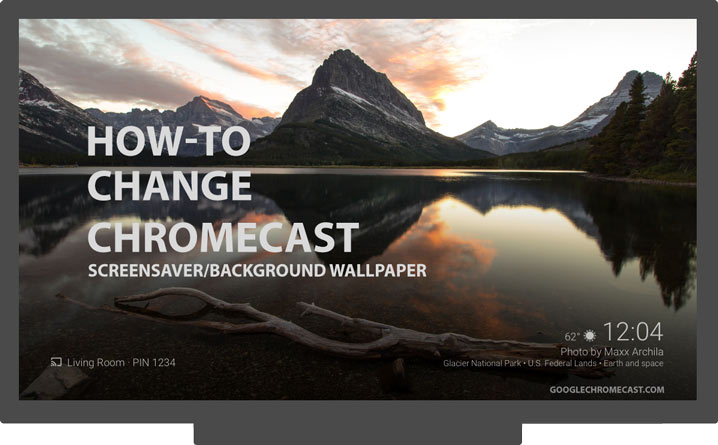 How to Change Background Chromecast Pictures
Pre-requisites
A Google Chromecast connected to a TV.
Google Home app installed on your Android or iOS smartphone.
A stable WiFi connection.
Before we begin, make sure you update your Chromecast and your Google Home app to the latest firmware as Google usually adds more experimental features with every update. We will talk about it later. If you are new here or having trouble connecting a Chromecast visit here.
Steps to change Chromecast wallpapers on the display's background:
Open your smartphone and fire up the Google Home app.
Make sure your smartphone and Chromecast are connected to the same WiFi network.
Find the display connected to your Chromecast and Tap on it.

Now, on the next screen of the device settings that appear, click on "personalize ambient" at the bottom.
This is the ambient mode which it allows you to control overall settings from weather to your wallpaper settings and even display info from the stadia controller.
To change the Wallpapers that appear in the idle mode you can choose from three settings:

Google Photos
Art Gallery
Experimental

To choose a set of photos to be displayed as your wallpaper in slideshow format click on Google photos option. This will show the images that are present in your phone's internal storage and images stored in google cloud.
If you need Google to handpick a collection of beautiful photos that include collections of art — both the more traditional and street art variety to add a touch of classic or visually appealing style to any display connected to your Chromecast, you can select the Art Gallery option. It must be noted that by default, Chromecast wallpaper mode is set to Art Gallery.

 Apart from this, there is a third option called Experimental Features. These is some beta features that Google adds from time to time before perfecting them. For example, Google may allow you to choose this option so that it takes photos from your Facebook profile to display them as your wallpaper. This option is unstable sometimes and Google can change it or even remove it in the future.
Related: How to cast AT&T TV Now (DirecTV Now) to Chromecast
How to personalize Ambient mode settings in Google Home App
However, if you choose your personal collection of photos, say, from your Google Photos option, Google just clubs them into a slideshow and displays it. It gives additional settings for you to customize it further.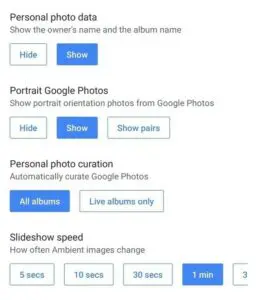 Portrait Google Photos: If the selected album has portrait photos in it, it may look awkward if displayed on a big TV with black bezels on sides. Hence, Google gives the option to either hide those Photos, Show them anyways or Show them in pairs so that they occupy the entire display and not be awkward.
Personal Photo Curation: Photo curation is basically when Google Photos automatically attempts to select what it thinks are the best photos from your Live Albums and Recent Highlights. This improves the overall mood of TV's surrounding that is connected to a Chromecast.
Slide Show Speed: There is also an option to change the slideshow speed of the wallpapers that appear on the screen. You can toggle between 5 seconds to 10 minutes but we would recommend neither too short nor too long of a time for a pleasant experience.
Related: How to reset Google Chromecast 1st, 2nd, or 3rd Generation?
Note: You may not find the below-mentioned feature on new Chromecast devices. 
Additionally, you can alter other settings that appear on your Chromecast display's idle state.  There is an option for changing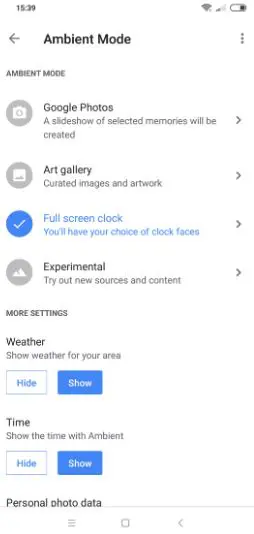 Weather
Showing the owner's info and name of the album in the photo.
Show the device name and the WiFi network connection.
Time
You can find them below the wallpaper settings. It must be noted that Google Chromecast Ultra also supports Stadia Control so that you can toggle between showing and hiding of linking codes of the Stadia Controller.
We hope, you were able to customize your Chromecast and cast your favorite wallpapers along with your personal info to a bigger screen. Let us know what was your choice among the above, in the comments below.