Google Assistant is the smartest AI assistant in the smartphone world due to its smart features which helps users a lot. Google keeps updating the Google Assistant by adding new features to improve the user experience. These features make Android a very easy-to-use platform as most of these features are focused on improving usability.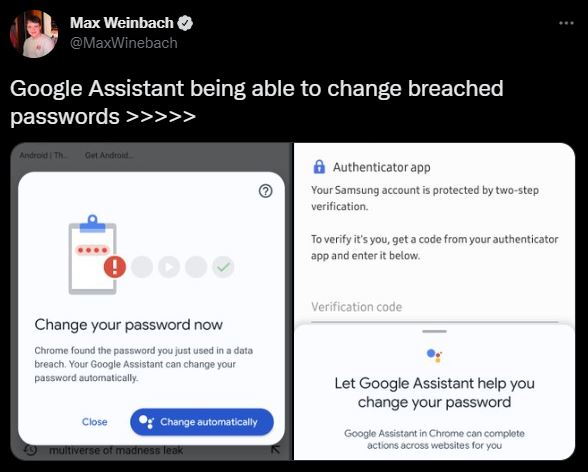 Last year, at Google I/O, Google brought another addition to the feature list to help users while browsing different websites. Google announced a new feature to identify compromised passwords and provide users to change them automatically. This is done via Google Assistant and is available for Chrome on Android currently. Google Assistant checks whether the password is compromised somewhere or not and provides the next steps to users.
As soon as the user logs in with their password, Google Assistant checks whether the password is found in a data breach. Screenshots of the feature were made available on Twitter by Max Weinbach which provides some insights into the feature. As visible in the screenshot, Google Assistant displays pop up when a breached password is found with the option to change it automatically. You can change your password from there or ignore it by clicking on the close option.
After tapping on the Change automatically option, Google displays terms for agreement stating "To help you complete tasks, Google will receive the URLs and contents of sites on which you use Assistant, as well as information you submit through Assistant. This information may be stored in your Google account. You can turn off Assistant in Chrome settings". Click on I agree to move to the password changing page for changing the password. Google Assistant will start generating a new password for the user. Once the password is generated, the user can accept it or change it manually. Google will provide the option to save the new password to the password manager and the user can save it if needed.
This feature was announced last year and was made available to some users in November last year. Now Google has started rolling out the feature to more users and might be available to everyone in a few weeks.