Google Drive for Android is rolling out exciting and handy annotation tools, which will give users a quick way to draw on and highlight PDFs. This new feature provides users with more flexibility and functionality when working with PDF files on mobile devices.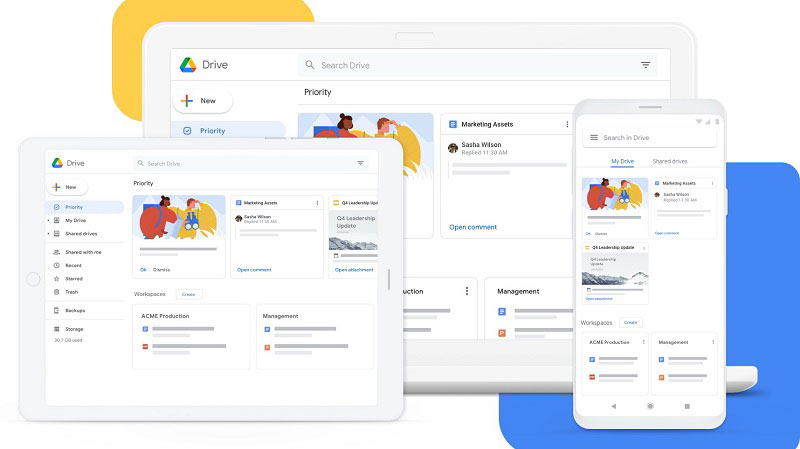 Google Drive is a popular cloud storage and file management service that allows users to store, share, and collaborate on files across multiple devices. The app has been continuously updated with new features and improvements. Now, this latest addition is sure to make the platform even more useful for those who frequently work with PDF files.
From now on, upon opening a PDF file, a new pen FAB (Floating Action Button) will appear at the bottom-right corner. Tapping the button will present you with 6 buttons or tools. There's a pen tool that enables you to draw on PDF files. It is available in red, black, blue, and green with stroke widths ranging from 8 to 40px. Subsequently, a highlighter tool is available in yellow, green, blue, or purple. The eraser tool allows you to completely remove a stroke, although there is an undo/redo button. After all, there is also a tool to hide all the marks you created. Users will be able to save drawings made on the original PDF while saving as copy will be available in the overflow menu. This will preserve the original file as it is.
The annotation toolbar sits at the bottom of your window by default. But you can move it to the top if you want. Furthermore, when you open the Drive app in landscape mode, the toolbar will appear vertically on the right side. It can be moved to the left if you desire.
Google Drive PDF annotation tool is rolling out!
Last month the company announced the annotation tool on Drive's android app, without providing a timeframe for its arrival. According to 9to5Google, the 2.23.081.2 version of the android app introduces new annotation tools. The update is not widely rolled out, but will soon be available to everyone.
If you're someone who frequently works with PDF files, this feature will surely improve your productivity. Granted that you're keen on trying out the new tools, Go to the play store and check if an update is available. If no update is available, check after a few days.