Google Meet will receive two major features in the coming days which have been long requested by the users. The Grid View layout supporting up to 50 participants and the Background Blur features are going to be a part of Google Meet.

Must See: Google Sabrina reportedly to hit retail as Google Chromecast with Google TV
With the new two features, Google Meet will be on par with its direct competitor, Zoom which already supports the aforementioned features. Perhaps, the Grid View has been one of the main selling points of Zoom and what made it so successful in the current age.
As per the GSuite team, the new features are available for some users as a soak test and a wider roll-out scheduled to happen in a couple of weeks. The 50-Person Grid View will be available on all the platforms where Google Meet is available. However, the Background Blur feature is restricted to the Chrome browser on Windows and Mac. Fortunately, the features will be available to all G Suite customers and users with personal Google Accounts.
50-Person Grid View Capability
Users will now be able to see up to 49 people at a time in the auto and tiled layout options of Google Meet. If needed, the users can configure to see themselves as a tile on the call. To include yourself in the grid, hover over your thumbnail in the top right corner and add yourself.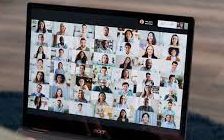 The Grid View can be amazing when you cast your meetings to a large screen or TV indeed.
Background Blur
Can be very useful in case if you don't want to reveal the background while you are on a video call. When turned on, Meet leveraging the power of AI separates the users from the background by blurring the surroundings. The recently launched feature that filters out disruptive background noise in Meet work in tandem with the new Background Blur to deliver a noise-free video call experience.
Both the newly added features ought to add the value of Google Meet as a secure and robust video calling service. Do let us know in case if you're able to see the new options on your side in the comment section.
Also Read: Google Cast Connect brings immersive casting experience with remote controls and apps