Hangouts, the 2017 cross-platform messaging service from Google, is the cornerstone of Google Chat. The service never made it up to Google's expectations. We believe Facebook and WhatsApp might be to blame. Google Chat, on the other hand, came in as a successor to Hangouts. However, Google did let the users use the service in a UI that looked similar to Hangouts. On Monday, Google had announced that the Hangouts to Google Chat upgrade will commence from August 16th this year. Google also said that users will be given the provision to explicitly opt-out.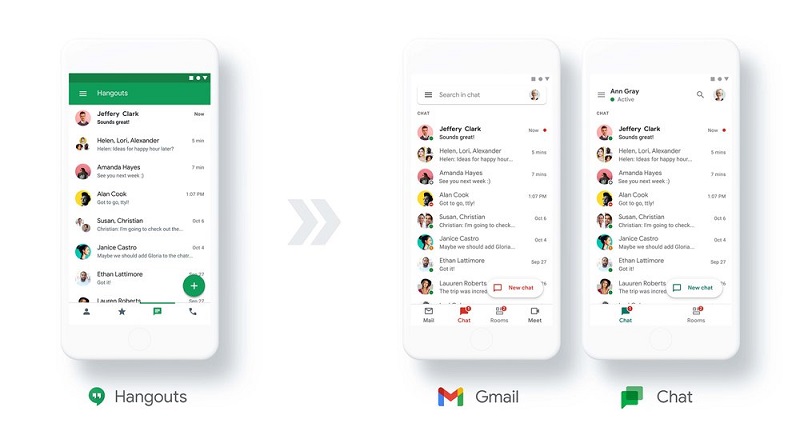 Google, in their changelog, pointed that from late 2021, classic Hangouts will no longer be supported. The remaining users will be migrated to Google Chat. This move from Google seems logical as they won't be needing to spend resources on two similar services.
According to Google, users who have selected the settings Chat and classic Hangouts will be the ones who'll be affected by the upgrade. This will be changed to Chat preferred unless the user opt-out explicitly. Google also said that users who have already selected Chat only, Chat preferred, or Classic Only will not be affected. The same applies to the users with both services turned off.
Both admins and the users of the service will be affected. The admins have to opt-out before August 16th, or the upgrade will be irreversible. Google also said that it could take up to 2 weeks to completely migrate the existing users.
Except for some cases, the classic Hangouts 1:1 messages and group conversations will be available in Google Chat. So we hope you won't lose anything of importance. Also, it should be noted that Chat won't support direct calling the same way as classic Hangouts does. Google has addressed this issue, and in the changelog, they've said that they'll update when the feature is available.
The upgrade will be available for all Google Workspace customers. It will also be available for G Suite Basic, Business, and Enterprise customers. If you're a Hangouts user, our pick is that there is no need for you to stick onto something that is at the end of its lifetime. We believe Google Chat is, in fact, a better alternative for Hangouts.