Google Chat is a messaging service that came in as a replacement for Google Hangouts. You might be familiar with the more popular Google Meet. While Meet is for more personal use, Chat is more suited for business. It is a great tool to have in a team. However, the UI of the service has remained somewhat unchanged from its debut in 2017. Nearly 4 years after launch, Google Chat UI gets a Facelift that takes it closer to Gmail in terms of appearance.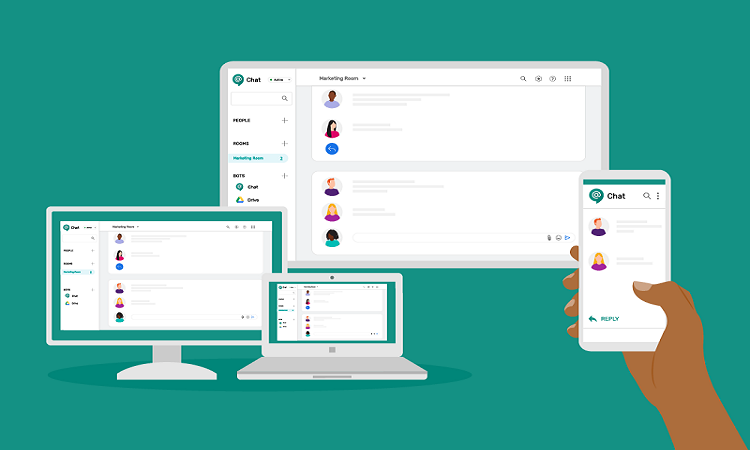 Back in March, Google announced UI improvements to Google Chat on the web and the Chat PWA. But the only problem was that these changes were only reflected for domains with the Gmail service turned on. Google has now decided to roll out these changes to the ones that have the Gmail service turned off. 
Google Chat UI gets a Facelift
As said earlier, the new interface ensures a consistent user experience across Chat in Gmail and Chat standalone surfaces. This will reduce switching times and confusions (if any) for the user and the overall team. Google has also added some integrations to improve productivity, like Google Drive, Calendar, Keep, Tasks, and Maps.
Improvements & addons
The user can now access shared files and tasks using the tabs at the top of the chat room. Search also seems to have received some serious attention from the developers. The Chat and Rooms sections are now in a static navigation bar on the left. This will allow the user to scroll more easily within them. The height of these sections can also be adjusted by the user. 
Google Chat is now integrated with Google Meet. Meaning that the user can start or join a video/audio call with ease. Pinned chats and rooms will now appear at the top of the Chat and Rooms sections. The dedicated Pinned chats section is now gone for good. If you didn't know already, chat.google.com now redirects to mail.google.com/chat. No one why they did that, but the users can still use chat.google.com to access Chat.
The updates will likely be available from the end of June. Even though updates to web apps and services are reflected almost instantly, expect a delay of up to 15 days. Google listed the service to be available to a wide range of customers. But they could have easily said: "For everyone".