The pandemic seriously changed our way of lining, and one such change was the way we work. Work from Home has become a term that doesn't need any introduction, and online meetings have become the primary means for communication. While Zoom and Google Meet lead the market, there are other services too which are preferred by professionals. Microsoft Teams is also a popular option among other video calling apps available. In this guide, we explain how to Cast Microsoft Teams meeting to Chromecast. So, why Meet on a small screen when you can use a TV.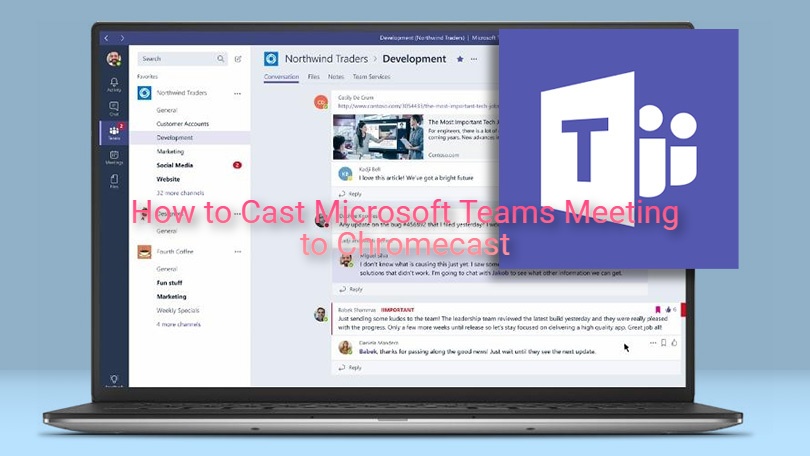 What is Microsoft Teams?
It is a business communication platform from Microsoft. Teams can be used for regular and group chat, share files, voice and video calling. It competes with services like Slack and Discord. And it will soon replace Skype for business and Microsoft Classroom.
Like most (or all) video calling apps, Teams meetings doesn't support direct cast to a TV. But that has never stopped us, has it?. There is always the option to Cast the entire screen to the TV. Before we proceed, make sure your setup meets the following criteria.
Pre-requisites
Make sure your Chromecast and PC/Smartphone are connected to the same Wi-Fi network. (or you can set up Chromecast on the same network using our guide).

Install Google Chrome browser on the PC from which you will cast.

Also, install Microsoft Teams on your PC/Smartphone.
Cast Microsoft Teams meeting to Chromecast
Microsoft Teams is available for Android, iOS, PC and Mac. So follow the one that best suits you. We have added step-by-step procedure to enable casting on Microsoft Teams meeting to TV.
Cast from Android
Casting Microsoft Teams from an Android device is the easiest among the list.
Open the 

Notification Panel 

by swiping down from the top.

Click on 

Cast.

 It can also be accessed from 

Settings > Connected

devices (or Settings >Bluetooth & Device Connection > Cast).

The name for the process may vary for different brands, like 

Wireless Projection 

for Huawei Honor devices.

Give it some time to search for devices. Click on the name of your Chromecast when it pops up.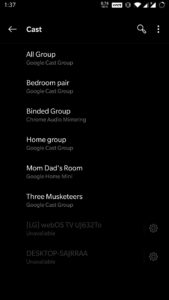 That's all you need. You can now view Teams on your TV. This method can be used to Cast most apps in Android.
Note that you can also cast your Android device from the Google Home.
Cast from an iPhone/iPad
Due to "security" reasons, Apple doesn't allow you to cast from your device. So obviously a third-party app is needed. We'll be using Replica App, but you can check out a couple of others from our dedicated article on how to cast iPhone or iPad screen using Chromecast. 
Install Replica: App Store
Connect to your device to your TV through the Chromecast.
Start the Mirroring to duplicate your screen.
Open Microsoft Teams on your iPhone/iPad. It will now appear on your TV.
Note that Replica like others is a third-party app and will have its limitations. So you will have some slightly noticeable lag.
Cast from Windows/Mac
Open 

Google Chrome 

and click on the 3 dots at the top-right corner.

Click on 

Cast 

from the drop-down menu.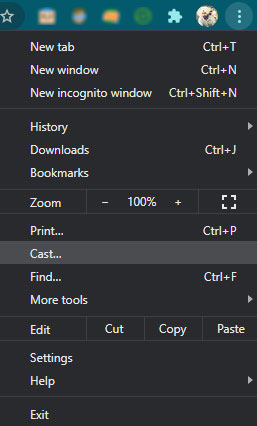 Click on 

Sources 

and select 

Cast desktop

. This step is crucial since we need to cast the entire screen, not just Chrome.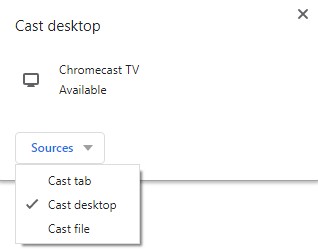 Select the Chromecast to which you want to cast.
Also note that Microsoft Edge now supports Chrome plugins, so you don't necessarily need Chrome.
We hope this guide was helpful to you.  If you find any problem or issue while using any of the above methods, do let us know in the comments.