Chromebook Task Manager is a tool which let the user to manage the running processes and programs in the operating system. Most operating systems have some sort of a built-in Task Manager which gets the job done, and the Chrome OS is no different.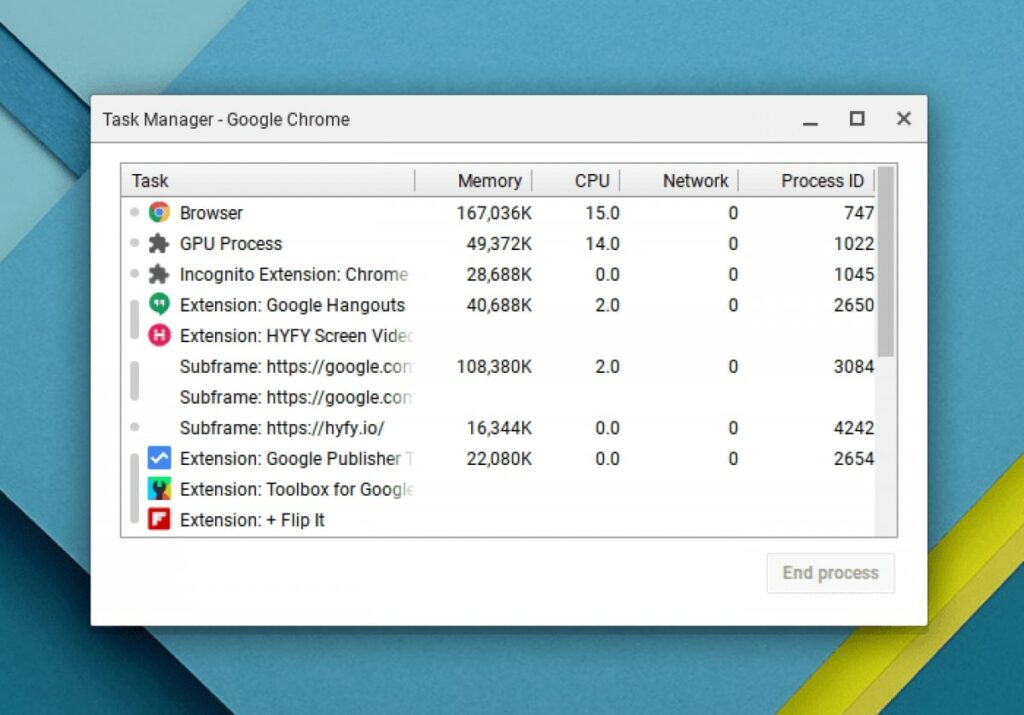 Operating systems like Windows offers a Task Manager with a lot of features like Starting a new app from within the Task Manager. So what about the Task Manager in Chrome OS, curious? Then, this article discusses in detail how to use the Task Manager in Chromebook.
How to open Chromebook Task Manager
The user needs to open the Google Chrome browser in the Chromebook in order
to access the Task Manager.
Opening from the browser's menu
Click on the 3 vertical dots on the top right corner of the browser.
Go to More Tools
Click on Task Manager to open it.
Opening with the keyboard shortcut
You can quickly fire the task manager by simultaneously pressing the Shift + Esc keys in the keyboard to access the Task Manager.
How to use Chromebook Task Manager
The Task Manager in Chromebook comes with some minimal and basic features. Some of them are listed down.
End a running process or program
Click on a running process or program to select it.
Click End Task at the bottom right corner of the Task Manager to end it.
This way a user can End a running process or program in case if it is not
responding.
Programs are mainly extensions that are added to the Google Chrome
browser. Processes are those which are subprograms of the main Program. So
if a user decides to end a program the Task Manager will end all processes
that are running related to the program.
Review resource usage by programs/processes
The Chromebook Task Manager displays the usage of resources such RAM, Processor usage, Network, GPU usage for each running program/process.
There is an option to access advanced options which display in-depth resource usage at the bottom left corner which goes by the not so weird name "Stats for nerds".
The Chrome OS is a lightweight operating system which always goes for lightweight programs which makes it an operating system that is extremely smooth and functional. The Task Manager in the Chromebook might be a hidden program due to the very reason that most of us don't need it.