Along with Google Chromecast 2nd gen [2015 version], Google has launched a device which is used to stream music to the speakers is Chromecast Audio. It's simple and works well, with direct compatibility for most major music services, and even more, supported via the Chrome browser plug-in and on the Android app.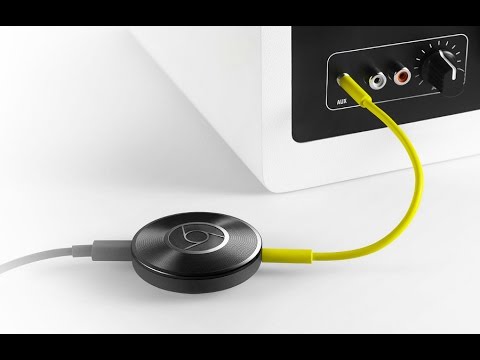 Requirements to Setup Chromecast Audio
Firstly you need to have Speaker system with either aux/line, RCA or optical input.
You need to have a secure WiFi network with Connection to Wi-Fi (either 2.4GHz or 5GHz)
Now, at last, you need a compatible Android or iOS device or tablet, or Mac, Windows or Chromebook computer. The compatible Android, iOS, or tablet setup device must support a 5GHz connection in order to set up a Chromecast Audio on a 5GHz connection.
If you meet all the requirements above listed than flow the instructions below for setting up Chromecast Audio to stream music.
Plugin your Chromecast Audio. You can plug the USB power cable into your Chromecast Audio. Then plug the other end into the provided power supply. Then Plug the audio cable into your Chromecast Audio and Plug the other end of the audio cable into any open standard 3.5 mm port.
Note: You can also use speaker systems with RCA inputs and optical digital inputs.
Install the Chromecast app by navigating to chromecast.com/setup on your Chromecast supported Android/iOS device.
Or click to download the Chromecast app for Android and iOS.
Launch the app to read Privacy and Terms and after accepting the conditions touch DEVICES and choose the Chromecast Audio you want to set up. Touch Set Up on that device card.
Turn on your speakers and adjust the volume to a low but audible level. Touch Play Test Sound for the Sound test. If you hear the sound, touch I Heard It. If you want to confirm that things are working, touch the speaker icon and touch Play Again.
If you didn't hear the sound, Make sure the audio cable on your Chromecast Audio is plugged into the correct input, Make sure your speaker is powered on and the correct input is selected and also Make sure the volume on your speaker is not muted.
Optional: Change the name of your Chromecast Audio to something distinct by deleting the current name and typing in a new name.
Choose the Wi-Fi network you want to connect to your Chromecast Audio. Enter password. Touch Network.
If your Chromecast needs an update, it will automatically update at this time and will let you know when the update is complete.
After the update is complete, you are ready to cast audio. Touch Browse Your Cast Apps.
---
Related Articles

How to Set Up Google Chromecast 2013
How to set up Google Chromecast on Mac OS X
How to Setup Chromecast using Windows PC
---